Emotional 'blockages' from things like stress, and past traumas can result in physical symptoms. While western medicine can treat these symptoms, the root cause has not been dealt with, meaning that these problems will often return, leading to a frustrating cycle of reoccurring problems and more treatments.
EFT (or Tapping) is a non-invasive, easy to learn technique, which can help you with things like releasing tension, dealing with pressure, and mastering phobias. EFT has helped thousands of people make long lasting, positive changes in their lives. You can use this technique anywhere, on yourself or with others, no matter your age or personal circumstances.
By combining modern-day psychology and ancient Chinese acupressure, EFT focuses on the meridians of the body to help energy flow naturally, and remove these emotional blockages. This technique is especially useful for those who do not want, or are unable, to talk about personal traumas and problems, such as those who suffer from shyness, anxiety, or the elderly.
What can EFT be used for?
We live in a fast-paced society, where so much is demanded of us on a daily basis. Many of us frequently experience problems in at least one of the following areas:
The workplace
Relationships
Grief/Bereavement
Stress/Anxiety
Overwhelm
Lack of confidence
Phobias/Fear
Weight issues
Health problems
Stressed about that big project at work? EFT can help you stay calm, think clearly, and perform at your best. Frustrated with your weight, and unable to stop emotional eating? EFT can help identify and deal with the reason you seek comfort in food, and help you develop a healthy attitude towards your body, your eating habits, and life in general.  If you have lost a loved one, are struggling with a relationship, have chronic health issues, or are plagued by a phobia – EFT can help.
EFT teaches us how to cope with any existing issues we may have, as well as providing techniques that will enable us deal with future problems when they arise. Imagine waking up every morning with the confidence to face anything life throws your way.
How to use EFT
EFT can be used by tapping, or pressing lightly, on specific acupressure points on the body. This physical stimulus is used in tandem with a series of spoken statements, which help connect the mind with the body. It is done in 'rounds', with each taking approximately one minute to complete.
It is an extremely flexible technique; you can use whichever hand feels most comfortable. The majority of tapping points are on both sides of the body so it does not matter which side you tap on, you can even alternate if you prefer.
The main tapping points are located as follows: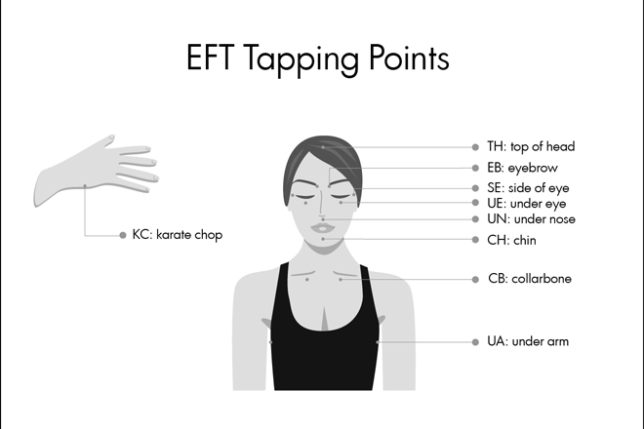 Even if you are short on time, you can do simple exercises without the statements, which can be used to calm nerves, reduce anxiety or even ease pain.
For example:
Start on the Karate Chop / side of the hand.
Press gently but firmly with two or three fingers of your other hand, taking a deep breath in and out as you do so.
Repeat with each of the other tapping points, pressing gently with one or two fingers as you take a deep breath in and out.
Tapping, or pressing on each point once makes up a 'round'.
Repeat for as many 'rounds' as necessary, focusing on your breathing, until you feel calmer, less anxious or feel improvements with whatever problem you were focusing on.
EFT For Everyone
This technique is still a relatively new concept in today's world, despite having been practised by Eastern medicine for centuries. It is however, gaining ground in exposure due to its impressive results, and inspiring success stories. There are currently over two thousand books on this topic listed on Amazon, and it has been featured in a number of magazines and newspapers, as well as recently being demonstrated on Breakfast TV show in the UK.
Part of the appeal is that EFT really is for everyone. Whether you are a student struggling to cope with exam stress, a new parent overwhelmed by new responsibilities, or someone preparing for an important interview, EFT can help. Regardless of health, age, gender, or personal circumstances, this technique can be of benefit to you.
For more information about how to get the most out of EFT, and what exactly it can help you with, check out EFT for Everyone at www.eftforeveryonebook.com
For more expert advice from a host of experienced specialists in their field, click here to read our latest Ask The Expert articles.
About Gillian E. Morris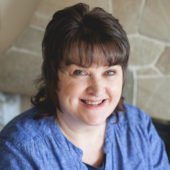 Gillian Morris is an Advanced Emotional Freedom Techniques Practitioner and works with clients of all ages, who suffer from a wide range of issues. She has suffered chronic health conditions for over 30 years, and is grateful for her improved health and activity since learning EFT. Gillian has worked in the education system, with those who have learning difficulties, and disabilities, for over fifteen years. She uses the skills, knowledge, and expertise learned there with clients in her private practice. Gillian's passion is to get EFT out into the main stream, to inform and empower people to live happier, healthier lives. For more information visit: www.eftforeveryonebook.com and www.gillianmorriscoaching.com