SLOAN! spoke to Laura Farnsworth, partner at law firm Lewis Silkin, about the challenges face by those with young families working in the legal sector and what lead her firm to establish rockhopper – a fixed fee HR and employment law service for businesses which allows lawyers to work from home.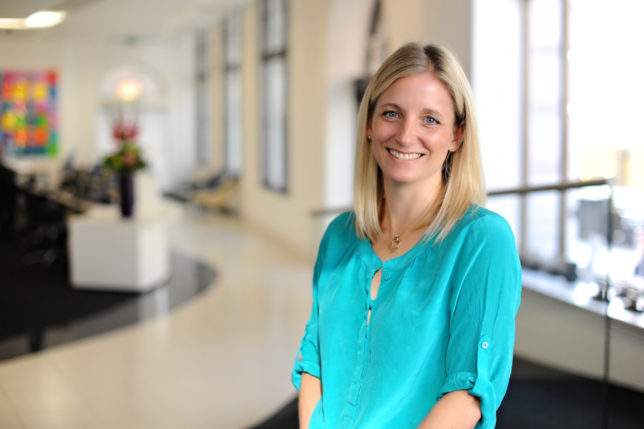 Thinking back to when I had my first child nine years ago, the reality of balancing work and childcare responsibilities did not match the pre-conceived (and naive) idea I had that strict planning and organisation would be all I needed.
My husband and I had got the organisation down to a tee, but I wasn't prepared for the impact two maternity leaves would have on me. Sleep deprivation, the stress of being able to manage my work so I could leave work early to collect the boys from nursery, calls from the nursey when the kids fell ill, and the pressure to meet my targets and perform well in my new role as partner in a law firm all had an impact on my confidence and self-esteem.
I wanted to be a good mum and a good lawyer but I felt like I was failing at both. I felt guilty that when I was with the kids in the evening I was rushing them through the bath and bedtime routine so that I could log back on and carry on working and I also felt guilty that my working pattern was impacting on my performance at work.
As one of a small number of female partners with children, I wanted to be a good role model to our more junior lawyers who were pregnant or on maternity leave. And I wanted to support them through what had been a difficult time for me. However, I knew we needed to find a better way to make it work. The traditional law firm model was far from ideal for lawyers with young children and we were at risk of losing talented lawyers as a result.
Around the same time we were facing pressure from clients to find cost effective ways of dealing with high volume, day-to-day HR matters. The solution to both of these issues was to establish a new service we call rockhopper. rockhopper is a fixed fee HR and employment law service for businesses, and our lawyers work from home on fixed, part time hours, allowing them the flexibility to pursue their careers whilst devoting time to family or other responsibilities. We pass on the reduced overhead costs to clients, so clients are happy too.
It's no secret that the legal industry is increasingly competitive and many lawyers find themselves under immense pressure to be on call all the time and meet their chargeable hours targets. Through rockhopper, we have been able to get away from that, offering our lawyers the opportunity to pursue their careers whilst devoting time to family or other responsibilities. The fixed hours nature of our rockhopper lawyers work patterns means they don't have to achieve hours targets or spend their evenings checking their e-mails and don't miss out on spending quality time with their families.
Remote working through rockhopper has also given our lawyers the flexibility of living wherever they want to because they don't need to be within commuting distance of our offices. We have lawyers based all over the UK and use technology to communicate with each other. The team is also very cohesive, despite the physical distance between the lawyers.
It has now been more than three years since we launched rockhopper and I started managing the service. We currently have a team of 11 lawyers and are growing our team further next year.  Most of our rockhopper lawyers have children and work hours to fit around school or nursery and they often tell me how much easier and less stressful it is to manage their family life and career, compared to the traditional law firm working arrangement. It's a pleasure for me to manage such a happy team and to have provided our lawyers with an alternative way of working which works for both them and the firm.
We still have a long way to go as an industry, but by embracing working models like rockhopper we're heading in the right direction and I'm proud to be a part of that. Let's encourage more innovation in our working practices.
Laura's Top Three Tips for Lawyers with Children
If you want to make a request to work from home, part time or some other arrangement, formulate your request in a way that highlights the benefits to the firm of you working in that way, rather than just the benefits to you personally.
Ask for and accept help at home and delegate at work – if you try to do everything you'll end up feeling overwhelmed and stressed.
Don't put pressure on yourself to be the perfect parent and the perfect lawyer – sometimes good enough is enough.