This month, we have chosen our ten top drinks from the selection we have received in the SLOAN! office that impressed us the most in terms of flavour, style and quality. We have include a wide range of beverages from delicious fruit juice to unusual teas and healthy options to alcoholic drinks.
This weight loss wonder is not just effective in fighting the battle of the bulge but it also tastes great too. Skinny water is a low calorie water that combines the benefits of hydration with vitamins and with ingredients that have aided us here on the Sloan team in our respective diets. On the whole all reviewers felt less hungry the next day with a noticeable decrease in sugar cravings. The unique formula combining L-Carnitine and Chromium assists in natural fat burning and with the added taste of the raspberry ketones in every bottle who could resist. This is a great staple for any fridge.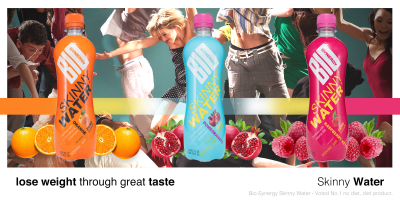 2. Tropical Sun Coconut Water
Tropical Sun have managed to capture the taste of delicious coconut water fresh from the tree in a can. Having tried many coconut water brands this really stood out. The taste was fresh and can be bought with or without coconut pieces and even with a hint of lime. They have a fabulous recipe for a Rum Punch online, however the most novel way of using it here by our reviewers was in a risotto for the final addition of flavour in the last reduction. This thirst-quenching drink aids digestion and is good for a workout after the gym too.
It is no surprise James White have held their Royal warrant for over 10 years, they get the thumbs up from all here at the Sloan! Team too. Whether you are in the mood for classic apple be it f the Cox or Bramley variety or wish to embrace seasonal fruit with summer berries or a hint of elderflower, James White juices have something for all discerning tastes. Sloan herself cannot get enough of the apple and elderflower, whereas some of the more fanatical juice-aholics in the office have moved on from the carrot and are enjoying the organic beetroot juice Beet It.
We enjoyed this Whisky in a number of different cocktails at our Summer Garden Party, whether mixing it with raspberries or a soothing but tart lemon and honey or a new twist on a cosmopolitan with our cranberry concoction, The One was indeed the One to note. Also great in coffee,  this Whisky was drinkable alone or mixed. SLOAN! reviewers on the whole preferred this whisky mixed but that is because it's versatility lends itself to so much choice.
Not only does this tea taste comforting due to having the olive leaves tenderly processed within hours of being plucked it contains very high level of anti-oxidants and oleuropein which is kept at such a level during the delicate process after harvest.  The other added benefit of this tea is that it is caffeine and tannin- free, which means it doesn't stain our teeth here at SLOAN! and therefore is allowed even during or teeth whitening reviews! This tea leaves absolutely no residue on the teeth and this can be seen in you rcup as there is no residue on your favourite mug either.
Delicious flavours like Sicilian Orange are fresh and fruity. These fruit juice flavoured sodas are a refreshing change from the over processed false favours of the ever popular larger brands. These drinks taste like you have freshly squeezed the juice and added a delectable spring water into the mix. These drinks obtain their water from a spring that is located 1,000 feet above sea level on the hill of Rimini and are a great way of adding flavour into your day especially if like us here at SLOAN! you are trying to avoid that 4pm slump where all you do is crave your chocolate fix!
7. The Decadent Decaf Coffee Company
Here in the office most of us need our regular caffeine fix to keep us going throughout the busy day but for the more health conscious among our staff we thought we'd try this great alternative decaffeinated coffee from The Decadent Decaf Coffee Company. The company claims their espresso blend produces a flavourful punch with a creamy and rich cup, silky mouthfeel and soft cocoa notes and yes we here at SLOAN! agree that the labour of love and flavourful notes most definitely come through.
For those who want a tasty tea that aids in slimming this is a good place to start. As with Green Tea and other weight loss teas, the tea is an acquired taste but very comforting and palatable. Natur Boutique make other tastier teas with other health benefits from Green Teas with Ginger or lemongrass or Artichoke Tea however if weight loss is what you are after this is definitely worth a try. We found this also helped taken instead of our afternoon sugar hit, saving on calories too!
A great present or an interesting new hobby this little kit really has everything you need to transform any bottle of  vodka into your very own Gin. Having created a SLOAN! magazine gin ourselves with the help of juniper berries, botanicals, spices, aromatics and a SLOAN! secret ingredient we were pleasantly surprised that although not Hendricks (The SLOAN! staple gin of choice) we did have tasty results even on our first attempt. Watch out for a small SLOAN! distillery coming soon or better still make your own!
Although not the expected drink to be on our list we were impressed with the versatility of this product. Cherries have the perfect balance of being both tart and sweet, meaning that they are a great addition in both savoury dishes and scrumptious desserts. We especially liked a good portion of Cherry Good in our homemade cherry pie, adding a fresh tartness to our dish and our cherry and white chocolate homemade ice cream. Good for drinking too although we prefer it for use in revamping recipes that need a little updating.