Here are some of our favourite food & drink inspired Christmas gifts as featured in the Winter edition of SLOAN! Magazine to tingle your tastebuds by allowing you to savour and serve the best the festive season has to offer.
Maille Truffle Mustard & Truffle Olive Oil
Truffles are highly-prized and rare ingredients, often described as "black diamonds." And whether you're looking for a gift for under the tree, or an alternative to the ubiquitous wine or chocolates for your dinner party host, Maille's much-coveted truffle mustard (£29) and a brand new delicate truffle extra virgin olive oil are the perfect gift for the festive season.
Maille's iconic and seasonal black truffle & chablis mustard returns in time for Christmas. The pinnacle of indulgence, it is made with the finest black winter truffles from the Périgord region and Burgundy's famous Chablis white wine. This gourmet mustard has a sublime aroma and flavour and is served in an elegant black stoneware jar.
The latest edition to Maille's range is a sumptuous classic extra virgin olive oil enhanced with black truffle shavings. The strong notes of truffle paired with the pronounced olive oil make Maille's truffle extra virgin olive oil the ultimate gourmet gift for those who enjoy the finer things in life. Available from www.maille.com and the Maille Boutique in Piccadilly.
Kenneth Turner Stag Ice Bucket
From the iconic Kenneth Turner stag collection, this stylish ice bucket / wine cooler is made from nickel plated brass for a reassuringly weighty luxurious feel and a stunning polished finish that will not tarnish.
Whether you use it for ice, wine or even flowers, this stylish statement piece will make a beautiful addition to any home and bring style and grandeur to your entertaining. Available from www.kennethturner.com for £135
Graham's 20 Year Old Tawny Port
Harking from the renowned vineyards of the Douro Valley, Graham's range of premium Port wines provide the perfect gift to grace the Christmas table or sit under the Christmas tree for someone special.
Golden and nutty with rich, softly sweet fruit flavours the 20 year old Tawny is perfect for Christmas. Its mellowed aroma of fruitcake pairs it perfectly with a flaming Christmas pudding and will impress your festive guests. Priced at £35.95 and available from Waitrose, Ocado & Drinksdirect.co.uk
Rococo Chocolates
This hand painted colourful Santa is made with milk chocolate with a thin white chocolate hand painted later.
Available from November in-store at Rococo Chocolates or www.rococochocolates.com. Min weight 250g, retails at £29.95
Tracklements Preserves
Tracklements, the artisanal condiments brand, offers a range of 55 delicious accompaniments to add a transformative wow factor to any meal and turn the ordinary into the extraordinary bringing your food to life. We love their Sticky Fig Relish and for more daring palates, try the Chilli Jam.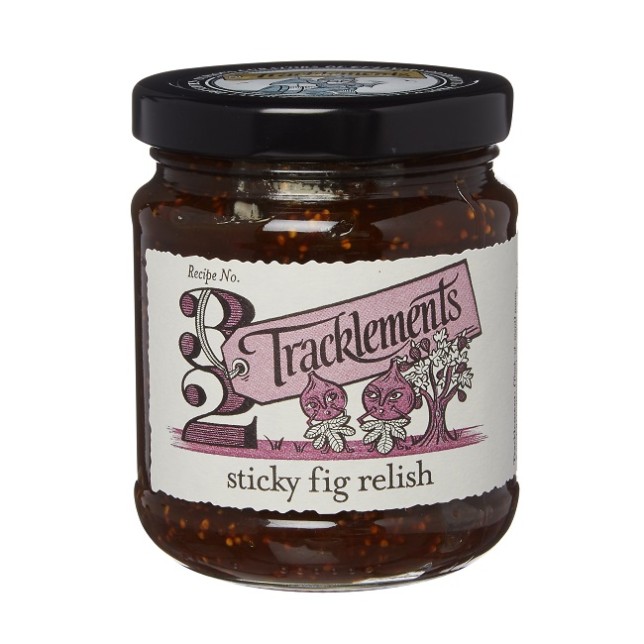 Handmade in the heart of Wiltshire, the family run brand prides itself on using ingredients only found in your own kitchen sourced from British farmers and the world's finest spice growers. Available from speciality retailers nationwide with an RRP from £2.05 to £3.70
Thomas J Fudge's Salted Caramel Florentines
These delicious florentines from Thomas J Fudge's remarkable bakery are a heavenly combination of smooth milk chocolate, almonds and succulent fruit, with a silky layer of sublime salted caramel.
We recommend you try them served with freshly brewed coffee after an elegant supper, gift wrap them up with ribbons as a an ideal present for parties, or serve them with scoops of ice cream and share with friends. Available from Waitrose for £3.50
Kallø Rice Cakes
Kallø is a leading Rice and Corn cake brand in the UK whose goal is to pioneer natural and organic foods with inspiring and challenging brands with passion and innovation. We love the Kallø Belgian Dark Chocolate Rice Cake Thins with Orange Pieces which are delicious on their own or served with desserts like Tess Ward's Easy Avocado Ice Cream below.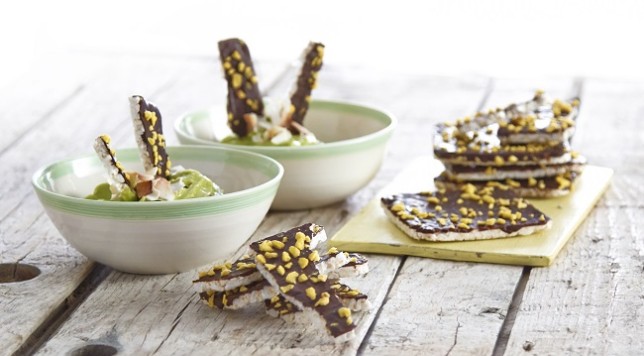 Everything Kallø made with natural ingredients and plenty of wholegrains and they embrace the Nordic approach to life with food products that demonstrate you can have more of the good stuff without compromising on wholesome ingredients, a healthy lifestyle or good eating habits.
Steakchamp
This nifty gadget takes the guesswork out of cooking steak, resulting in perfectly done cuts of meat every single time, whether you like medium rare, medium, or heaven forbid, well done! A simple LED light flashes green, amber and red to tell you when the meat is cooked to your guests liking.
You will never disappoint your diners again with overcooked steaks and if you needed any more proof, Christoph "Goli" Gollenz, the World Grill & BBQ Champion, has used SteakChamp in his BBQ classes since 2012 so you know this isn't a gimmick. Available from www.thefoundry.com for £29.99
Vinnebago
This pun-tastic triple-insulated 21st century vacuum sealed flask will keep your drinks cold for 25 hours or hot for 12. Ideal to keep wine chilled for summer pinics and perfect to keep your mulled wine warm on Bonfire Night, it has 750ml capacity and a wide mouth for spill-free transfer from vessel to Vinnebago.


In addition, the Vinnebago is the perfect solution where for places where glass bottles are forbidden or dangerous: sporting events, festivals, at the pool or just on the beach or out camping. Available from www.thefoundry.com for £29.99
IJustLoveIt.co.uk Chopping Board
Designed with style and practicality in mind, our stunning Engraved Heart Handle Personalised Chopping Board can be personalised with a message of your choice to create an amazing gift or a special treat for yourself! This unique board is hand-sculpted from the finest quality Irish Elm wood.
Featuring a gorgeous heart-shaped decorative handle, this large chopping board is easy to carry and ideal for serving up sharer foods. It will look really impressive on the table and will get admiration from everybody! £64.99 from IJustLoveIt.co.uk