Named after the latitudes within which most of the world's vineyards are located, the 28°-50° Wine Workshop and Kitchen takes the traditional wine bar experience to a whole new level. Owned by Chef Patron Aggi Sverrisson of Michelin starred Texture, 28°-50° has three sites in London – Maddox Street, Marylebone Lane and Fetter Lane, all of which provide a relaxed and informal dining experience. We dined on a fine spring evening at 28°-50° Wine Workshop and Kitchen on Maddox Street.
In the heart of fashionable Mayfair is the newest addition to the 28°-50° family: the stylish Maddox Street Wine Workshop and Kitchen. Designed over two floors, it continues the tradition of providing a high-quality but relaxed dining experience and excellent value for money. Guests can choose from over 30 wines, available by the glass, carafe or bottle, as well as a regularly changing modern European food menu, created with skill and inspiration by Executive Chef Justin LeClair.
The kitchen brigade at 28°-50° Maddox Street is led by Executive Chef Justin LeClair. Justin has been an integral member of 28°-50° restaurants. He relocated from the United States to London in 2012, and he joined Texture as a Sous Chef before he was promoted to Head Chef at 28°-50° Maddox Street in 2013. He became the Group Executive Chef in 2016, and he currently heads up kitchens at 28°-50° Maddox Street and 28°-50° Marylebone Lane. He holds a bachelor's degree from the Culinary Institute of America.
On the ground floor is the restaurant group's first ever champagne bar, with an amazing choice of 40 to 50 varieties, including four available by the glass. There are also outdoor terraces at the front and rear for 'al fresco' dining, plus a spacious basement room for private parties and group events.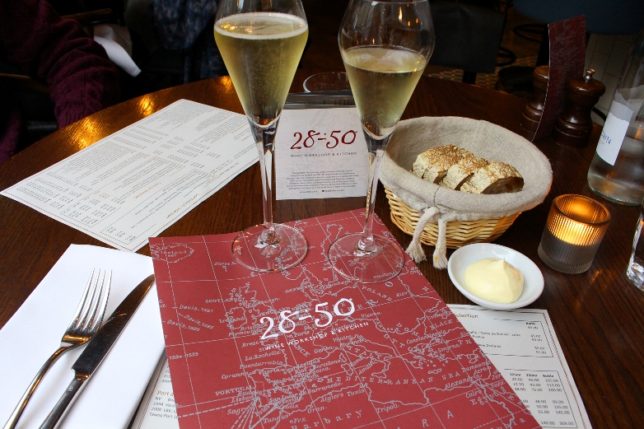 Normally a fan of scallops, I was drawn in a different direction after perusing Justin's varied menu at 28°-50° Maddox Street. Instead of choosing the scallop ceviche, I went for the goose & mustard terrine served with cornichons & toast. Goose is a bird I usually associate with Christmas having served my guests this delightful bird on many a festive occasion. The flavour was complemented here perfectly with the tang from the mustard and the acidic bite of the cornichons.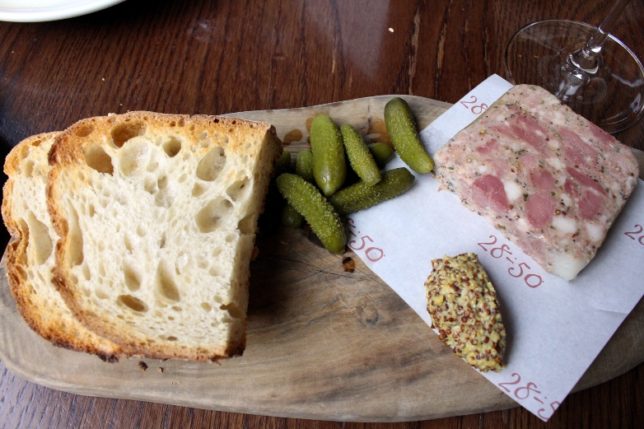 My dining companion chose a simple starter of grilled prawns served with aïoli, garlic butter, salad leaves. The juicy prawns looked good enough to eat just as they were but he agreed they tasted even better with the garlicky kick from the butter and rich mayonnaise.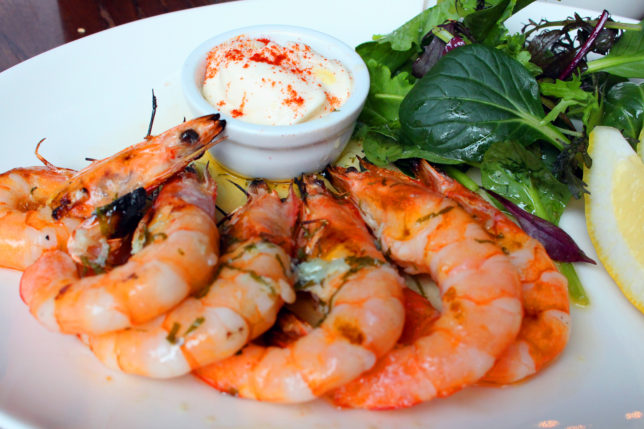 Moving on to the mains, it was hard to choose between the meat and the fish with delicious sounding dishes like Norfolk horn lamb rump and Cornish cod showcasing the best of British produce to choose from. In the end I decided upon the grilled native lobster. This dish also has the garlicky accompaniments shared by its baby brother of a starter in the prawns. British seafood is such great quality at this time of year. The lobster was cooked simply but skillfully. It was moist and full of flavour.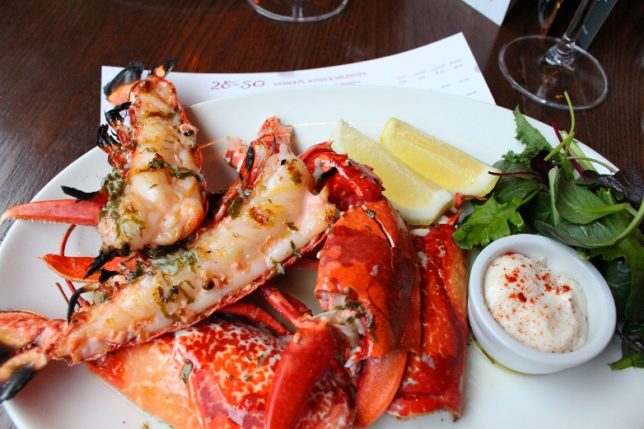 My dining companion didn't go for the Norfolk lamb as I had predicted he might and instead surprised me by choosing the suckling pork belly… it was an excellent choice as you can see. The pork was meltingly tender without being too fatty and the unusual pairing with kumquat was inspired. The more traditional accompaniment of cabbage with pork… in this case hispi… was less surprising but equally worked with the other flavours and textures of the dish.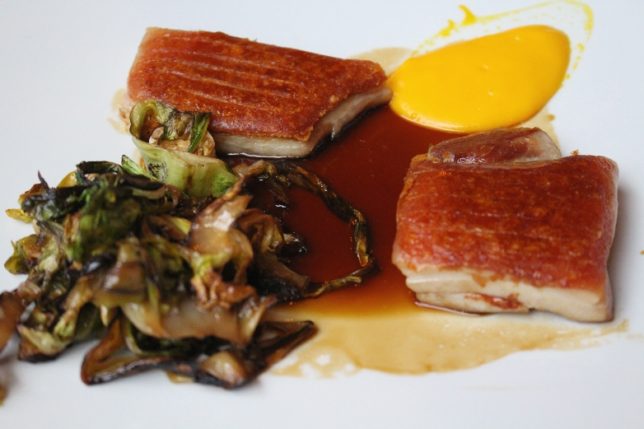 To accompany the mains we chose some healthy green veg… tenders stems of purple sprouting broccoli laced with garlic and garnished with almonds.
And not-so-healthy french fries served in one of my favourite presentations – the mini chip basket…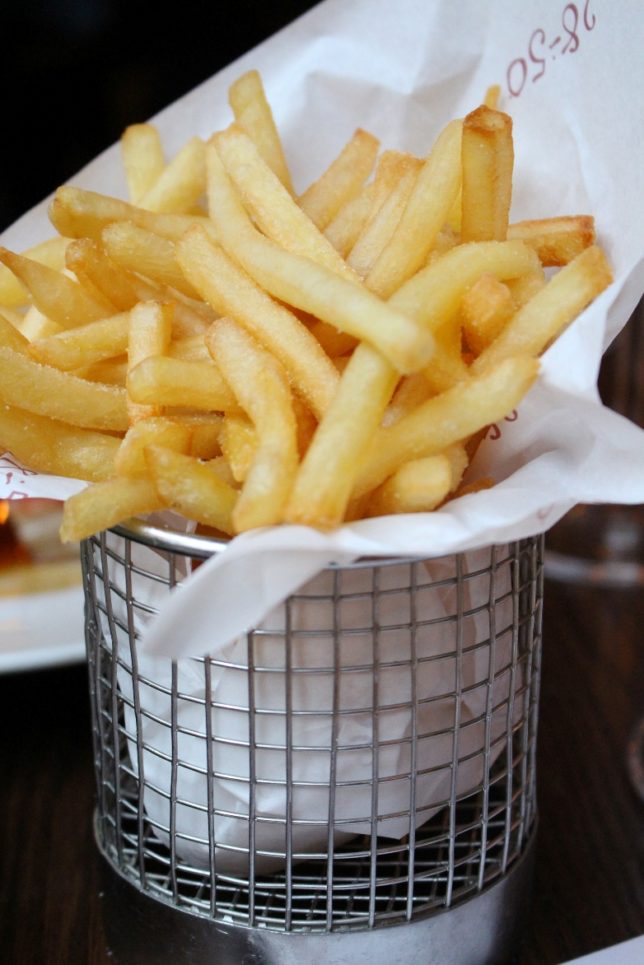 Deciding to refrain from dessert, I have to leave you with the restaurant's own photos of some outstanding dishes from previous menus. I would mention it was interesting to find protein-rich Icelandic skyr menu served here with seasonal favourite, poached rhubarb. But if you love chocolate then I would suggest trying the white chocolate & cherry crème brȗlée if Justin's previous deesert offering of dark chocolate cremeux served with peanut & toffee crunch is anything to go by.
Looking at the next dessert, you might think that there had been an accident in the kitchen… but this dramatic and inventive staging is typical of the culinary flair and expert presentation of Executive Chef Justin LeClair.
28°-50° Wine Workshop and Kitchen prides itself on serving up fresh, seasonally focused, modern-European cuisine. Having sampled their culinary delights for ourselves we can safely say that 28°-50° Wine Workshop and Kitchen on Maddox Street has every right to be proud. Whether your focus is to imbibe one of the exceptionally chosen wines or indulge in the delicious dishes on the modern European menu, at 28°-50° Maddox Street there is something for every connoisseur of fine wine and fine food.
28°-50° Wine Workshop and Kitchen
17-19 Maddox Street, W1S 2QH
0207 495 1505
www.2850.co.uk
@2850Restaurant
[mappress mapid="21″]