For 15 years, Aardvark Safaris has been planning tailor made safaris to Southern and East Africa.   With one of the most knowledgeable teams of safari experts in the business they have at their fingertips the hottest wildlife locations and the best-kept safari secrets. Offering unrivalled advice, they are specialists in organising family safaris, riding safaris, gorilla treks, honeymoons, Kilimanjaro climbs, walking safaris, canoe safaris and beach holidays.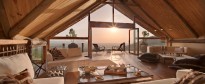 Most of the Aardvark staff have lived and worked in Africa and return every few months to ensure that they consistently offer the most exciting holidays to their clients.  'We're a treasure trove of information', says co-owner Richard Smith, 'you may have seen incredible wildlife documentaries with David Attenborough or the Big Cat Diary team, but we know the camps used for filming and can arrange for our clients to stay in them be guided by the likes of TV presenter and Masai warrior Jackson Looseyia.  Over the years,' comments Richard, 'we've accumulated detailed knowledge about where to find the best wildlife and most exciting safari activities, and can advise on malaria free options, rustic comfort to luxury, active to slower paced, and for family clients, who make up nearly half of our business, how to keep children of all ages entertained.' 
If you would like, Aardvark staff will even come and visit you at home with maps and brochures to give a real feel for what each country offers.  'There's no extra charge to use our expertise', says Richard, we're totally impartial and you pay just the same booking through us as you would direct.'
'We have access to an incredible collection of lodges and safari camps that really do offer something a little bit special, whether it's game viewing in almost total seclusion, accommodation simply out of this world, faultless service, or even your own private island.'  Here's our current hotlist:
Singita Grumeti, Tanzania – Three superb lodges in a 350,000 acre wilderness adjacent to the famous Serengeti.  With the wildebeest migration passing through twice a year it's a top wildlife spot with accommodation to match.
Cottars Private Homestead, Masai Mara, Kenya – A sublime private house in the heart of one of the world's finest game viewing areas.  Spectacular scenery and superb guides, a prefect retreat for a family safari.  Pure 'Out of Africa'.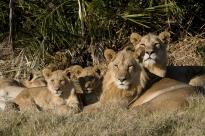 North Island, Seychelles –   An exclusive luxury lodge unashamedly aimed at providing the very best.   It's a tropical idyll to exceed all expectations. 
Uncharted mobile, Okavango Delta, Botswana.   A Rolls Royce of a mobile safaris which delivers absolute luxury and privacy amid one of Africa's finest wildlife areas.   Explore with co-owner Ralph Bousfield, whose rock star looks belie an extraordinary passion for this unique environment. Glamping, or glamorous camping, at its very best. 
Sindabezi Island, Livingstone, Zambia .   Book this gorgeous, intimate camp on an exclusive basis and you have your own private island amid the Zambezi River.  Close to all the activities in Livingstone, it's perfect for an extra special experience if travelling with friends or extended family.
Little Mombo, Botswana.  An elegant, intimate camp in the place of plenty.  Luxurious, stylish accommodation in an area boasting enormous concentrations of plains game and predators – arguably providing the best big game viewing in all of Africa.
For further information or booking contact Aardvark Safaris: www.aardvarksafaris.co.uk, 01980 849160