The Xtherm air mattress delivers the greatest warmth-to-weight ratio available in any air mattress by far, with a softer, textured no-slip fabric for better next-to-skin comfort and a quieter rest. Multiple, reflective ThermaCapture layers give the Xtherm air mattress true four-season warmth without the weight or bulk usually found in a winter-worthy mattress.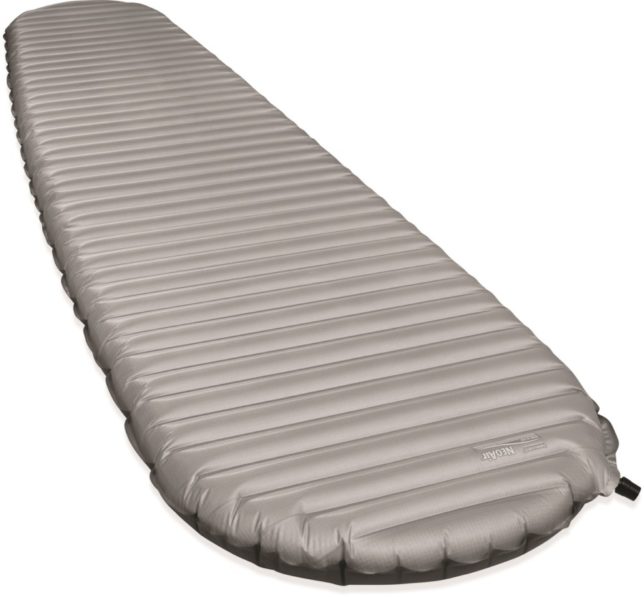 We look for the best products, and The Active Affluent series includes the aim of minimalism, and the management of all the items in a single bag. The NeoAir Xtherm hits the bullseye.
We went for the large, as the tester was over 6 foot and has enjoyed way too many desserts on our wonderful restaurant reviews, so laying with wide shoulders!
First impressions when it was in my hands was, 'could this actually keep me warm? Surely it's too small and light!', It is barely larger than the lighter and equally amazing NeoAir XLite. The NeoAir XTherm wraps up small, and is very easy to unroll and prepare, then fills to become 2.5 inches thick. It is a comfortable sleeping mattress, and lighter than most of the competition, with an amazing addition…
The amazing materials used and the astonishing technical feet of their design team's use of these materials, known as ThermaCapture, with it's patent pending triangular core matrix construction, has formed a sleeping mattress, which may weigh only 0.43kg-0.57kg (size selection dependant), and wrap up into a little over one litre space capacity, but manages to punch in with a temperature range that makes you wiggle with Warmth. The R-value, which is a method of grading the temperature rating for a sleeping mat, is a whopping 5.7! For the less geeky camper, that means it can easily handle temperature down to -20 c, and likely much further, with the right sleeping bag, and 'pyjamas'!
Which is impressive in itself as only a few mattresses reach such values, and allows you to sleep in such conditions. Protecting you from the cold. The Neoair Xtherm is the godfather of the warm to weight ratio equipment.
This mattress is proudly able to state that it has 'more warmth per gram than any other air mattress in the world'. There is a reason this mattress wins so many awards.
You could get it, put it at the bottom of your bag, and then don't need to think about it until you are ready to curl up and sleep. It is so light you will forget you are still carrying it.
We tested this wonderful integration of internal baffles and reflective layers, in Norway, and then in the snow and ice glacier peaks of South American Andes, and we couldn't have been happier. It is tough enough and durable enough to be a reliable, easy carry companion, for any adventure.
Features and Benefits
More warmth per gram than any other air mattress in the world
Still one of the lightest mattresses on the market
Easily unrolled and set up
Almost as easily wrapped up again and stowed away in its own personal case
Rolls up no larger than a big rain jacket, small enough to sit at the bottom of your bag
Reinforced fabric on the bottom to avoid punctures
Reflective upper surface to keep all the warmth with you
R value of 5.7 (easily comfortable at -20c)
You can get a large if you are taller and wider!
This is a true fast and light compact four season air mattress! Next time we plan a stop in the mountains, this mattress already has a place in the carry-on bag!
Thermarest NeoAir Xtherm RRP £184.99 more information can be found at www.thermarest.com