ACTIVE GOLD COLLAGEN is a multitasking liquid collagen supplement. It is a daily supplement drink that is enriched with high doses of collagen, hyaluronic acid and vitamins to nourish the skin from the inside out to increase hydration and reduce the appearance of fine lines and wrinkles as well as plump the skin and make it glow.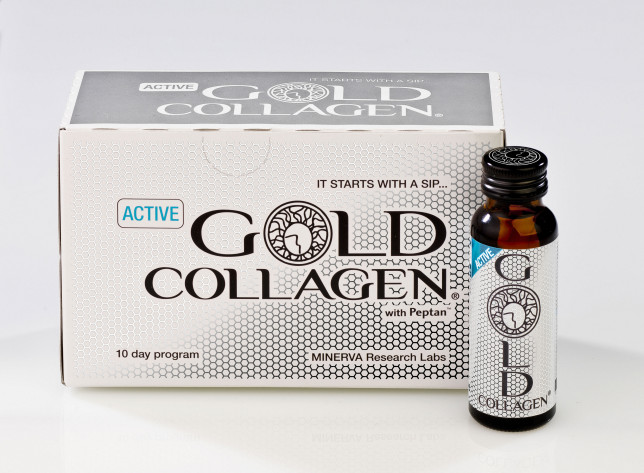 Aside from this, it also contains glucosamine for joint support, L-carnitine to support the muscles, Chondroitin to support cartilage and vitamin b3, 6 and 12 to fight fatigue. It's great for caring for the skin, hair, nails, joints and body for those who keep fit. The protein content in the formulation contributes to the growth and maintenance of muscle mass making it ideal for those with active lifestyles, who enjoy intense gym routines and resistance training.
We had the pleasure of sampling a one month supply of ACTIVE GOLD COLLAGEN and saw results after just one month. We do recommend at least a 3 month supply but we have seen the results time and time again with GOLD COLLAGEN products. It has a great apple and mango taste and is sweetened with Stevia only making it super healthy for those whose health choices including living sugar-free.
ACTIVE GOLD COLLAGEN® is best for people with more active lifestyles who are looking to fight the appearance of signs of ageing or care for muscles and joints. Scientifically formulated with Peptan®, a bioavailable form of hydrolysed collagen and boosted with glucosamine, hyaluronic acid and L-carnitine, ACTIVE GOLD COLLAGEN® works from within to help replenish and renew collagen containing connective tissue and to increase hydration and elasticity which can be affected by time and more active lifestyles.
With daily and consecutive use, it promotes youth and well-being and helps maintain muscle and joint comfort. After 2-3 months, skin will become more hydrated and wrinkles will appear reduced. However it is important to remember that results can vary depending on the individual and their starting skin, genetics and health conditions and depending on diet, lifestyle and environmental factors. Some individuals may experience more positive results and/or at a faster rate than others. Also as great as GOLD COLLAGEN is, food supplements should not be used as a substitute for a varied and balanced diet and healthy lifestyle.
ACTIVE GOLD COLLAGEN® (£35.99 for 10 x 50ml bottles) is available from Boots stores nationwide and online, Harrods, Selfridges www.lookfantastic.com and www.gold-collagen.com.