One of the worst things that we can do is stop learning and growing. I believe that adults have a lot to learn, especially from young entrepreneurs. Business studies is taught to young people at secondary school, but I believe that there is a strong case to start before then, because it helps with literacy and numeracy skills, and it enables young people to see a project through from beginning to end.What could adults possibly learn from young entrepreneurs, and why should we want to? Read on.
1. Develop New Ideas
As a business owner, or entrepreneur, you have todevelop new ideas. Young entrepreneurs are brilliant at this, because their zest for life, and their connectivity to technology means that they are able to identify new opportunities. New ideas, and the ability to bring them to market quickly are at the heart of entrepreneurship. Because something is working, it does not mean it will work forever, so develop new ideas, and build on existing ones. Kodak and Blockbuster video are a prime example of this. They failed to move with technology and develop new ideas, and they ultimately got left behind. The same is true of Woolworths too, whose brand failed to evolve.
2. Keep the Passion Burning
Young entrepreneurs are excitable. I work with a number of them, and their excitement is infectious. Business should not be a chore, and if it starts to become one, that could be a symptom that something needs to change. Adults can learn to maintain the love and enthusiasm from young entrepreneurs. When your heart is not in something, it translates in how you communicate to your customers, and it's hard to sell something, or motivate your team, when you no longer believe in it. Keep the fire burning in your business. Your customers will regard you greatly for it, and you will maintain existing relationships with your customers, as well as attract new customers. Your enthusiasm will be the ultimate selling tool
3. Go on New Courses
Education is thrust upon the young, but adults have choices. The decision not to do any training or courses, is a decision to fail. Entrepreneurs need to upskill, and this a big difference between young entrepreneurs and adults. Education does not have to be in the formal sense – there are plenty of online courses, and one day courses that can give you the skills necessary. I aim to go on a minimum of 3 courses each year, and we encourage people in our company to study too. Technology is evolving at an astounding rate, and a lack of awareness can make all the difference between your business failing or thriving. Study like your business depends on it – because it does!
Never dismiss young people. Learn from their talent, energy and drive, and allow them to impact you, as you seek to impact them.
About the author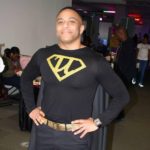 Julian Hall is an entrepreneur and best selling author of 2 books.  Julian lives and works in London, and he has run several very successful businesses.  Julian is an in demand speaker, and he has traveled all over the world, giving talks about entrepreneurship, and he is the founder of Ultra Education, a company dedicated to teaching entrepreneurship to kids.