Located atop the iconic Oxford Street luxury department store, Selfridges' rooftop has a long-held reputation for attracting some of the most exciting rooftop concepts in London. Now this sky-high hideaway has reopened in partnership with the hugely successful independent Italian restaurant brand, San Carlo, and the result looks set to be one of the season's most talked about launches.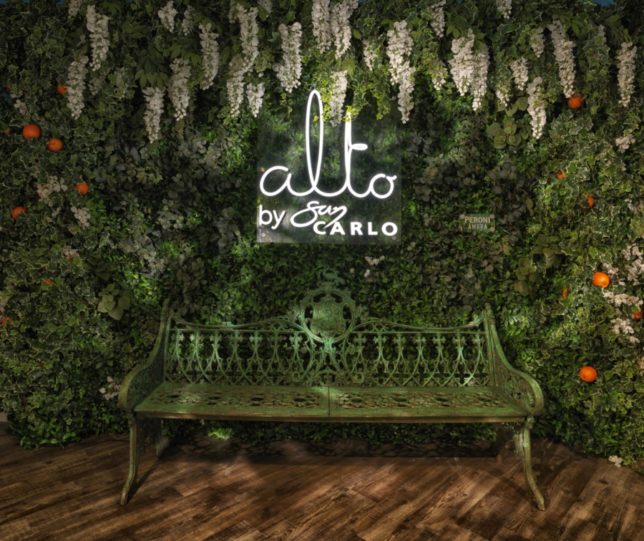 Opened on 27th April, alto by San Carlo brings an Italian elegance to the West End. As guests step out of the dedicated express lift, they will find themselves walking into a secret Italian garden high above the hustle and bustle of one of London's busiest thoroughfares.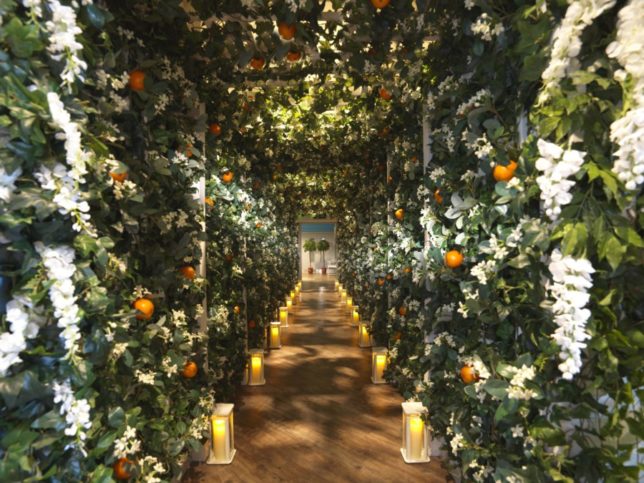 Greeted by a floral installation studded with Italian chinotto fruit, they can continue their journey via an evergreen walkway before arriving at an ultra-stylish and beautifully landscaped space. Here in this roof-top garden, complete with verdant overhead foliage and citrus trees, customers of alto by San Carlo can enjoy a day-to-night menu of superb, seasonal Italian fare.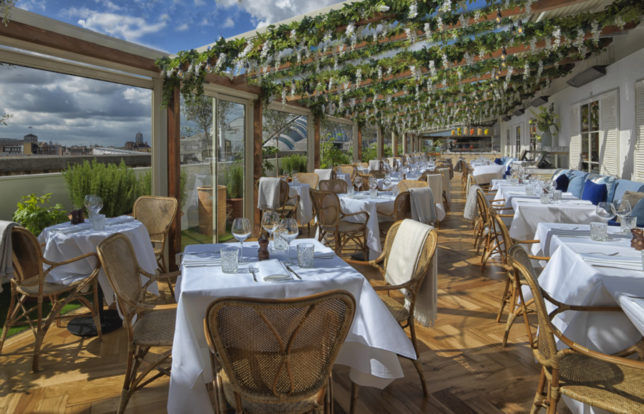 Signature creations include Fillet of seabass cooked in black volcanic salt from Mount Etna; Truffle & pecorino ravioli and Basil & prawn risotto. These are accompanied by classic favourites such as Spaghetti cacio e pepe (Roman-style pasta served with pecorino cheese & black pepper) alongside meat dishes created using Chianina beef from Tuscany and fish grilled in a Josper oven.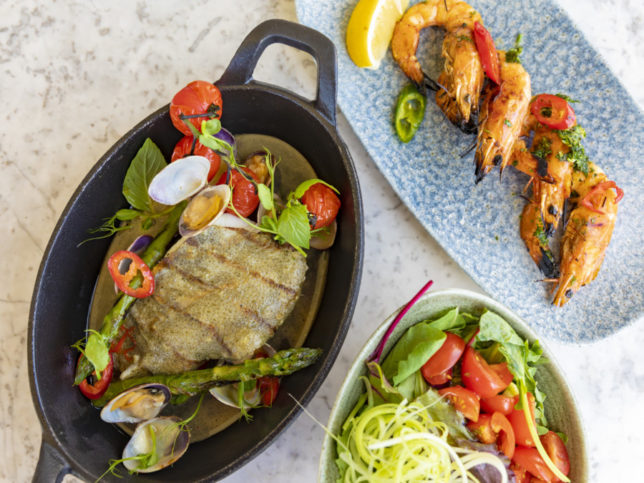 alto by San Carlo also offers a fantastic array of fresh shellfish including oysters, baked scallops, lobster, crab and Mediterranean prawns. A seasonal collection complements the main menu with dishes inspired by the Italian seasons, among them Tagliatelle with broad bean, asparagus & black truffle and Lemon sole with baby clams & asparagus.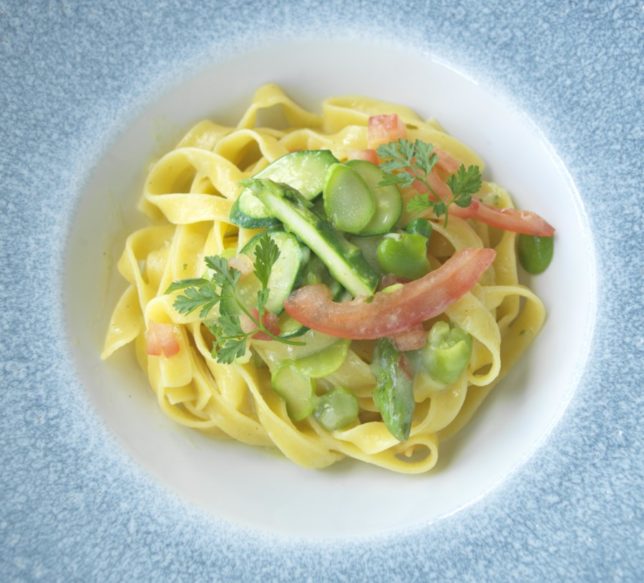 The final touch is a decadent dolci menu featuring sharing desserts such as the Dolci Cicchetti (a platter of alto's most popular mini desserts) and the ultimate crowd pleaser, the Coppa Golosa, a giant bowl of chocolate, hazelnut and vanilla gelato topped with crushed Ferrero Rocher and warm Nutella sauce. Created using only the finest seasonal ingredients, sourced from some of Italy's most celebrated local producers and suppliers, alto's dishes are complemented by an expertly curated wine list.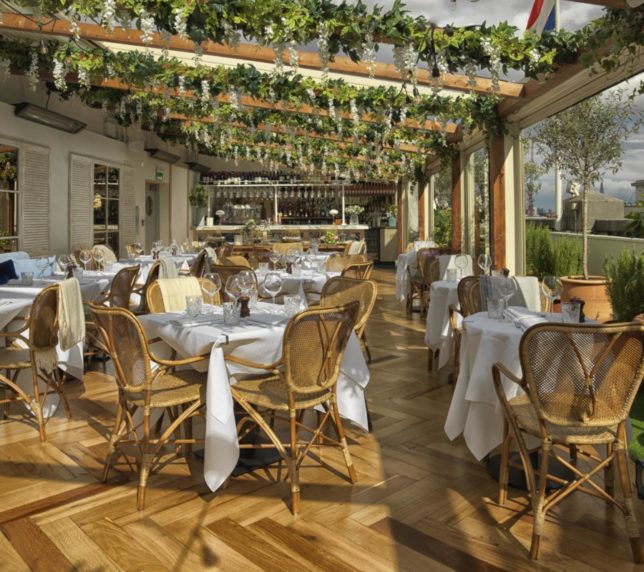 Guests can choose to dine in the restaurant, where the retractable roof makes it the perfect destination whatever the weather, or al fresco on the sun terrace. Here an equally charming bar offers a selection of expertly mixed cocktails along with wines, champagnes, beers and soft drinks. In addition, the terrace will play host to a number of exciting brand residencies throughout the summer.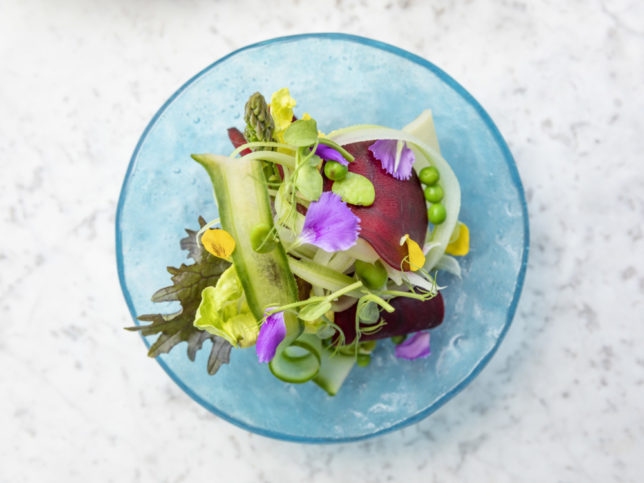 We arrived on the outdoor roof terrace which had a lively and buzzing vibe. The waiter showed us to our table which overlooked the London skyline and set the scene for what was to follow. To whet our appetites we tried some world famous Colchester rock oysters. These are renowned for being truly free range and the flavour shows! The oysters were meaty in texture and had sweet creamy taste. The freshness of the oysters stood out and they were a joy to eat.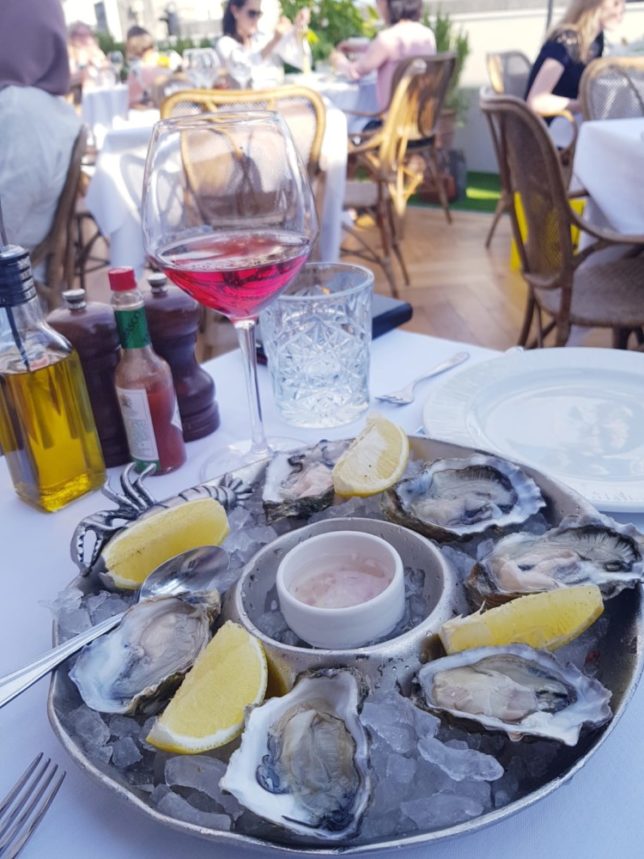 To start we tried the Fritto Misto. This comprised of fried soft shell crab, prawns and calamari with tarragon garlic mayonnaise and Calabrian chilli dips. The batter was light and crispy and seafood was soft and flavourful. The dips paired well with the dish with either a subtle or spicy option available.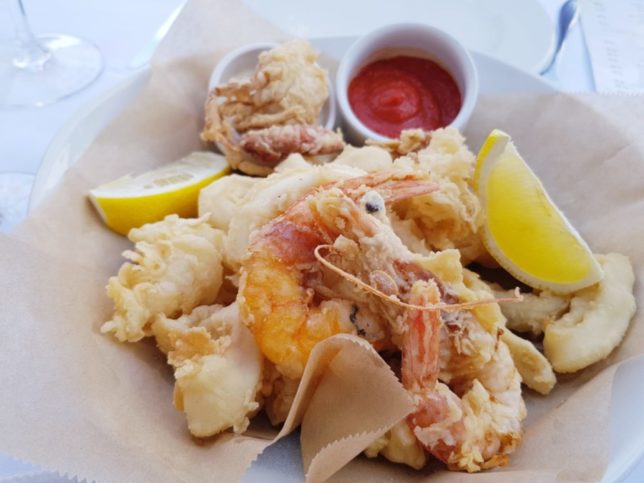 The Croquettes were larger than we were expecting and had a ham and taleggio cheese filling with an N'duja dip to add a bit of spice. The croquettes were quite heavy and the taleggio cheese was intense – a must for cheese lovers.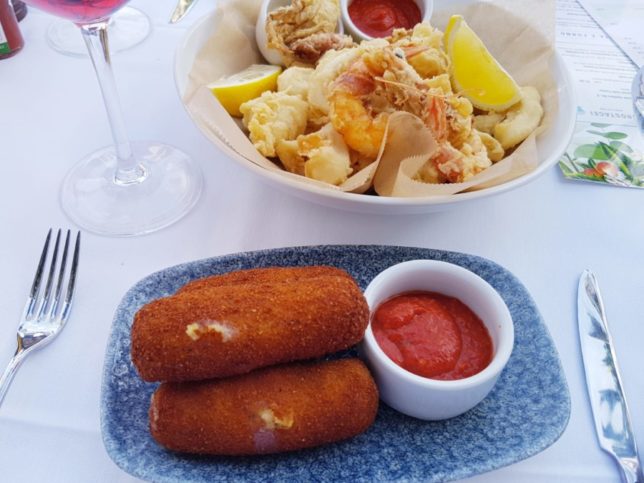 Look what arrived next! Let's go in and take a closer look!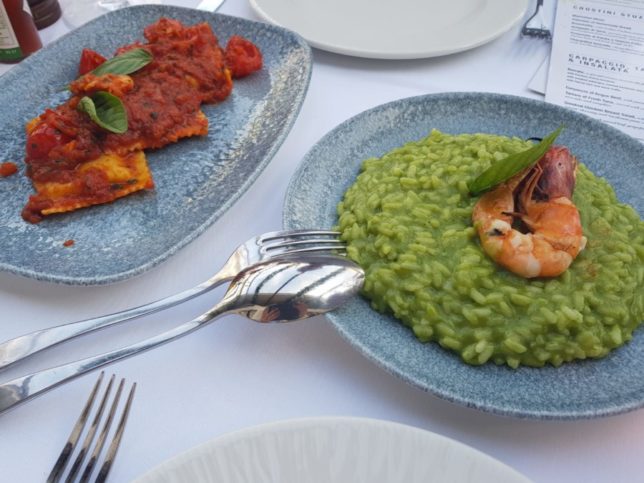 The Lobster Ravioli tastes as good as it looks. Each parcel is home made and crammed full of lobster goodness. The tomato sauce is light and flavourful and it is nice to see part of a lobster claw on top. This dish is truly indulgent.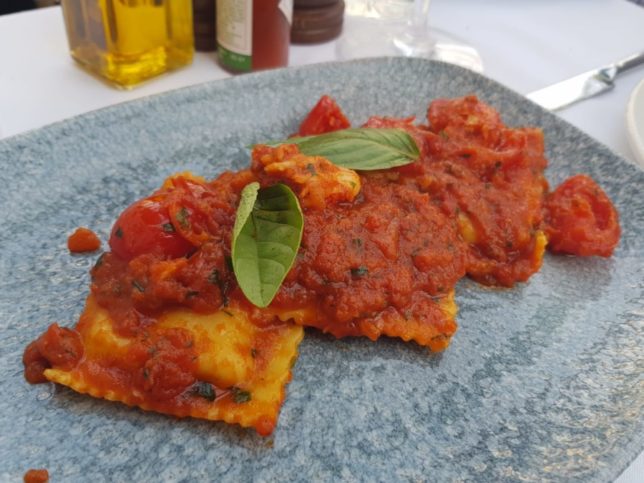 Sticking with the Primi theme we decided to try the Basil Risotto with a roasted prawn. The risotto was al dente and the sweetness of the basil shone though. A delicately tasting dish with great texture.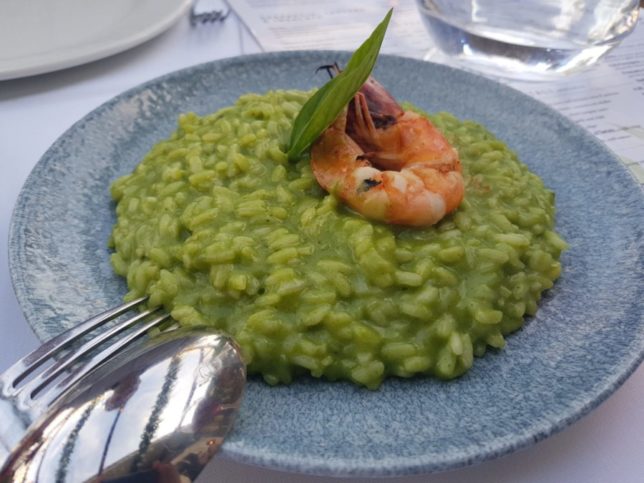 Being in an Italian restaurant we had to try the pizza. We ordered the Calabrese which is topped with N'duja Calabrian soft and spicy sausage with buffalo mozzarella. The crust of the pizza was light and doughy and the smell was intoxicating. Although small this dish packs a punch!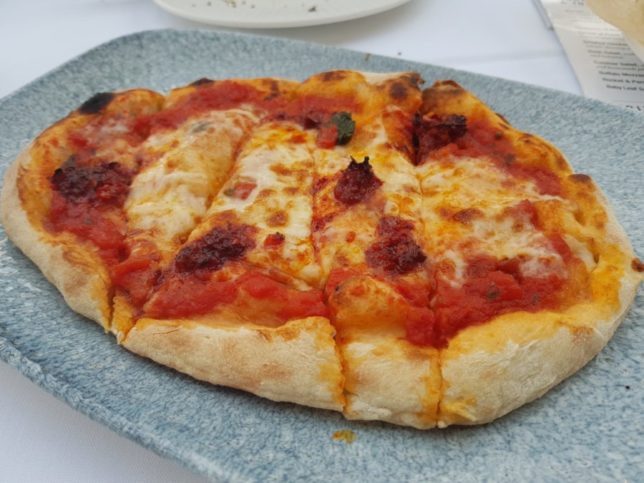 To finish our journey we thought we would tried something traditional so we ordered the spaghetti carbonara. The dish is bright and welcoming and the bacon combined with the seasoning ensures the dish has strong salt and pepper flavours that might not be to everyones liking.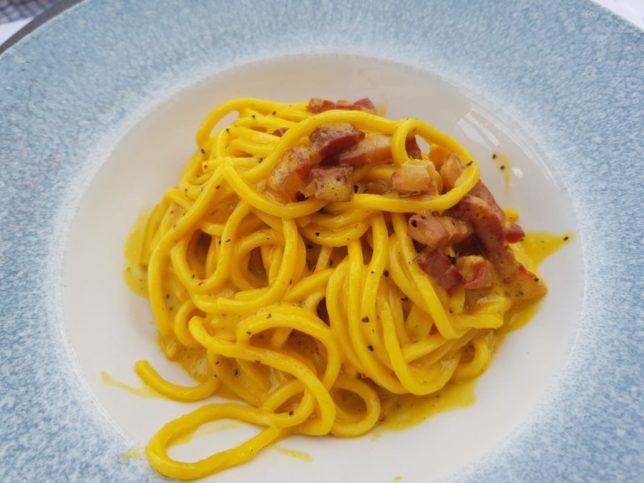 alto by San Carlo is the fifth Selfridges San Carlo Group restaurant – San Carlo Bottega and Gran Cafe are situated within Selfridges Exchange Square, Manchester and Fumo and Gran Cafe can be found within Selfridges, Birmingham. Offering an all-day lunch and dinner menu, alto by San Carlo is open Monday to Saturday, 11.30am to 11pm and Sunday from 11.30am to 6pm.
alto by San Carlo
Selfridges, Oxford Street, London W1A 1AB
020 7318 3287
www.sancarloalto.co.uk
@alto_selfridges