Make time for a little luxury this festive season with Amorino's decadent Hot Chocolate Experience for the ultimate chocoholic indulgence. I headed down to my favourite Amorino boutique in Fulham Broadway to sample this indulgent delight from the artisan gelato and sorbet specialist brand created by childhood friends, Cristiano Sereni and Paolo Benassi.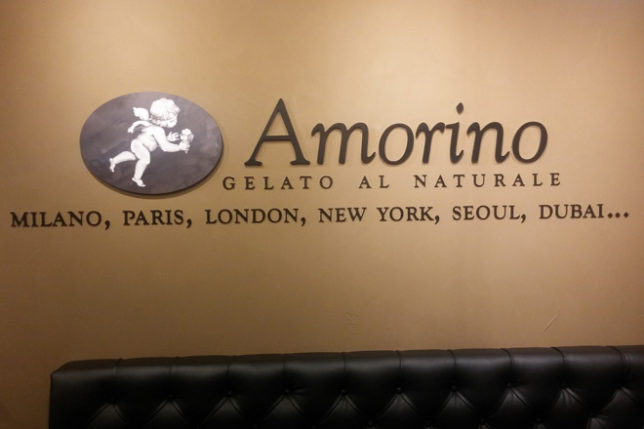 The Amorino Hot Chocolate Experience offers a choice of ten rich flavours with each thick authentic Italian hot chocolate lavishly presented on a wooden board accompanied by a selection of decadent topping choices enabling you to lavishly customise your seasonal sweet treat just to your liking.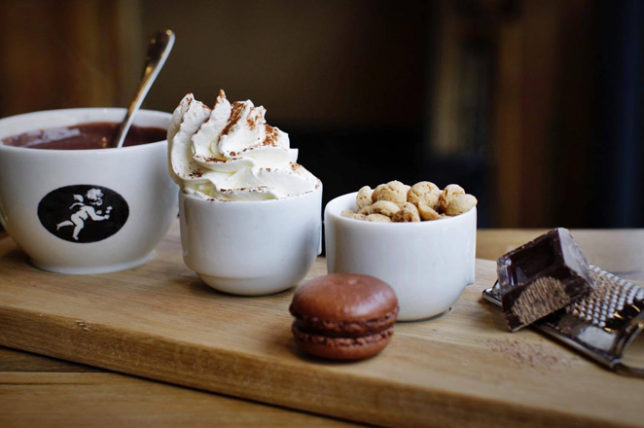 After a warm Italian welcome at Amorino Fulham Broadway, Fabio told me that every Amorino product from the 20-odd flavours of gelato to the waffle cones and everything in between is made centrally at Amorino's production facility in France to ensure quality and consistency across the brand. Why France not Italy? Because the founders of Amorino – Cristiano Sereni and Paolo Benassi – live in France and Paris was the site of the very first Amorino boutique. Sereni and Benassi are very proud of the fact that regardless of which Amorino boutique you visit, the delicious flavours, careful presentation and high standards of the brand will be the same each and every time.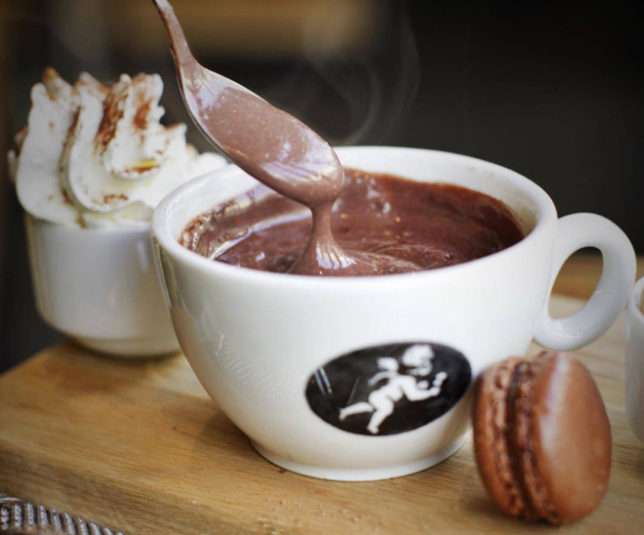 It was time to choose a flavour from the tempting selection of ten opulent flavours. The most popular is the velvety Milk Chocolate but there is something for everyone from rich Dark Chocolate and creamy White Chocolate to exotic Coconut and fiery Aztec which is infused with chilli to put the hot into hot chocolate.
I decided to keep it seasonal and chose the festive flavours of Orange & Cinnamon. Fabio constructed my Hot Chocolate Experience and just like everything across Amorino's 200-odd worldwide boutiques, consistency was key. My serve looked exactly like the promotional image above…

If you love the Italian heavenly creation that is Nutella (and who doesn't?!) I would recommend the Gianduja Hot Chocolate but there's a flavour for every palate. Here are the 10 flavours you can choose from:
Rich dark hot chocolate
Velvety milk hot chocolate
Smooth hazelnut hot chocolate
Creamy white hot chocolate
Authentic Italian Gianduja
Fiery chilli-infused Aztec hot chocolate
Exotic coconut hot chocolate
Warming orange & cinnamon hot chocolate
Sweet and nutty almond & caramel hot chocolate
Your decadent drink is served with a choice of tasty toppings. Perhaps start with the rich pot of sweetened whipped cream, which comes sprinkled with cocoa. The whipped cream is freshly prepared in store every day and carefully sweetened by hand with icing sugar. The presentation is done carefully and with consideration by Fabio.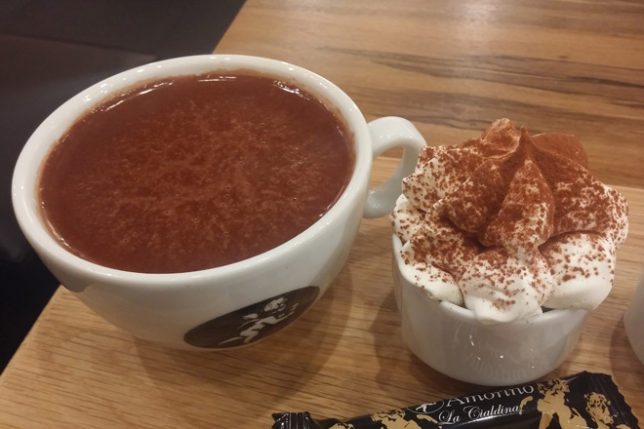 The hot chocolate is also served with nocciolini which are small round cookies made with meringue and ground hazelnuts that are typically Italian. Adding them to the hot chocolate gives a wonderful mouth-feel and a crunchier alternative to the American style marshmallow topping. There is also a tender scrumptious chocolate macaron on the side to continue the meringue theme filled with chocolate gelato that melts in the mouth.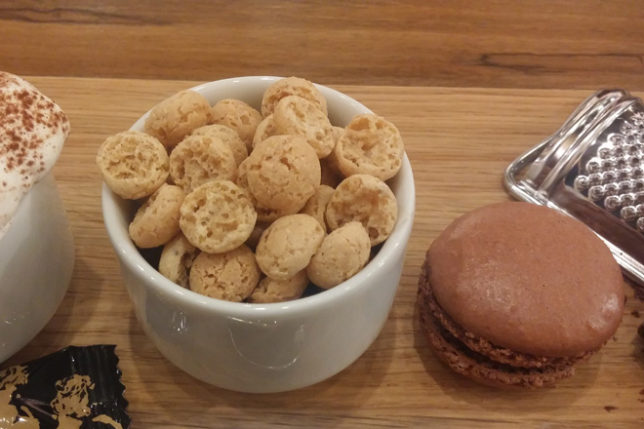 Fabio recommended I try finishing my hot chocolate and the whipped cream with a dusting of freshly grated chocolate… Italian of course made with 70% cocoa solids. I could tell the high quality of the chocolate by the satisfying snap when I bit into it.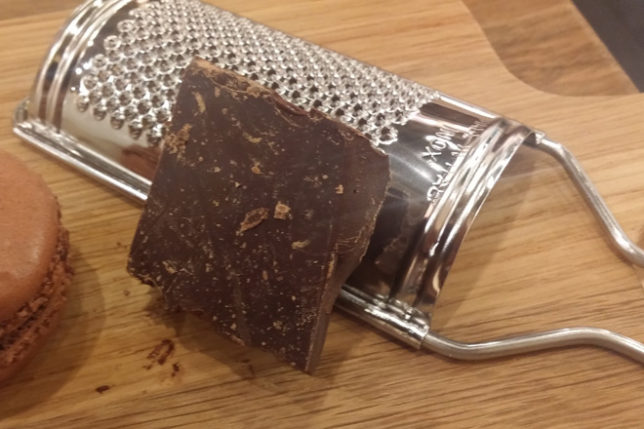 With all this talk of hot chocolate (as lovely as it is) let us not forget that Amorino is deservedly famous for their beautiful gelato roses and it's good news for vegans as all Amorino's sorbets and crispy waffle cones are vegan-friendly. As a special treat, Fabio created a beautiful gelato rose cone for me using Mango Sorbet Alfonso d'India and the rare yet supremely delicious Dark Chocolate Sorbet made from South American cocoa beans. The orange and dark brown colours looked so festive… festive Chocolate Mango beats a certain "chocolate orange" for sure!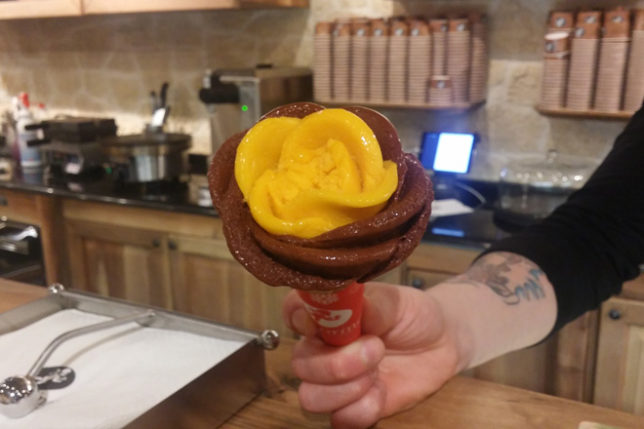 Whether you're taking a break while Christmas shopping or simply enjoying a seasonal catch-up with loved ones, there's combination for every chocolate lover to enjoy inside Amorino's cosy interiors.
Amorino's decadent Hot Chocolate Experience is available in these selected stores: Soho, Covent Garden, Chelsea, Camden Town, Islington and of course our local boutique in Fulham Broadway.
For location details and more information, please visit www.amorino.com