This brunch staple is given a twist by Anna Barnett with an indulgent salted caramel topping. Anna uses Lavazza's Prontissimo! Premium instant coffee which has a higher percentage of micro-ground coffee adding a rich depth of flavour and allows for no mess or fuss and just totally delicious coffee-infused results.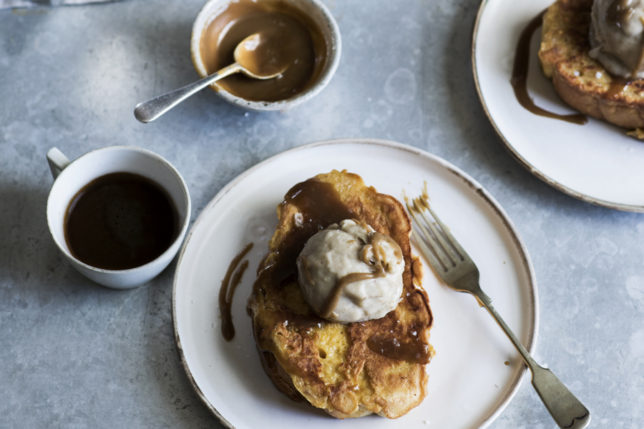 Serves 4
Preparation Time: 10 minutes
Cooking Time: 10 minutes
French Toast ingredients:
1 medium/small crusty white loaf
5 large eggs – whisked together
3 heaped tbsp plain four
3 tbsp caster sugar
2 pinches of cinnamon
2 pinches of ground nutmeg
1 pinch of mace
Generous sprinkle of sea salt flakes
Oil for frying
30g butter for frying
French Toast method:
Begin by slicing your bread. It actually works in your favour if the bread is a little stale.
Next, mix together all french toast ingredients to make an egg mix.
Soak the bread in egg mix for around 30 seconds flipping so each side is evenly coated.
Heat a non-stick pan with a generous drizzle of oil.
Fry bread on both sides until golden and crisp adding a small knob of butter once it starts to begin to turn crispy. This will ensure you cook it thoroughly without burning the bread.
Remove and keep warm in the oven on 60°c.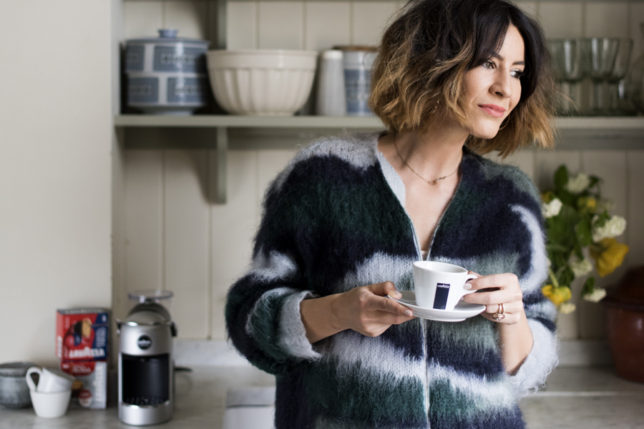 Coffee, Caramel and Hazelnut Syrup ingredients:
5 tbsp/90g butter
125g light brown sugar
170ml single cream
1 ½ tsp of Lavazza's Prontissimo instant coffee
¼ tsp vanilla bean paste/1tsp vanilla extract
Sprinkle of sea salt flakes – to taste
Coffee, Caramel and Hazelnut syrup method:
Melt the butter in a small pan over a medium to low heat until liquid.
Whisk sugar, coffee and cream into the melted butter, making sure the coffee is fully dissolved.
Gently bring to the boil whisking the whole time.
Reduce the heat and continue to whisk for another 2-3 minutes to allow the sauce to thicken a little.
Remove from the heat and add in the vanilla paste.
Drizzle the syrup over french toast if serving immediately.
(You can also make the syrup before the toast and store in the fridge. If you do this, make sure to gently reheat when ready to use as it will solidify in the fridge.)
Frozen Banana Ice Cream ingredients:
4 bananas roughly chopped and frozen
Ice cream method:
Simply blitz frozen banana and scoop into balls to serve alongside the French Toast.
Prontissimo! is available in Sainsbury, Waitrose and Tesco stores nationwide at £4.70 for 95g