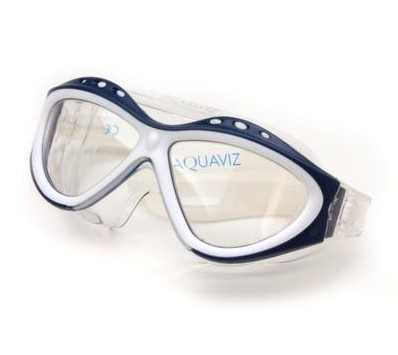 Sportviz swimming-specific eyewear starts with a high-quality Aquaviz OTS or Aquaviz OTS PRO Core in your colour and design. It's all your eyes need for swimming in pools, lakes, or open water. Combine them with Sportviz Inzerts for the ultimate in innovative versatility. Every lightweight yet strong core by Sportviz features proprietary Azion materials designed to comfortably keep the mask in place no matter what your water activity plus the patented "snap in and out" connector for all Sportviz Inzerts from polarized to custom prescription.
Comfortable, watertight fit with dive-quality Azion latex-free hypoallergenic skirt that adapts to face shape. Single gasket / double head strap design distributes pressure evenly to avoid headaches and 'goggle eyes'. Lenses block 100% of harmful UV and incorporate an anti-fog coating. Accepts any Inzert. Includes soft mesh carryng case. For swimming, surfing, and other on-the-surface water activities. Available in 3 colour options.
Custom Built For Your Adventure
Start with a core, pick a colour, then select your Inzerts from polarized to prescription. Mix and match cores and Inzerts to create the perfect activity eyewear for your lifestyle. Swap Inzerts on the fly for any time of day or lighting condition. Pop them into different cores and you are ready for any adventure.
Need vision correction? No problem.
Order custom Inzerts made to your exact prescription, even bifocals and progressives. Snap your prescription Inzerts into any Sportviz core for affordable custom prescription swim goggles, prescription swim masks, prescription snorkel masks, prescription ski masks and a whole lot more…
The prescription Inzert pricing includes custom ophthalmic lenses within the range of +6.00 to -8.00 Spheres with Cylinders up to 4.00 if you have Astigmatism. This covers over 95% of all eyeglass and contact lens wearers but even if you are one of the few percent who needs lenses outside this range they may still be able to help however there would be an additional charge). They say that if there's any way they can help, they will.