Having originally opened in 2007, Aquum quickly became one of the most popular night-time hangouts on Clapham High Street. It has now been recently re-launched as a late night drinking, dining and dancing destination, following a complete and extensive refurbishment and features a dedicated restaurant offering with an exciting and sophisticated menu of contemporary Greek dishes and innovative cocktails, all whilst retaining its signature party feel. The exciting refurbishment gives the four-story venue a new lease of life with the addition of two new bars and a restaurant. With its enticing new food menu, exciting cocktail list and electric atmosphere, Aquum provides the perfect one stop destination for drinking, dining and dancing.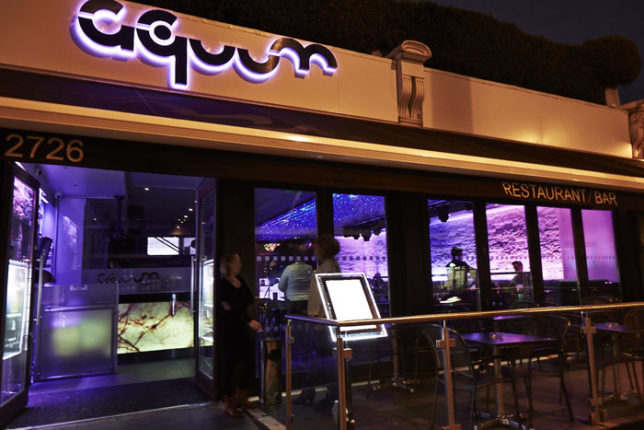 Designed by GMP, the chic and atmospheric interiors combine raw stone and dark leather seating with petrol blue hues and impressive light installations. The ground floor and basement features onyx-wrapped bars with walls lined with specialist spirits, as well as eating and drinking areas and a private events space, and Aquum's house band plays live music every from 9.30-11pm. Upstairs, two staircases link a second bar and a 75 cover restaurant, and at the top of the building a smaller room is equipped with its own private bar – perfect for dinner parties and special occasions.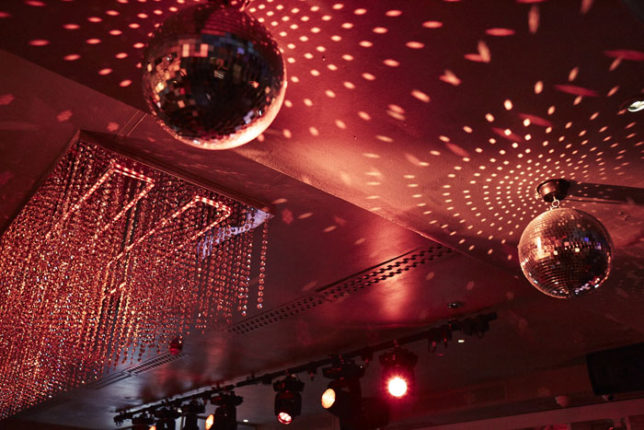 With food being one of the main focuses at the new venue, Head Chef Anastasios Tologlou (previously at Medlar, Dinner by Heston Blumenthal and Coloniales Huerta) has been appointed, and created a menu that takes inspiration from his Greek roots combined with his experience from working in some of the world's top Michelin starred restaurants. Chef Anastasios was proud to tell us that around 85% of all the food served at Aquum is home made in the restaurant kitchen using the freshest ingredients from our British fields and shores as well as Mediterranean sourced ingredients so only the very best seasonal produce finds its way to your table.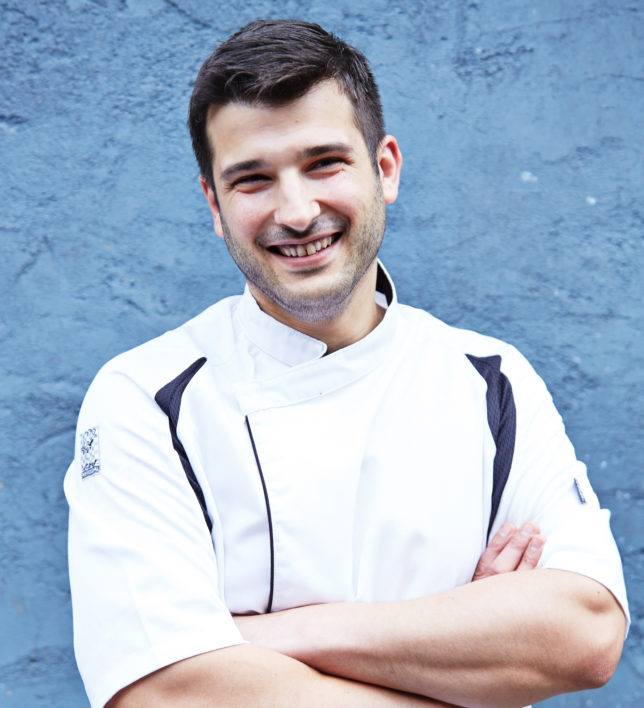 Anastasios also told us that the fun funky atmosphere of the re-launched venue allows him to play with textures and execution of dishes whilst still remaining true to the authentic Greek flavours. We love chefs that add their own contemporary twist to menus so we knew Anastasios would take our palates to the next level. Using the finest seasonal produce and authentic recipes, along with cutting edge cooking techniques, the menu recreates the goodness of the Greek Islands for a modern London audience.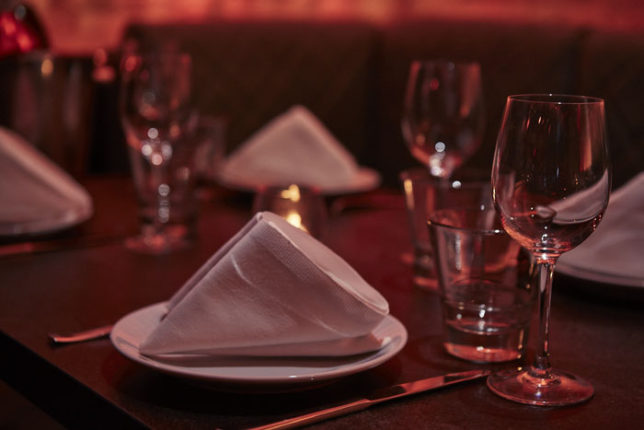 The menu combines a mixture of sharing plates, light dishes and delicious grilled meats. We began our Aquum feast of flavour with an exciting selection of warm bread and delicious dips accompanied by expertly made cocktails. I had the Pineapple Bellini, a tropical twist on the classic favourite combining pineapple syrup, pineapple purée, Prosecco and a touch of Rose liquor and lime. My man went for the Jack's Banana which mixes Gentleman Jack, #Aquumsown banana infused Jack Daniels, Pisang Ambong, banana liquor, Aperol, lemon juice, sugar, Angostura bitters and soda. A complex version of the whiskey sour with a Jack Daniels banana back bone.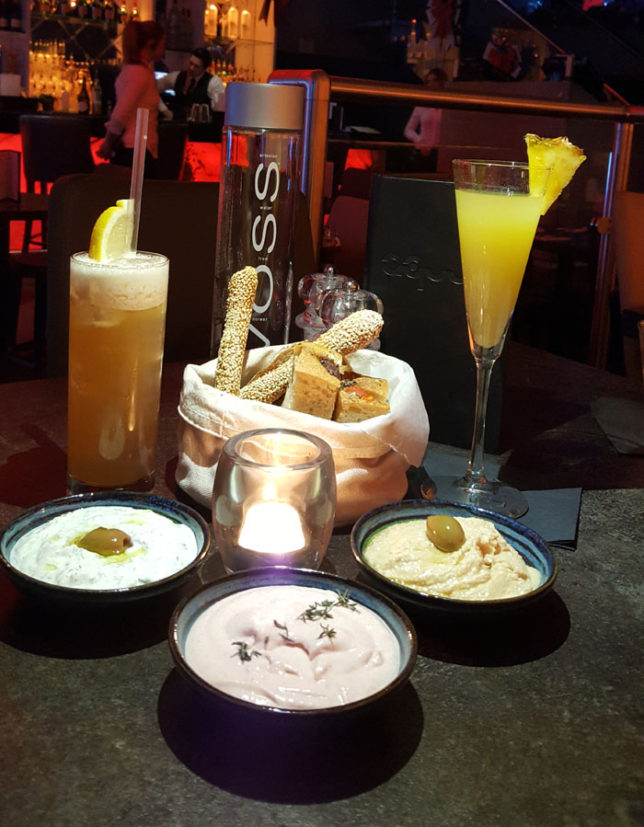 Our trio of dips consisted of hummus, tsatsiki and the best taramasalata we have tasted in a very long time! You can really tell the skill of the kitchen by simple dishes and right from the word go we could tell that if these dips were anything to go by, we were in for a very special feast of flavours from Chef Anastasios and his team. We chose a selection of hot and cold meze to feast on after the appetizing dips and breads. A colourful plate Ouzo-Orange Marinated Salmon arrived laid on a bed of light tzatziki, with home cured pickles.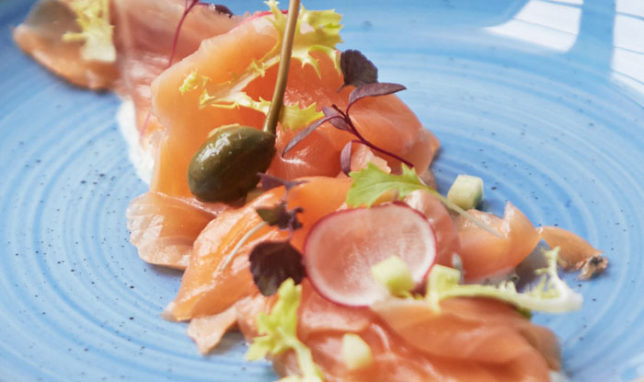 In addition to the Smoked Cheese Arancini with wild mushroom puree and garden peas, we also tried the Grilled Chicken Pitta with tabbouleh salad and crème fraîche. The chicken was packed full of flavour and the bread was so moreish with a touch of sweet paprika.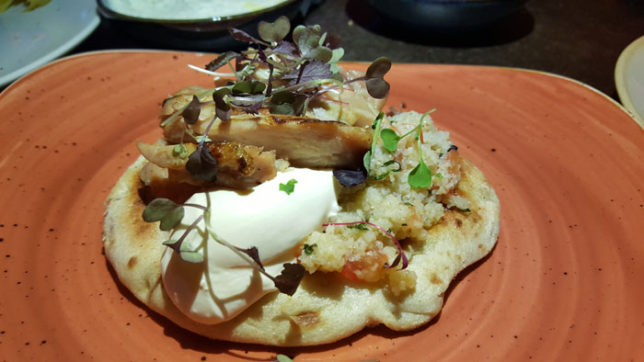 We also tucked in to a selection of PDO Greek Charcuterie each selected from a particular protected destination of origin back in provinces of Greece. Cured meats and smoked chicken were satisfyingly chewy in texture and oozed meaty flavour.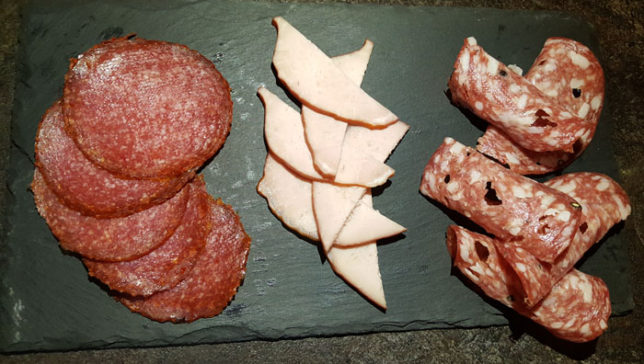 Joining the meze dishes was a beautifully smooth and creamy Homemade Chicken Pâté topped with a layer of metaxa and port, served with organic sourdough. This dish was almost too good to share… thankfully the generous portion served in a Kilner jar was more than enough to go round!
At the newly re-launched venue, Aquum's diverse cocktail list of classics, sharing drinks and house infused shooters are joined by a dedicated list of unusual Greek cocktails, along with selected Greek wine and beer. For our second round of drinks, we enjoyed remastered classics – my man had the Honey & Banana Re-Fashioned with honey syrup, #Aquumsown banana infused Jack Daniels, #Aquumsown walnut bitters and Angostura bitters all stirred down on the rocks. I went for the Berry Got Back which has returned to the drinks menu by popular demand as one of Aquum's most popular drinks of all time. Eristoff Vodka is mixed with Crème de Frambois, Disaronno Amaretto, raspberry purée, fresh raspberry, lemon and cranberry juice with sugar syrup.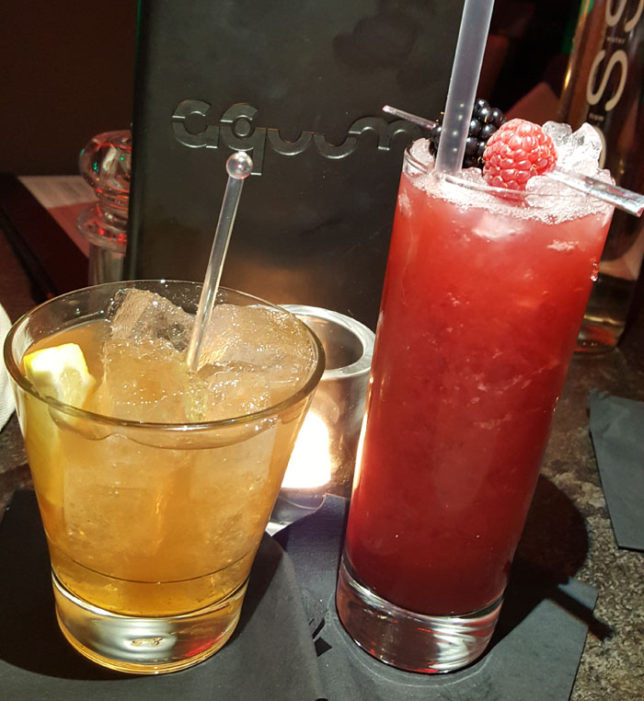 From the Grilled Meze menu I enjoyed the Chargrilled Octopus – a sensational dish created by Chef Anastasios who told us that the secret to getting the octopus meltingly tender was to cook it sous vide for 4 hours at 75°C before lightly searing it on the charcoal grill. The end result is served with fava beans, olive oil and crunchy capers.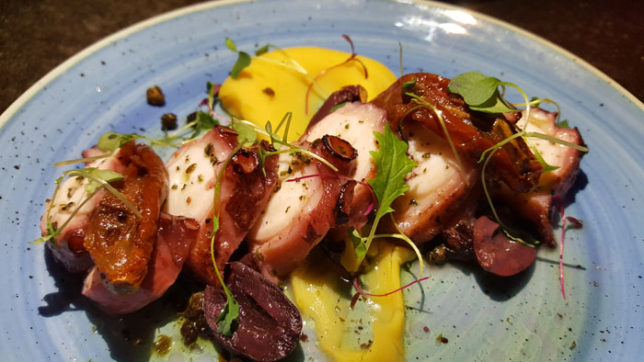 My man loves lamb almost as much as he loves me! So it was no surprise he went for the Chargrilled Lamb Rump with beautifully juicy lamb served with smoked aubergine and chickpea puree and pimento. Check out the close up to see just how moist and juicy the lamb was…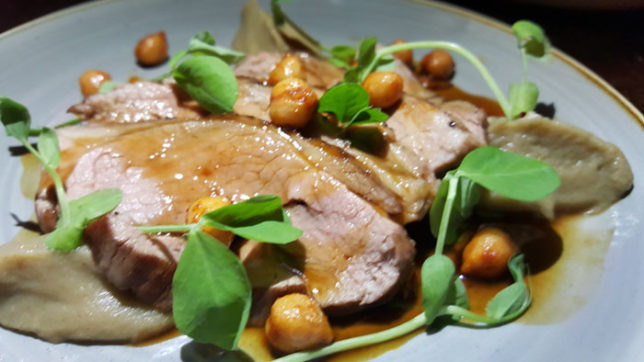 On orders from the Restaurant Manager, we left enough room for dessert and were presented with an unexpected but delightful trio of some of Aquum's own favourite desserts.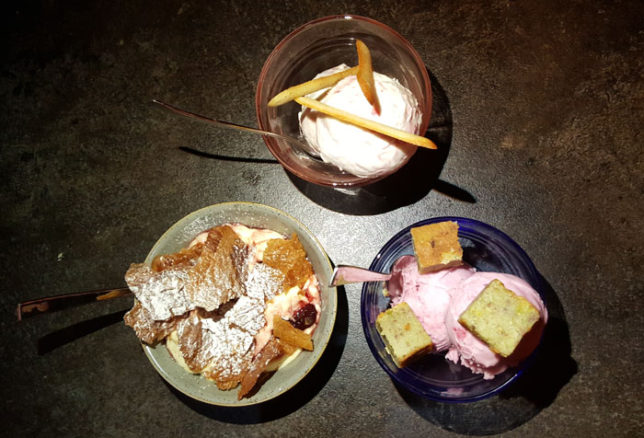 First to get the SLOAN! Seal of Approval was the smooth and fruity Blackberry Sorbet served with squidgy pistachio brownie pieces. Take a closer look at the brownies… you can tell they've been packed with nutty pistachios. How very yummy!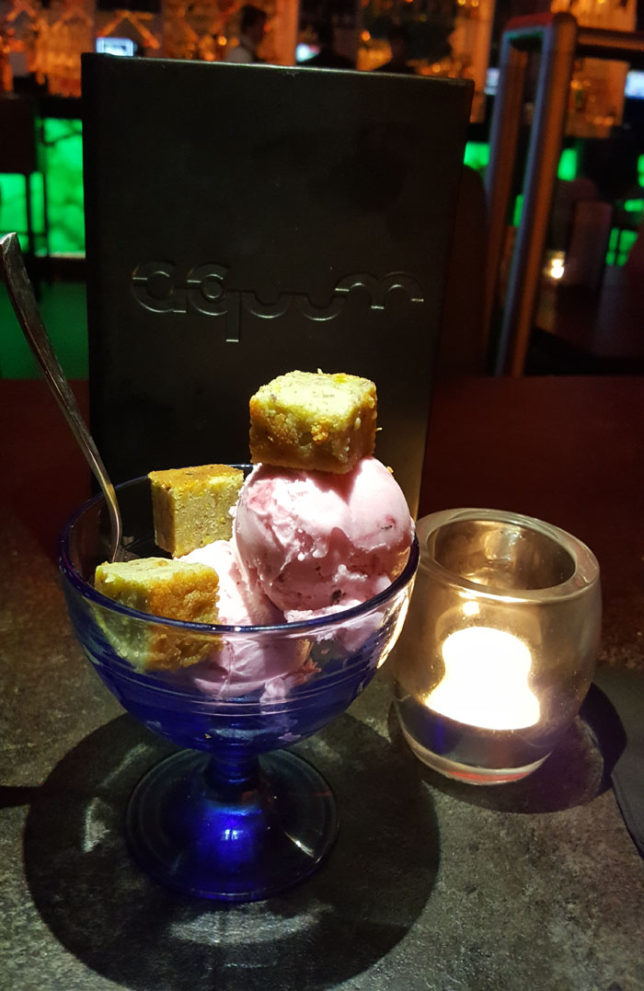 My man absolutely adores white chocolate so he was very happy with the offering of Raspberry and White Chocolate Ice Cream served with crisp langue de chat cookies. The raspberry ripple takes us back to our childhood whilst the sophisticated biscuit and rich cocoa butter flavours bring us straight back to the classy elegance of modern day Aquum.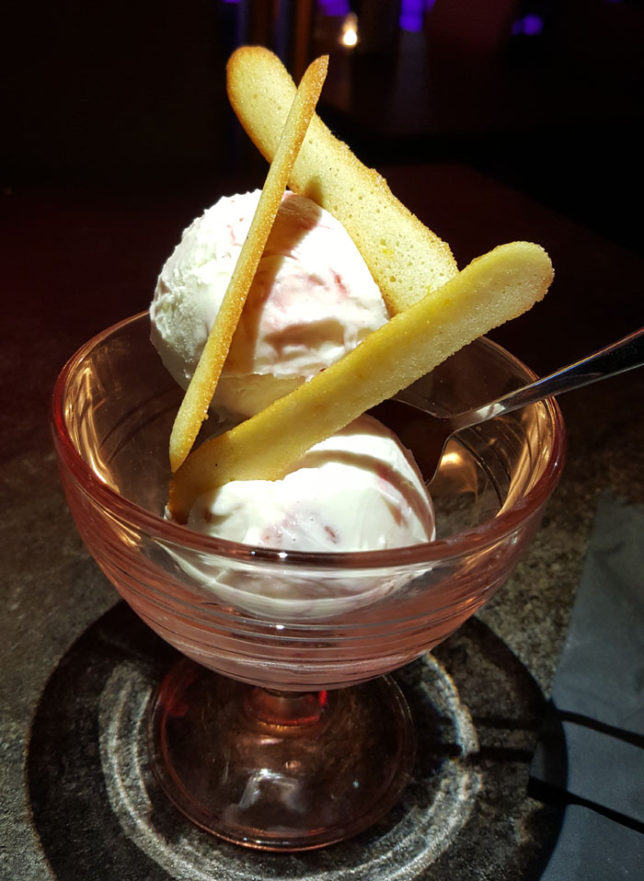 Saving the very best until last, here is Aquum's version of Greek classic 'Galaktompoureko'. Deconstructed and reinvented by the innovative culinary genius of Chef Anastasios, this decadent yet light dessert creation combines a fluffy creamy vanilla sabayon, with shards of crisp caramelised filo pastry flakes and delicious sour cherry compote. Forget Mount Olympus… right here at Aquum exists a haven of Greek delight!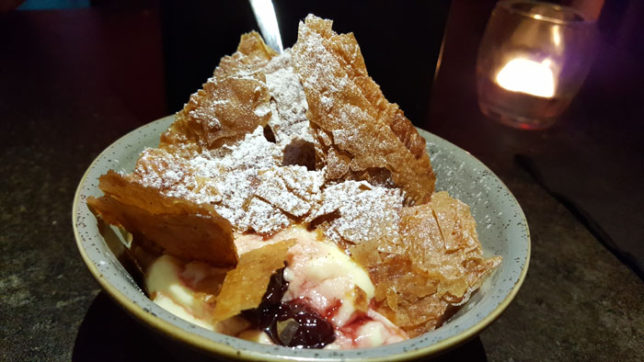 Hot of the heels of London's explosive trend for bottomless brunch, Aquum have just lanuched their own version of this weekend classic. For only £15 per person, you can choose one dish from the new brunch menu or 3 dishes from the Meze menu and enjoy bottomless Prosecco for two hours. Aquum Bottomless Brunch is served every Saturday and Sunday from 11am to 4pm. For the fun and funky Claphamites out there, if you wear a Christmas jumper you will receive a free Bloody Mary compliments of the manager! What are you waiting for? Book now!
Aquum
68 – 70 Clapham High Street, London, SW4 7UL
020 7627 2726
www.aquum.co.uk