Archeia Minerals are supplements packed full of antioxidants, vitamins and minerals all formulated to prevent ageing and aid renewal and regeneration of hair, skin and nails.   A key component of the mineral supplement is extract of Aronia berry, a little-known fruit that contains a much greater quantity of antioxidant compounds than the more familiar source of cranberries and blueberries. Recent research shows that Aronia can also reduce free radical cell damage.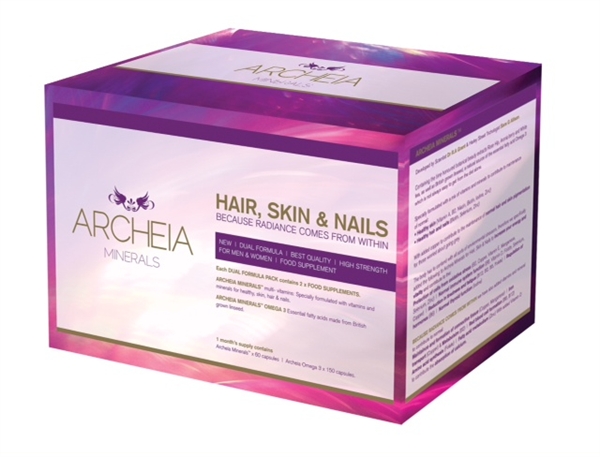 Rosehip extract provides high levels of vitamin C for collagen formation. White tea extract is a potent inhibitor of elastase and collagenase, the enzymes that degrade the vital skin structural elements elastin and collagen. Reflecting concerns about the lack of omega 3 fatty acids in today's diets, high-strength cold-pressed flaxseed oil omega 3 supplements, which may have the potential to delay cellular aging, are also included.
The team behind the brand
Leading Trichologist and nutrition expert Sara Allison found herself continuously recommending four or five different supplements to her clients, in order for them to achieve the correct vitamins and minerals they needed to keep their hair, skin and nails healthy and glowing.  Along with Biologist Dr Rachel Grant, they decided to further research active ingredients to find out which were scientifically proven to be effective – the Archeia brand was formed. The name Archeia means a female Archangel who looks after your wellbeing.
Here at SLOAN! Magazine we thought that Archeia Minerals was time consuming but worth it. Preliminary results from a consumer trial indicate that 87% of participants found their complexion was more radiant, 78% said their hair felt thicker, 92% had more energy and vitality and 73% said their self confidence has increased.  So we decided to subjectively mark the minerals on the same basis, reviewers definitely had more energy, thought their hair was thicker, however here at SLOAN! we are quite a confident bunch thanks to Sloan's coaching but our self confidence maintained it's high level and all reviewers would continue taking the product.
The product is free from artificial fragrances, sulphates and parabens and not tested on animals.
Archeia Minerals are £67.99 for a months supply.  It is available to buy online at www.archeiaminerals.com
The SLOAN! Review
Hair was thicker after 3 months use