Born in Mumbai, Parsee chef Cyrus Todiwala has received numerous awards, titles and honours, but the Chef Patron of Cafe Spice Namaste, Mr Todiwala's Kitchen, The Park Café in Victoria Park East and Assado still has his feet firmly on the ground. Despite being a hands-on chef, he's managed to slot in regular appearances on television such as BBC Saturday Kitchen and he takes part in top food festivals around the world, and to author 5 books in addition to running three successful restaurants.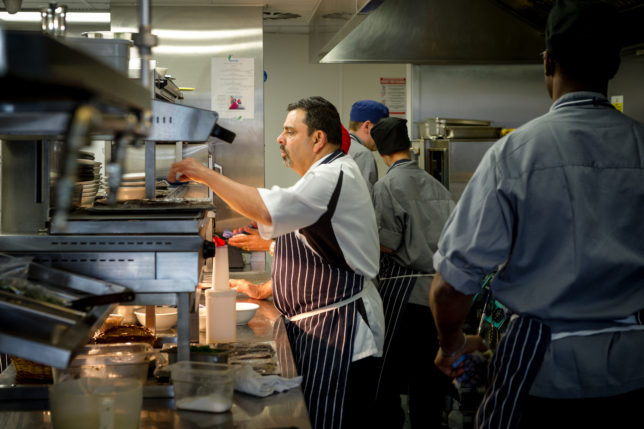 Cyrus Todiwala cooks, teaches, does a lot of work for charity and the community, but his restless, entrepreneurial spirit means he never stands still or says no to a challenge, whether it's leaving a secure Executive Chef role in the Taj Group of Hotels in Goa 21 years ago to start all over in the UK, or bravely daring to combine flavours, spices and ingredients in ways no other Indian chef has done before. Cyrus is also a passionate campaigner for sustainability and buying British as can be seen across the menus of his restaurants.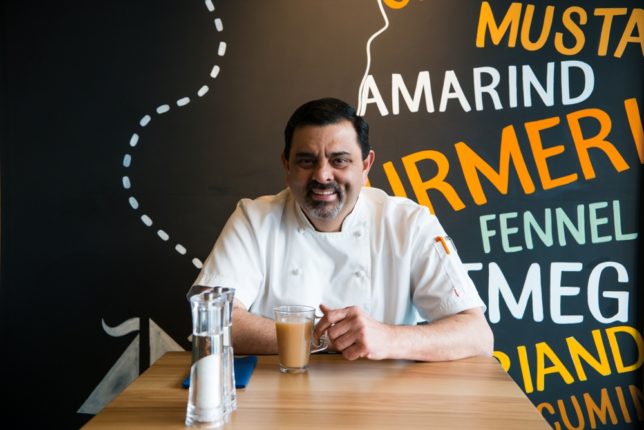 Today, Cyrus is the proud recipient of a Craft Guild of Chefs 'Special Award and has been made Fellow of the Academy of Culinary Arts and the Master Chefs of Great Britain. He is one of only a handful of British Asian chefs with an entry in the Who's Who. Ever the innovator, in 2013 Cyrus launched The Asian Junior Chefs Challenge, a first of its kind, with the Master Chefs of Great Britain, to help introduce Asian cookery to a new generation of 'home-grown' talent. He was awarded an MBE by Her Majesty The Queen for services to education & training and an OBE for his contribution to the hospitality industry. On top of all that, he is also a Deputy Lieutenant of Greater London.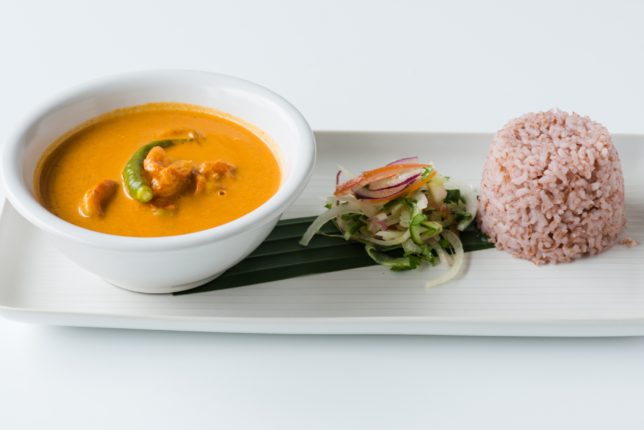 Thanks to his travels throughout the world, Cyrus Todiwala has developed a colourful palate of intense flavours and we looked forward to savouring a host of fragrant and delicious Pan-Indian specialities in Assado by Cyrus Todiwala on our recent visit to this Waterloo restaurant.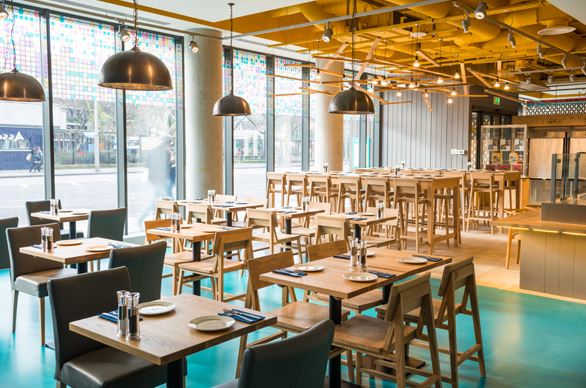 Assado Restaurant is located at the stylish Hampton By Hilton London Waterloo, which is the largest Hampton by Hilton property in the UK. Chef Cyrus Todiwala brings his signature dishes to Assado based on many years as chef patron of the critically acclaimed landmark restaurant Café Spice Namaste. In the rustic-meets-modern atmosphere of the restaurant, Cyrus, one of Britain's most popular chefs, was to take us on a delicious discovery of India's tastes and flavours thanks to his extravagant and visionary mind.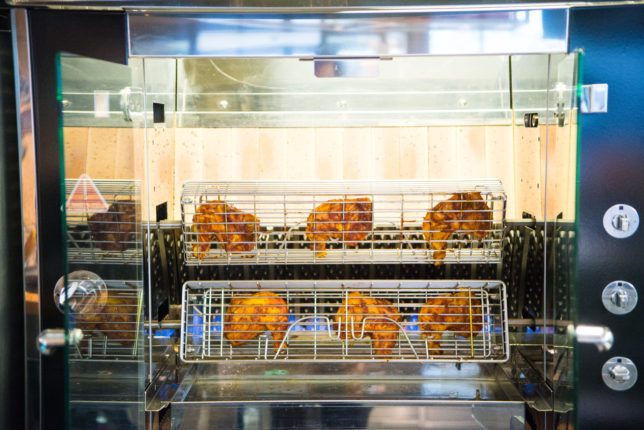 Assado produces a variety of dishes from Indian Street Food to specialities inspired by Chef Cyrus Todiwala's rich Parsee culinary heritage and long stint as an executive chef in Goa. Many of his exquisite dishes originate, in fact, from Goa, which brings a lifelong inspiration to his cuisine. For those in need of a libation, Assado also has an impressively well stocked bar!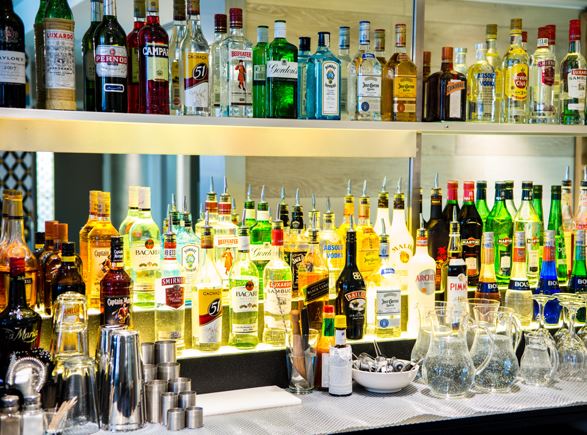 To begin our epicurious Pan-Indian adventure we ordered a selection of starters. First was the Squid Dynamite. This spicy dish lived up to its name with an explosive peri-peri masala sauce adding a fiery kick to perfectly cooked soft and tender squid rings… so soft they were in fact juicy.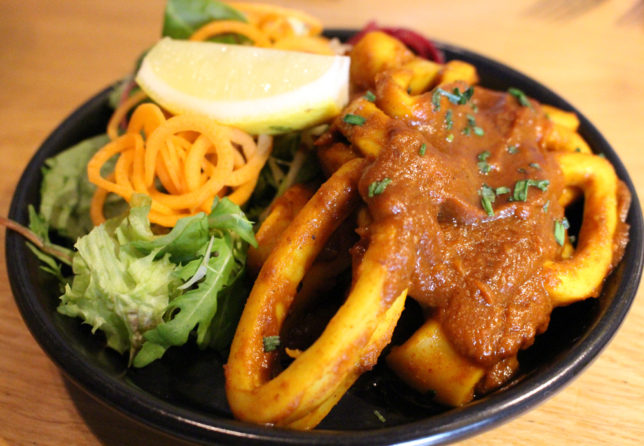 Joining the explosive squid starter was a mussels, clams & prawns dish in medium spiced Goan red masala. Not as spicy as the squid but enough heat to warm you through on a cold winter's lunchtime and served with a traditional Goan crusty bread cooked in the shape of a bangle and served warm. Perfect for dipping in the rich spicy tomato sauce.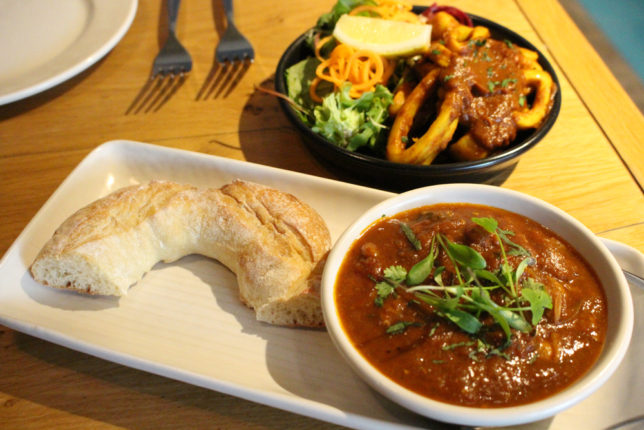 We also enjoyed sharing the Chefs Platter for Two consisting of chargrilled Chicken Tikka with date & tamarind dip, crispy crumbed Prawn Rissoles filled with diced prawns simmered in a rich velouté, fragrant Lamb Samosas filled with spiced minced lamb rolled in a spring roll pastry served with date & tamarind dip, Beef Croquette a'la Bardez full of curry flavours and served with a fantastic garlic mayo and finally the traditional flavours of Chickpea Xacutti on Pao – chickpeas simmered in Goa's unique curry served in a mini brioche. The platter was a feast for the senses and the palate.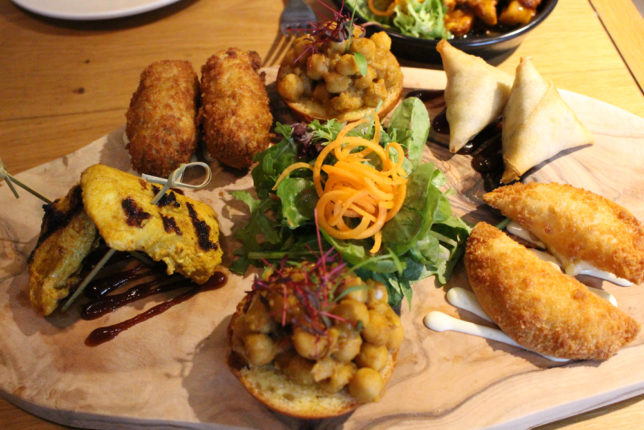 After a leisurely starter sharing great food and great conversation it was time for the main course. Interestingly side dishes do not include vegetables but all curries are served with onion salad and rice. We went for the Goan Prawn Curry with the most deliciously succulent prawns you'll ever find in a curry cooked in a creamy coconut milk based sauce spiced with dried red chili, curry leaves & butter nut berry.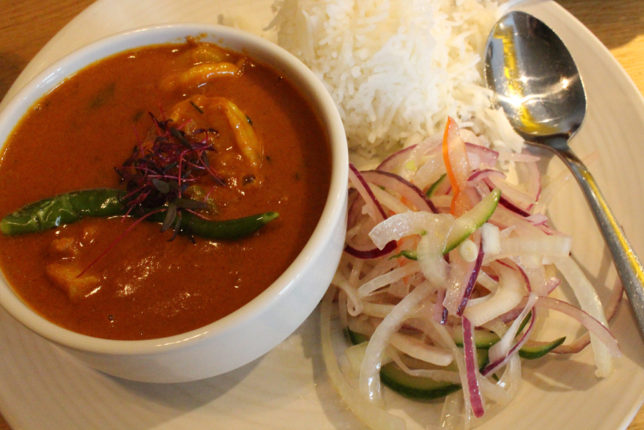 My dining companion chose the milder Chicken Caldeen with a fork tender chicken breast served in a creamy coconut & cashew nut curry flavoured with whole spices. The thick sauce was to her liking and the toasted coconut flakes on top added an lovely nutty texture to complement the creaminess of the dish.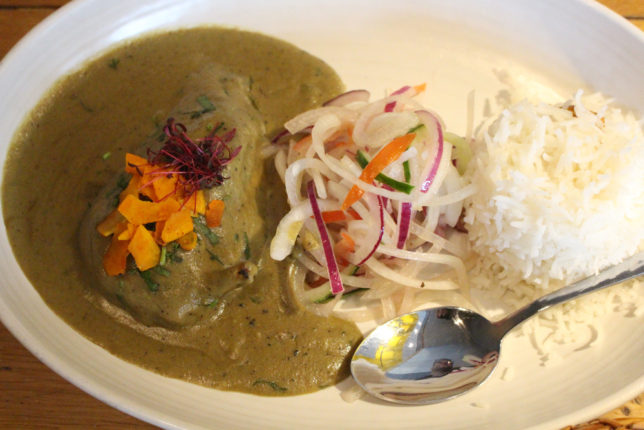 If you enjoy eating breads with your curry, Assado will not disappoint with their naan breads that are thin, crispy and hot from the oven. As well as the usual plain or garlic naan, why not take a leaf from our book and try the unusual but very satisfying flavours of Assado's Garlic, Coriander & Green Chili Naan – so moreish you will keep going back for more.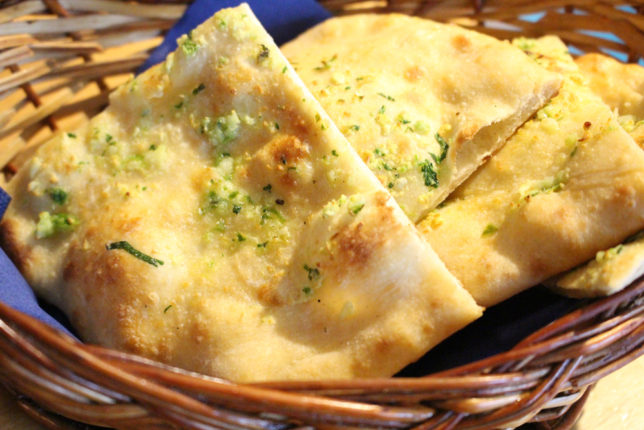 If you want to try something unusual for dessert and enjoy savouring authentic dishes, we recommend ordering the Bebinca- a multi layered Goan style baked pancake made in from coconut milk based batter and flavoured with nutmeg for an oriental taste sensation that will be loved by those who enjoy flavours of baklava or turkish delight. Served with cardamom coconut ice cream.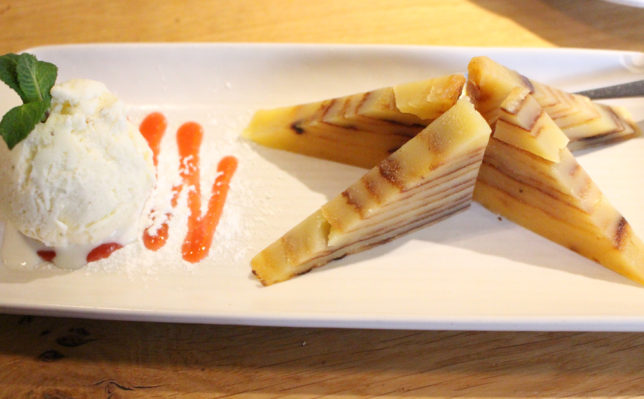 For something less adventurous there is a good selection of ice creams and sorbet flavours in addition to kulfi and Portuguese Custard Tarts or Pasteis de Nata. We went for the deliciously buttery flavours of Salted Caramel Ice Cream juxtaposed with the refreshing fruity flavours of Strawberry and Mango Sorbet.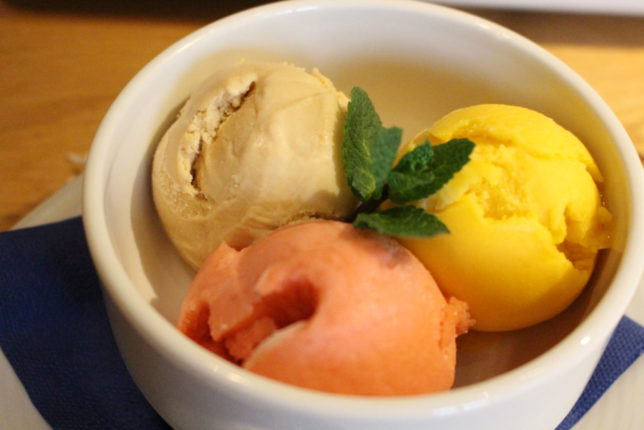 Assado offers a prime casual dining experience with freshly made food that can also be taken away and enjoyed in the office, at home or as the perfect dinner offering. As Cyrus says, "I want to introduce the people who live, work or pass through the Waterloo area to a new relationship with food on-the-go. People shouldn't have to choose between eating in a hurry or eating good quality food – I am committed to both. Assado brings freedom and quality back to restaurants and gives people another way of dining that doesn't mean compromise."
Assado Restaurant
157 Waterloo Road, London SE1 8XA
0207 870 3747
www.assado.co.uk
@AssadoWaterloo