Aston & Woods is a new family-owned boutique opticians just opened on Tottenham Court Road in the bustling West End of London. The new practice was set up by husband and wife team Keval and Sona Thakerar (an award-winning optometrist) with the concept born out of Sona's experience working for larger opticians that can impose strict restrictions on the time allowed to test each patient.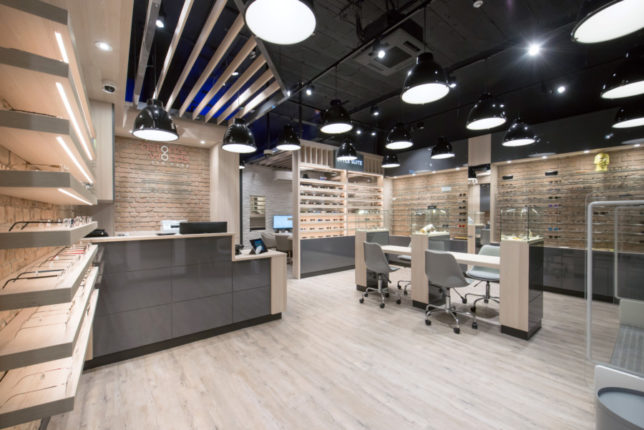 Knowing something had to change, Aston & Woods was created to offer an independent optical service on a major high street in the heart of the West End, where not only testing times are longer than in your average opticians, but state of the art equipment that wouldn't be out of place in a leading eye hospital is used to ensure thorough and accurate eye examinations.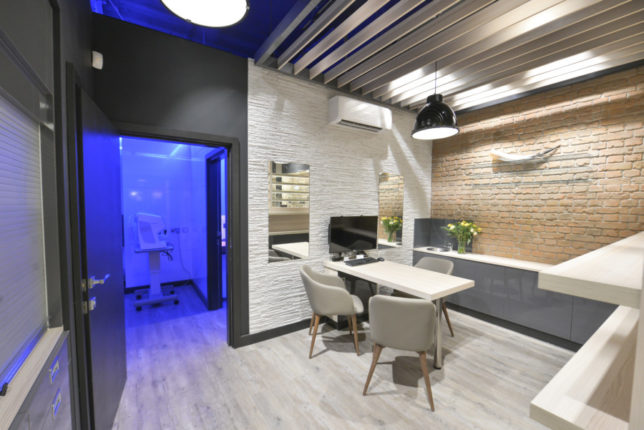 All eye examinations with Aston & Woods are performed using the latest technology and equipment used by ophthalmologists in hospitals such as Moorfields Eye Hospital. Ensuring customers receive the best service and care Aston and Woods use a non-invasive imaging technique to help in the diagnosis and management of certain eye conditions such as glaucoma and macular degeneration.
In the bright and modern surrounding of Aston & Woods, eye examinations last between 45 minutes to an hour depending on the package you choose – Gold or Platinum respectively with the talented and experienced care of one of the opticians. I was seen by Sona Thakerar – co-founder of Aston & Wood.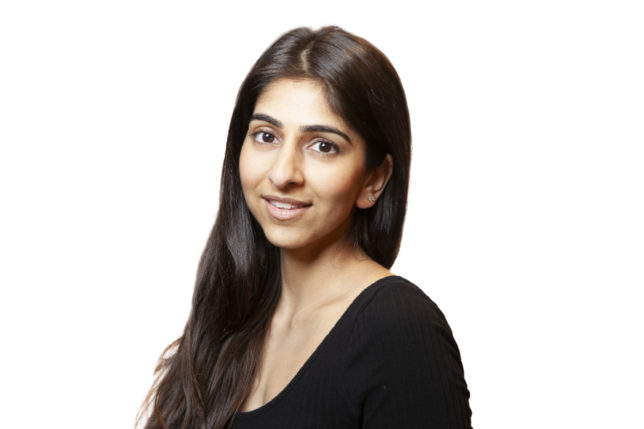 Firstly I was seen in the high spec pre-screening room where an Autorefractor by world class Zeiss is used to give a rough idea on whereabouts my current prescription lies. We then moved on to pressure readings (not my favourite part of any eye exam) as most of you will be familiar, this is a puff of air in to the eyes but it is important as this test screens for glaucoma and again Sona uses world-leading Zeiss technology.
Fundus imaging using Zeiss machinery is the next thing on the agenda. Fundus images involve taking pictures of the back of the eye which Sona tells me is a minimum requirement when performing any eye examination at Aston and Woods.
For those experiencing the Platinum Eye Exam such as I, the next test is OCT (optical coherence tomography) imaging which again uses a Zeiss machine to scan key functional parts of the back of the eyes – the nerve and macula. It was very interesting to see my OCT scan and have it explained so thoroughly by Sona.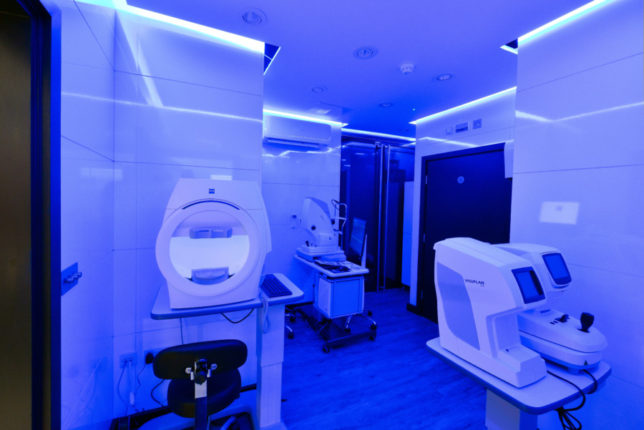 After all these pre-screening tests have been performed we then moved in to the consulting room where Sona had a thorough discussion with me gathering all the relevant eye and health related information she needed. As a journalist, Sona picked up that one of my visual demands was spending long periods of time on the computer screen and she also highlighted my future needs related to my new hobby of freestyle skiing which I started last winter.
The tests in the consulting room consist of a vision check for near and distant targets and a check of any existing or new prescription. Sona also performed a general health check, looking manually to view inside the eyes in addition to checking to make sure your eyes are responding well to a light stimulus as this can be an indication of optic nerve health. Eye muscle checks were performed to ensure good alignment of the eyes and if any specific area of concern gets flagged up after performing the above tests, this allows Sona to undertake further testing to provide a more detailed analysis.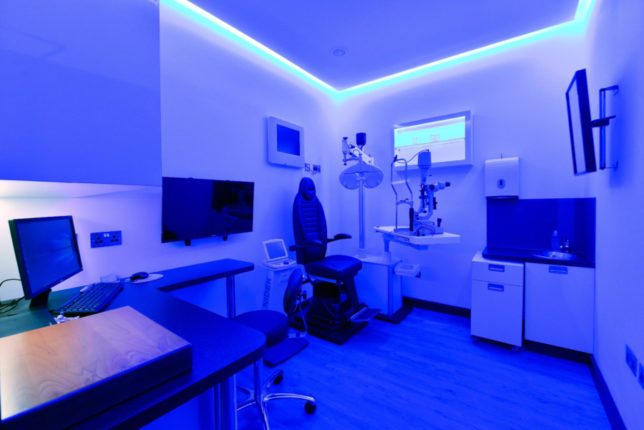 Once all the data has been collated Sona always likes to summarise the findings as many patients have limited information at hand or just don't quite understand their prescription, even when they have been wearing spectacles for years. Sona tells me that she personally thinks it's vital the patient understands their eyes in order to be able to gauge when things are not quite right or to be able to explain any difficulties they may be experiencing. This makes perfect sense to me and I was impressed by the consideration she shows her patients.
My eye exam ended like everyone else's with a visual field test back in the pre-screening room. The visual field test used at Aston & Woods – Humphreys Visual field analyser 3 using Zeiss – is considered the gold standard in the optical industry and is the same testing equipment that can be found in London's Moorfields and other leading eye hospitals around the country.
I found that to produce a reliable result this test takes longer to do compared to other visual field test versions but Sona reassured me it is vital to invest in this time as it develops a much more comprehensive picture of the patient's eye health. This is because visual field tests are a test of visual function and any visual field loss can show up things like nerve damage caused by glaucoma so becomes an important test for progression of any such condition. There are a host of other conditions that can also be confirmed with this test such as certain tumours and even retinal detachments so you can see jus how important and worthwhile this lengthy test can be.
At the end of my Platinum consultation, Sona went through the images and OCT scans taken to give me a useful visual alternative to the verbal feedback about my eyes she had already told me in her summary. Sona also uses this time with patients to further educate them about their eye health using visual tools. They say prevention is better than cure so Sona likes to also use this time at the end of the consultation to warn and advise on the ways to maintain good, lasting eye health.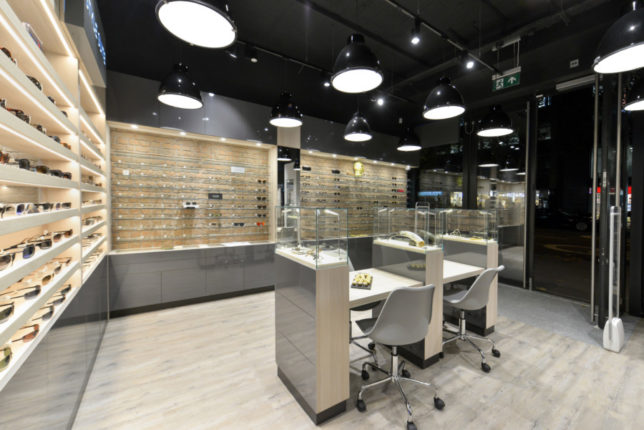 For those needing a new prescription or an upgrade to a more stylish pair of spectacles or a very useful new pair of prescription sunglasses, Sona hands you over to the Dispensing Optician at the end of the consultation who is a dab hand at helping customers with their frame and lens choice.
I was really impressed with the comprehensive and thoroughly explained Platinum Eye Exam at Aston & Woods. Sona is an exceptional optician and I can guarantee you'll be in expert hands using hospital grade Zeiss equipment. So for your last eye test I recommend you should have gone to Aston & Woods – where else can you get such a cutting edge eye exam in high-end boutique surroundings whilst sipping on a glass of prosecco!
Aston & Woods
170 Tottenham Court Road, London, W1T 7HA
0207 383 5578
www.astonandwoods.com
@astonandwoods