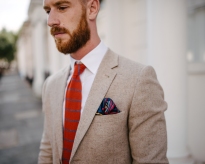 Augustus Hare holds in tension a British formality with a dandyish, playful and colourful streak. Deep within the design ethos is the belief that colour can be elegant. Yves Saint Laurent confronted the myth that elegance is confined to a restrained grayscale palette in the late 1960s in womenswear. This is an inspiration for Augustus Hare, who seeks to do the same in menswear. Augustus Hare designs are not brash, over the top or novelty, but display a refined elegance and colour.
Every element of production is storied. The woven silk comes from a mill in Suffolk that has been run by the same family for 9 generations. They fled France as Huguenots in the 1720s and brought their weaving art to the UK, where they have been refining it ever since. The pocket squares are laboriously hand screen-printed in Macclesfield, the historic home of the British silk industry, and then hand roll hemmed. Augustus Hare cufflinks are hand enameled by a silver smith in Birmingham that has been operating since 1684. The knitted ties, in silk and cashmere, are hand made in northern Italy by a former monk. Leaving the monastery after falling in love, he, his wife and his son now all work together knitting ties.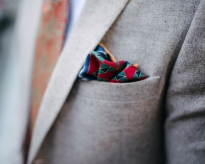 Close links with the makers means that Augustus Hare can exercise great control over the creative process – all products are made to original designs by Sam Carlisle, owner and designer – and also produce small limited edition runs for interesting collaborations. Every line is hand made using the finest possible materials, and if possible in the UK.
Website: www.augustushare.com
Blog: http://blog.augustushare.com/
Twitter: @augustushare
Facebook: www.facebook.com/augustushareties