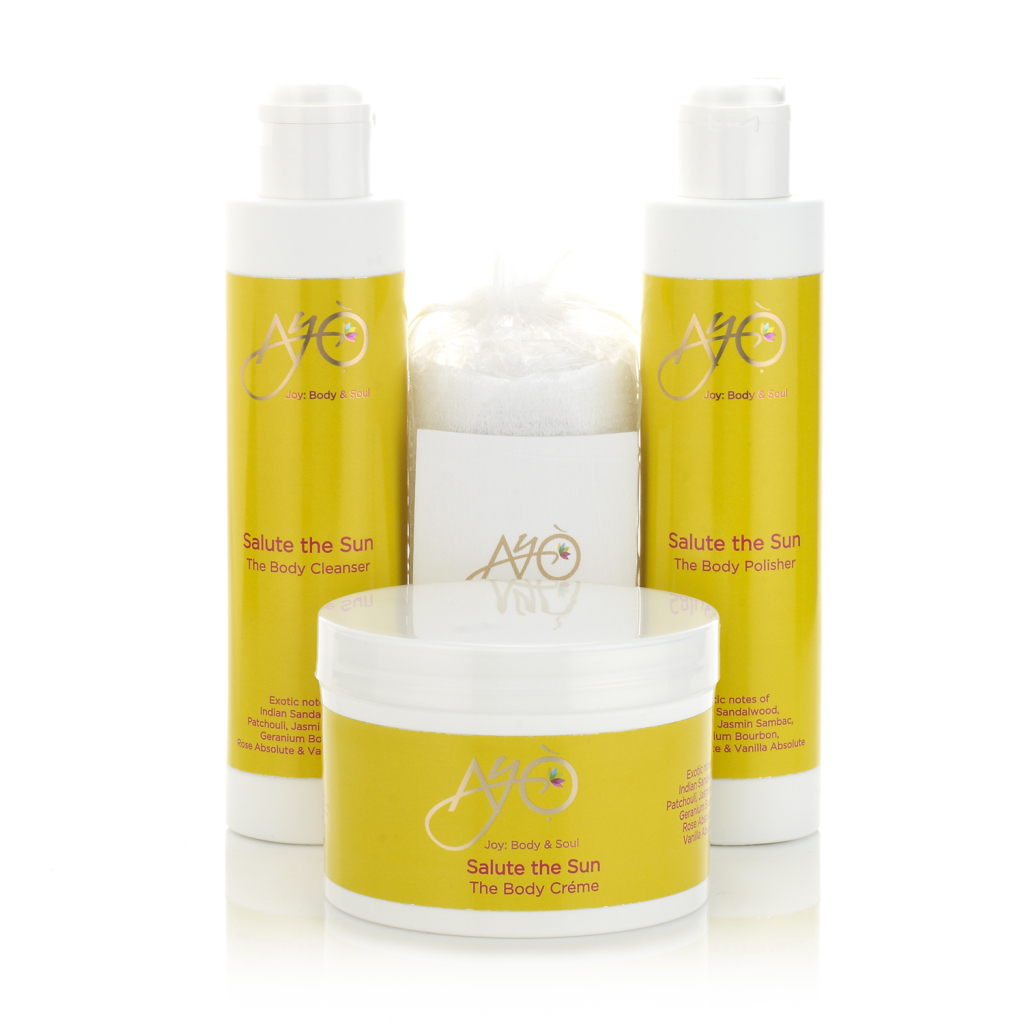 Life occasionally gets the better of us, no matter how optimistic our outlook. Some mornings we sometimes feel like we're back to square one and it takes effort to build ourselves back up again. Hence it's important to seek out those little moments of joy wherever possible – whether it's a stress-busting workout at the gym, a mood-boosting beautifying session to restore equilibrium or to have silky soft, glowing and above all happy skin!
Ayo is a line of premium body products especially created for that purpose and designed for the health and body conscious woman who recognises that the products we use ON our bodies are as important as the ingredients we put IN them. Pronounced eye-oh, the word itself means joy and happiness in the Yoruba language.
The Products
The collection includes The Body Crème (£36 for 250ml) with a luxuriously rich texture that cocoons the skin in a soft veil; The Body Cleanser + Cloth (£16 for 200ml) which leaves skin hydrated and nourished as it cleanses; and The Body Polisher + Cloth (£16 for 200ml) to slough away dead cells and leave skin looking more radiant. The polishing cloth refines and purifies the skin when used in conjunction with The Body Polisher or The Body Cleanser, giving the perfect level of exfoliation without being harsh on the skin. Products from the range are also available as gift sets – the perfect way to treat any special women in your life.
The Scent
At the heart of the range is its unique 'Salute the Sun' fragrance created by renowned perfumer Azzi Glasser (who has created bespoke scents for the likes of Nicole Farhi, Bella Freud, Helena-Bonham Carter, Kylie, Agent Provocateur). 'Salute the Sun' comprises bright notes of Sicilian Bergamot and Mediterranean Lemon which warm up on the skin to reveal a delicate floral heart of Jasmine Sambac, Geranium Bourbon and Rose Absolute, underscored with a musky warmth of Indian Sandalwood, Patchouli and Vanilla Absolute.
Mood-Boosting Benefits
But rather than just boasting a luxurious scent, the unique aspect about Ayo is that the ingredients used – Happy Skin a natural product produced from the Arctic Rose actually works to help boost b-endorphins, the 'happy molecules'. It increases the endorphin levels, thus providing wellness and pleasure. It has the ability to induce the synthesis of ß-endorphins, thus stimulating central and peripheral receptors and improving mood and general health.
'Exercising has the effect of stimulating the release of endorphins, a natural hormone in the body that makes you feel oh-so good, promotes feelings of joy and happiness and boosts your mood, to create THE happiness effect.  To ensure these feelings have a longer lasting effect, make Ayo your daily bathing ritual. Use after you exercise, or even when you don't have time to because you are on the go – and you'll feel like you're energised all day long.  You deserve to feel good and your skin will love you for it!' – Founder, Susan Benjamin
Skincare Benefits
The Ayo range doesn't just improve your state of mind – to make your skin feel more beautifully nourished, containing natural actives, vitamins, antioxidants and natural essential oils. Furthermore, the range doesn't contain chemical 'nasties' such as parabens, sodium laureth sulphate, sodium lauryl ether sulphate, DEA, PEGS, petrolatum, mineral oils or synthetic colours and fragrance, or animal bi-products.
Ethical and Green
It's also a range with a conscience, as it is ethically sourced, vegan-friendly and includes Fair Traded and organically-certified ingredients. For example, The Body Crème is formulated using Nilotica Shea Butter, produced by Ghanaian women working in cooperative groups.
Ayo's Story
Created by Susan Benjamin, Ayo is inspired by the memory of her sister Joy, who initially came up with the idea of creating a range of body products to lift the spirits. Her precious life was sadly cut short, and so the mantle was passed to Susan to continue Joy's legacy.
'I have such wonderful memories of Joy and I sitting at her kitchen table and me watching her whip up, as if by magic, amazing potions. I remember the beautiful aromas that permeated the air and now when I smell the 'Salute the Sun' fragrance and close my eyes, I am immediately taken back to those wonderful times with Joy.' – Founder, Susan Benjamin
Ayo has already garnered much media attention with the likes of beauty journalists Alice Hart-Davis, Chrissy Illey, Eleanor Tucker, Emerald Street's Mollie McGuigan and June Sarpong already having sung its praises. While we do not have the ability to scientifically prove that the products increase the production of ß-endorphins, SLOAN! Magazine can say that using the products was a indulgent sensory experience and the 'Salute the Sun' fragrance smells divine. What we liked most about Ayo is the wonderful inspiring story behind the brand which makes it all the more special and has resonance with Sloan Sheridan-Williams herself who created SLOAN! Magazine in memory of her mother.
Ayo is available online at www.ayobeauty.com