With veganism a hot topic on the food and drink agenda, it seems that many dessert menus are still falling wide of the mark, with 75% of Londoners finding it difficult to find sweet treats that really appeal to them when eating out and 63% of Londoners have found themselves in a social situation where there has been nothing for them to eat. A recent survey suggests that iconic desserts such as Eton mess, knickerbocker glory and banoffee pie are what the nation's vegans miss the most, with cheesecake being the indulgence that's longed for above all others. The research has been commissioned to mark the nationwide launch of Baileys Almande, a delicious, vegan-friendly alcoholic treat.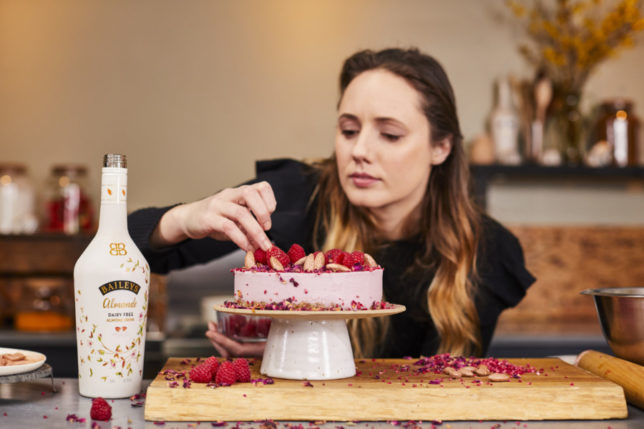 Commenting on the survey results, vegan chef, Gaz Oakley of Avant-Garde Vegan said: "As a vegan chef, I'm really excited about Baileys Almande as it's not just a delicious drink but it's also great to cook with when making indulgent sweet treats – it's so creamy you'd never imagine that it was free from dairy! When I eat out at non-vegan restaurants it can sometimes be frustrating when there aren't delicious dairy-free sweet treats on offer – I hope in the future, there will be more indulgent options for vegans to choose from."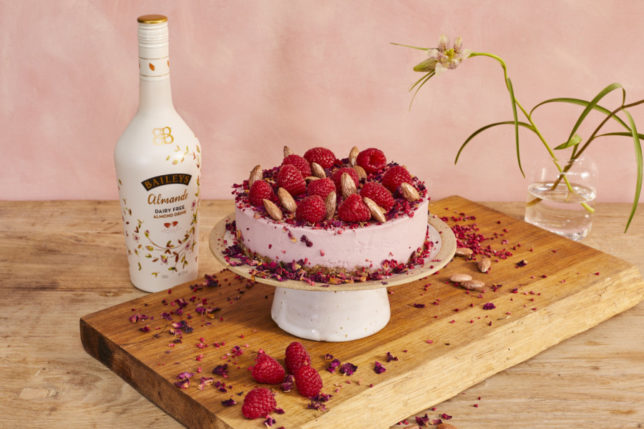 In response to the research findings Baileys Almande has collaborated with Oakley and members of the Baileys Treat Collective to bring the top ten most-missed indulgences to life, in delicious vegan-friendly versions. The treats will be served up at The Vegan Treat Stop by Baileys Almande, at 13 Soho Square, London W1D 3QF on the 22nd & 23rd March.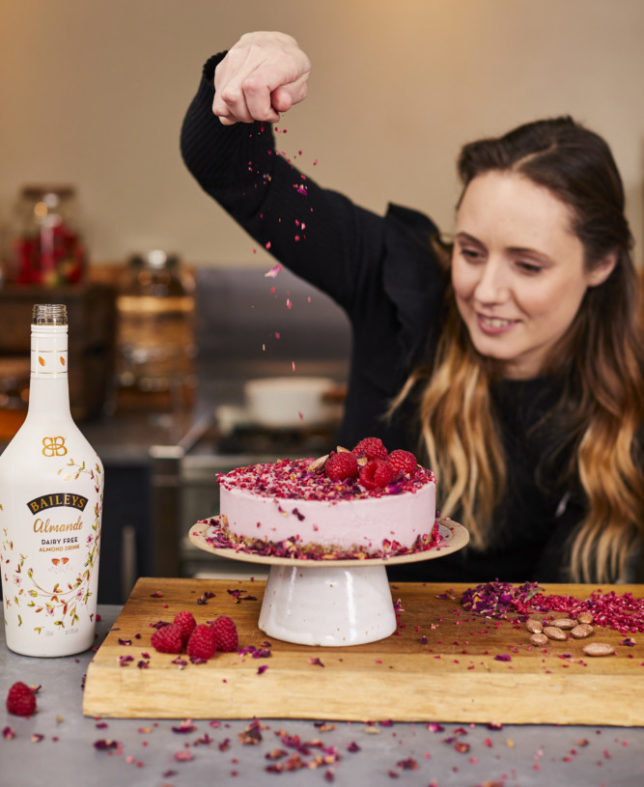 Free to attend, dessert devotees will be treated to dairy-free and vegan-friendly versions of favourites such as cheesecake, eclairs and tiramisu, proving that when it comes to desserts, dairy-free can be full of taste – and lip-smackingly indulgent!
Just in case you can't make it to the vegan sweet treat pop-up, here's a delicious raw vegan cheesecake recipe by award-winning Pâtissier & Chocolatier Lucie Bennett.
Baileys Almande & Raspberry Cheesecake
Ingredients
For the base
100g Dates
140g Whole blanched almonds
1 tbsp Coconut Oil (melted)
1 tbsp Maple Syrup
Pinch of salt
For the filling
190g Cashew nuts
190g Fresh or frozen raspberries (thawed)
175g Maple syrup
115g Coconut oil (melted)
150g Baileys Almande
Decoration
Freeze dried raspberries
Fresh raspberries
Rose petals (optional)
A few extra whole almonds dusted with bronze edible glitter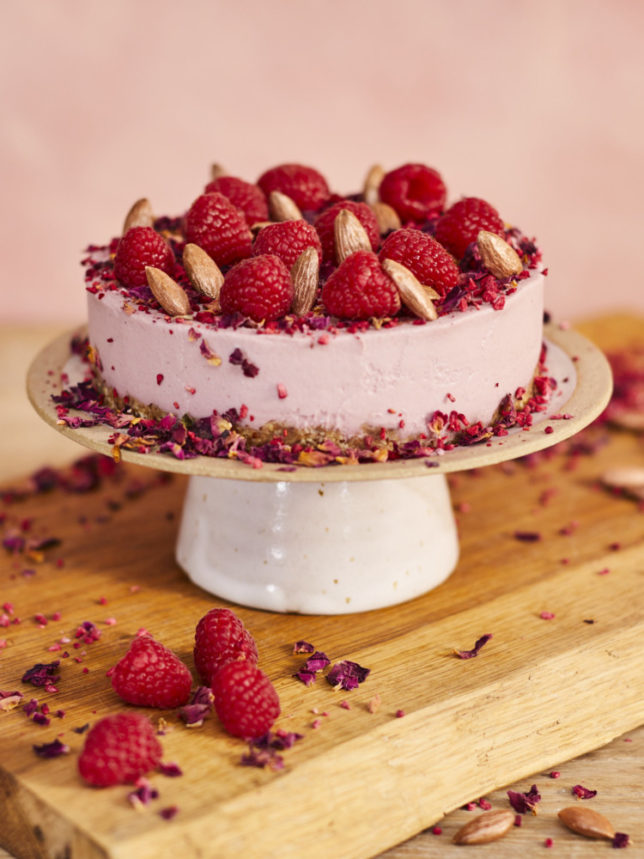 Method
First soak the cashew nuts overnight in cold water or pour over boiling water and allow them to sit for 1hr. Rinse and drain well.
Next make the base. In a food processor blend the almonds, dates until they have broken down in small pieces. Add the coconut butter and maple syrup blitz until combined. Line the base of the tin with baking parchment and lightly grease the sides of the tin with oil. Press down the base mixture with the back of a spoon until smooth and level.
For the filling, using the food processor add the cashew nuts, raspberries, maple syrup, Baileys Almande and coconut oil, blitz until smooth. Pour mixture into the tin and place in the freezer overnight to set.
To serve carefully remove the cheesecake from the tin. Remove the baking parchment from the base. Place on a cake stand, decorated with bronze coated almonds, fresh raspberries, freeze dried raspberry and rose petals. Allow to sit for 20 minutes before serving.