Laptops have become a necessity for office workers, the ability to keep all your files in one portable device is too convenient to pass up. With many office workers now juggling between home, the office and meetings, the portability of a laptop is indispensable. However it has to be mentioned that prolonged use of a laptop also has its ergonomic limitations.
Working all day with a regular laptop can result in an uncomfortable working position, along with pain and discomfort at the end of a day. It is recommended that office workers spend no longer than 2 hours a day on a laptop, when used without additional accessories. Adding computer accessories can increase productivity and allow you to work for longer on a laptop, as they can reduce the negative effects on the body.
When using a laptop on a flat surface, an office workers posture becomes the main health problem. With the screen and keyboard being a single unit, a laptops design encourages a hunched over working position throughout the day. The hunched position leads to fatigue and discomfort in both the neck and shoulders. Using a laptop also discourages head movement, meaning a healthy working position can be achieved by using a raised screen. As well as a range of health problems, laptop users also type slower and less accurate due to the size of the laptop.
Using computer accessories such as a laptop or notebook stand, along with an external keyboard and mouse, can increase an office worker's productivity by 17%. Using these accessories together significantly improves posture as well as reduces neck strain by 32% and improves worker's comfort by 21%. By eliminating the physical problems caused by a laptop alone, workers can utilise their laptop throughout the day, rather than only 2 hours.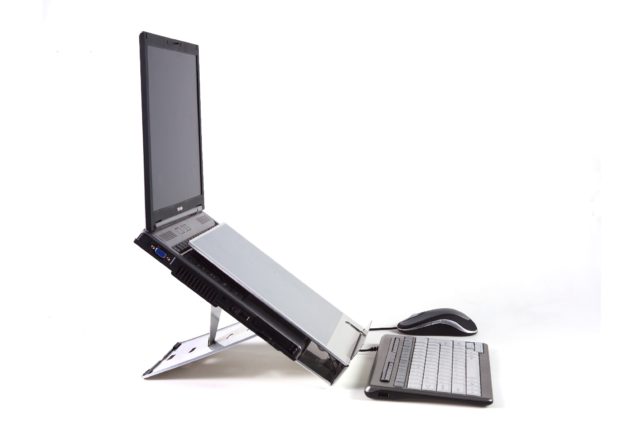 The Ergo-Q 260 from BakkerElkhuizen is a portable notebook stand that is super light and thin at only 7mm thickness, so it easily fits into any notebook bag. The stand also offers 5 different heights for ultimate comfort, ranging from 9cm to 21cm. As well as holding your notebook, the stand contains an integrated document holder to increase data input and productivity. The Ergo-Q 260 also has a stylish, classy appearance, made from Hylite aluminium so it's not only functional, but looks great too.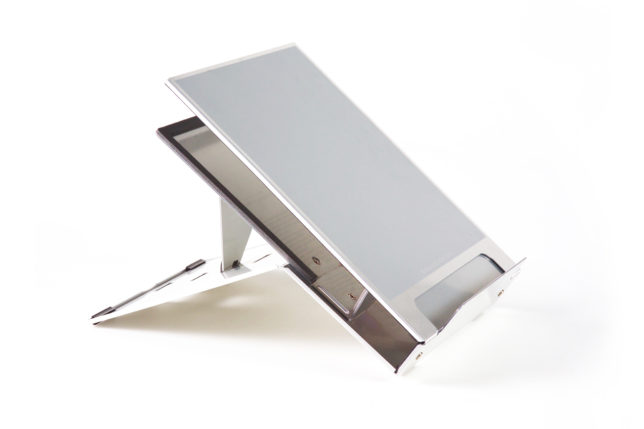 The Ergo Q-260 is a portable, aluminium, award winning design notebook stand, featuring a pivotable patented inline document holder, with a slim and lightweight profile and stable rubber anti-slip feet.
Eliminate all the problems caused by everyday laptop use, by simply investing in the Ergo-Q 260. It's the route to increased productivity and reduced health problems, all in a thin, lightweight portable design, perfect for on the go.
The Ergo-Q 260 is available for £122.39  from www.posturite.co.uk