Bar + Block Steakhouse has landed on Alie Street with quality steaks at high-street prices. Bar + Block Aldgate boasts a lively central bar, lined with polished ceramic tiles and a beautiful bar top. It is the ideal setting for evening drinks for local workers and guests of the adjoining Premier Inn London City hotel in Aldgate.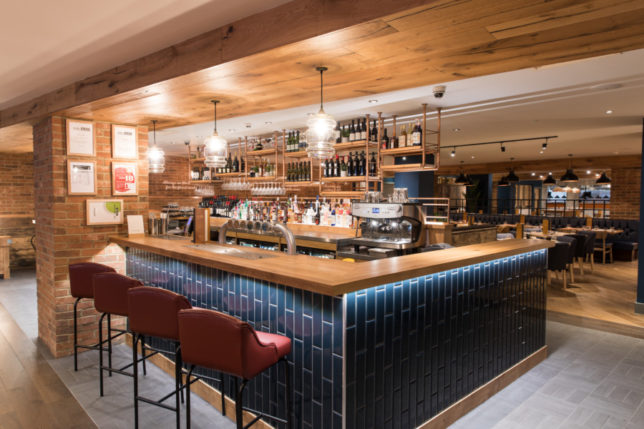 An extensive menu of beers, wines, prosecco and spirits means there's something to suit any occasion, from post-work tipples to cocktails before heading out for a night on the town… or heading straight to your table at the steakhouse restaurant located behind the bar area.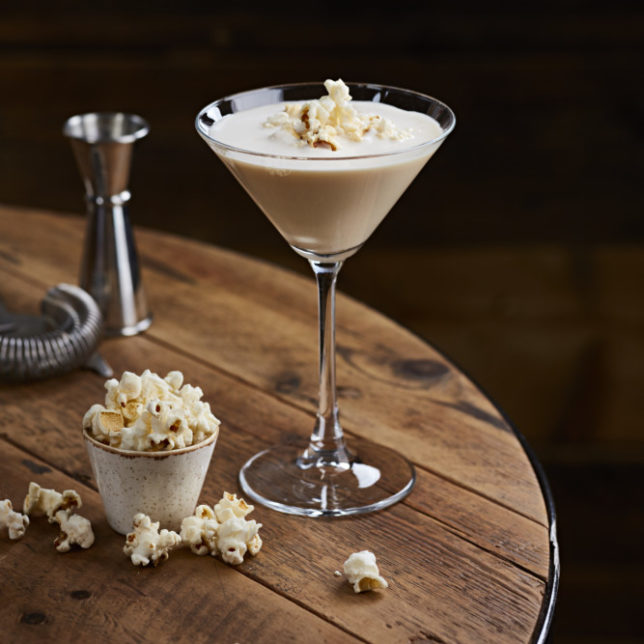 Adding a touch of indulgence to your working week, all cocktails at Bar + Block are half price from 5-7pm every Monday to Thursday and on Fizz Fridays, a bottle of Prosecco is just £18 all day. After taking a seat at the bar at Bar + Block Aldgate, there's plenty to choose from with an extensive range of tipples from salted caramel espresso martinis to die-hard classics including mojitos, cosmopolitans and daiquiris, to name a few.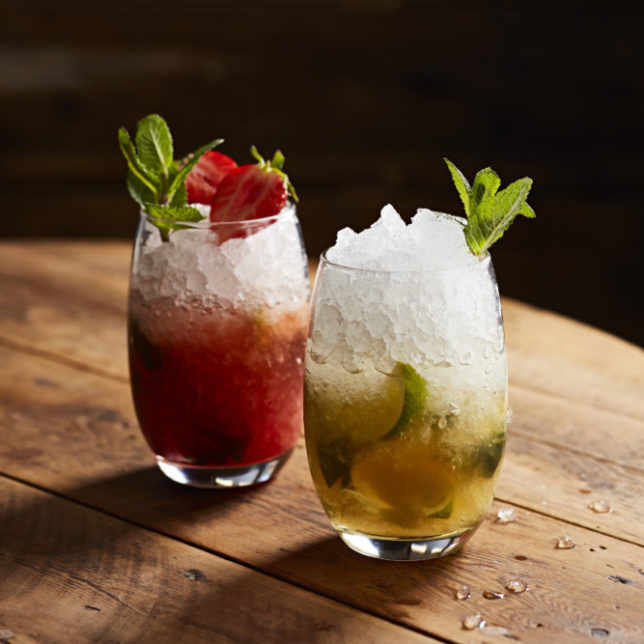 Bar + Block Aldgate means business, with a sleek open kitchen and stand-out central bar, complemented by reclaimed wood panelling, quality fabrics and copper finishes which emphasise the urban surroundings of the City of London.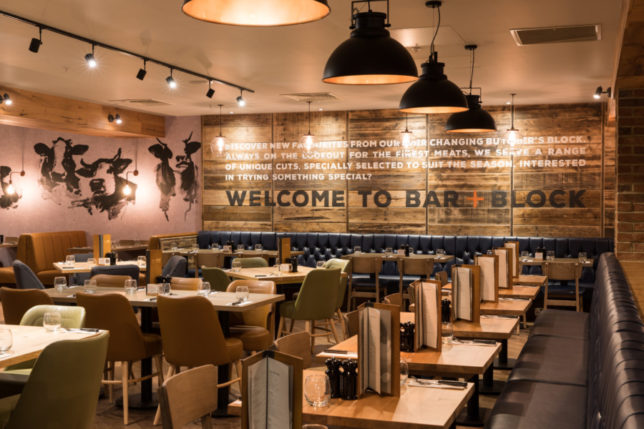 A burgundy, navy and white colour scheme, contemporary artwork and Bar + Block's signature neon cow give the steakhouse a fresh, modern look.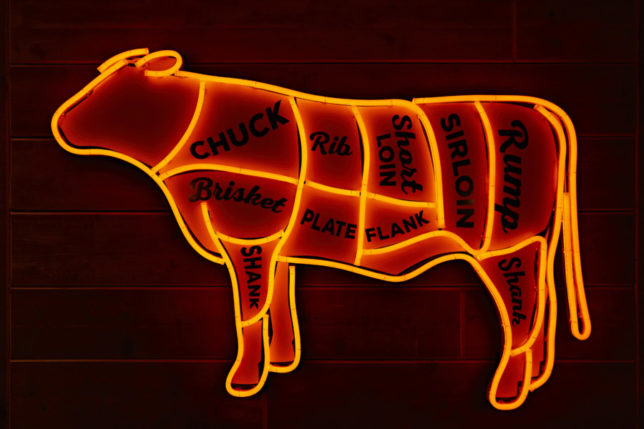 The soft lighting over the restaurant's chocolate leather banquettes provides the perfect place to relax and enjoy a hearty meal served by friendly waiters with a genuine passion for food.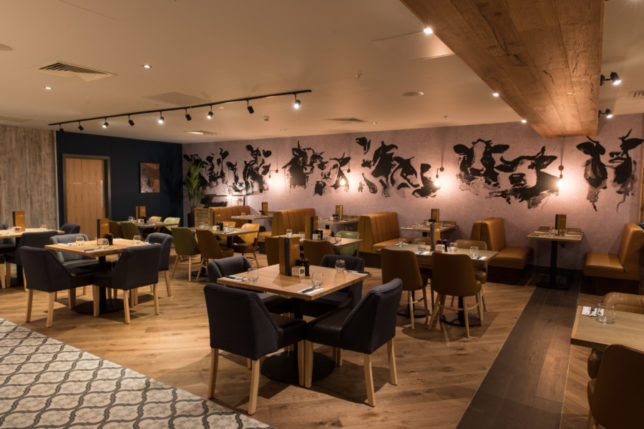 Guests of the Premier Inn next door and city workers of the nearby offices can both enjoy a solid start to the day, with the hearty breakfasts served at Bar + Block Aldgate including steak and eggs or the 'Bar + Block Works', with dry cured oak smoked streaky bacon, a pork sausage, spicy beans with smoked bacon, beef hash, mixed mushrooms and roasted tomatoes served with a fried egg and toast. For those with a larger appetite, you can add a steak to the works for just £2!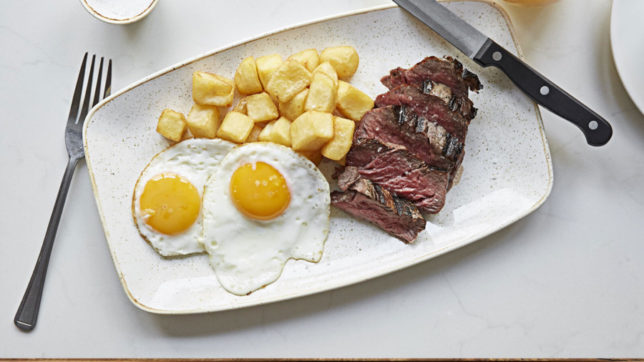 At Bar + Block Aldgate the steaks take centre stage. From rump and ribeye to sirloin and spiral cut fillet, the top quality classic cuts are sourced from cattle reared across the Pampas in South America, and dry-aged for a minimum of 28 days before they're hand-cut to your size of choice. One of our favourites form the Speciality Cuts is the Deconstructed Beef Wellington which sees 10oz  of juicy sliced fillet served on a layer of puff pastry with a filling of garlic spinach and creamy truffle flavoured mushrooms underneath, served with a rich Malbec sauce to drizzle over.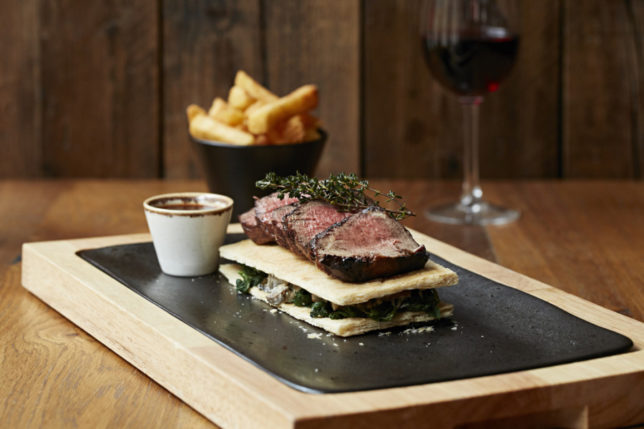 Bar + Block Aldgate also continue the steakhouse's familiar feature of the Butcher's Block offering a selection of rotating seasonal specials, offering something a little different to steak lovers.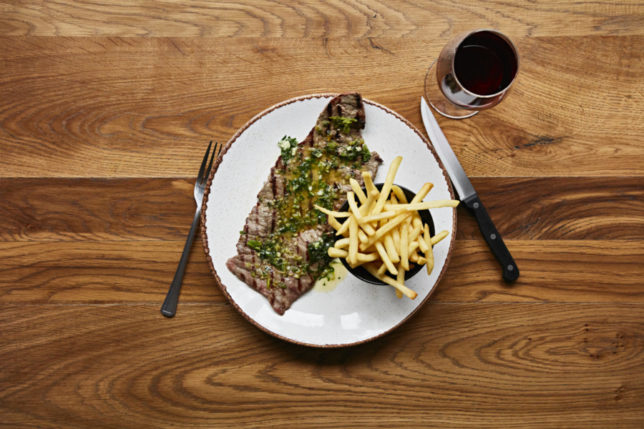 Other highlights from the menu include handmade beef burgers freshly ground on-site and the signature Lamb Shoulder. The 24hr slow cooked marinated lamb shoulder is finished over charcoal and served with garlic sautéed
potatoes, cherry tomatoes, green beans and a rich Malbec sauce.
Bar + Block Aldgate also offer a selection of grazing plates designed to mix and match choosing three plates to share between two. The Asian Crispy Beef has pulled beef tossed in hoisin, cucumber, spring onion, chilli and coriander served in a generous portion that could easily satisfy two if not three people. For something a  little lighter but equally as moreish, we loved the crispy Salt & Pepper Squid mixed with chilli and garlic, served with lemon & garlic mayo and a wedge of lemon to add a citrus zing to these moreish morsels. The Crispy Gnocchi Bites from the Nibbles menu are also a winner with baked potato gnocchi seasoned with Parmesan & truffle infused oil.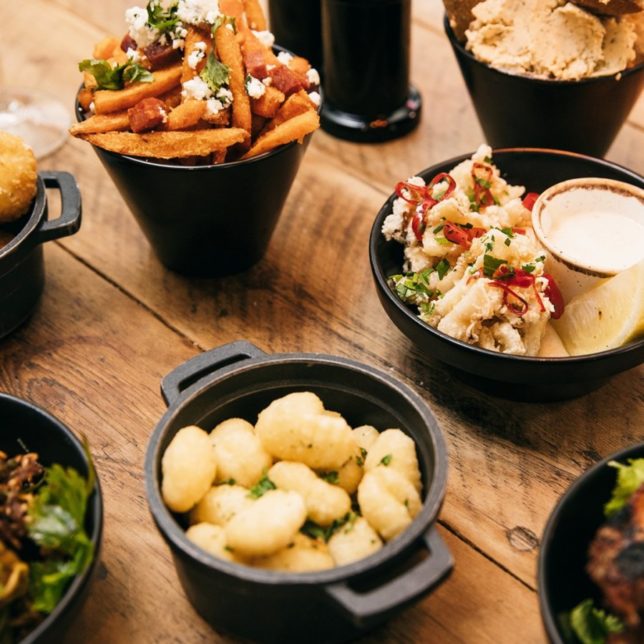 For those with a sweet tooth (and any room after the hearty mains!) the signature dessert of Chocolate Churros Sundae is a must-have – the churros are coated in cinnamon sugar and served with an indulgent mix of vanilla ice cream, salted caramel ice cream and brownie chunks topped with fresh whipped cream and chocolate toffee sauce.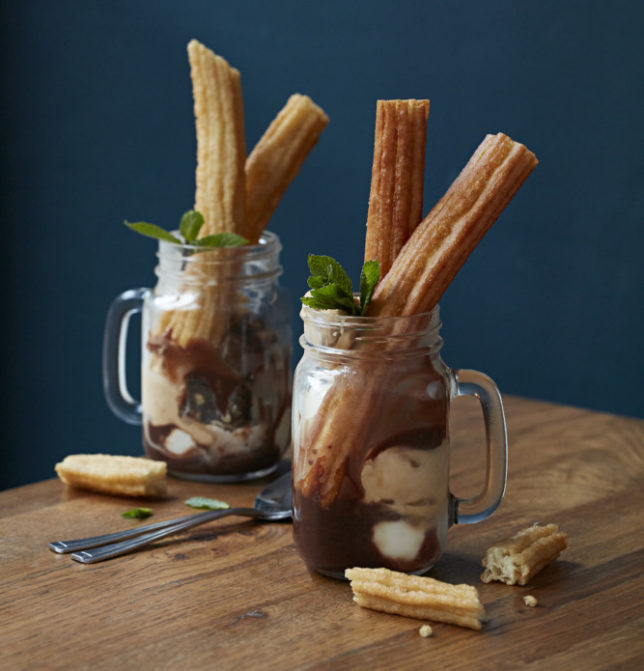 Whether you're looking for a beefed-up breakfast, speedy working lunch, post-work drinks or a three-course meal with family and friends, at the new Bar + Block Aldgate steakhouse you can expect a menu that is truly a cut above the rest.
Bar + Block Aldgate
68 Alie Street, Whitechapel, London, E1 8PX
020 8049 0888
www.barandblock.co.uk/aldgate
@barandblock