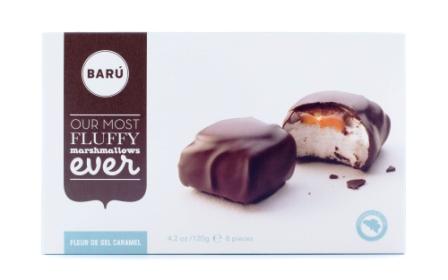 Dark and pure, rich and honest,… as long as it says BARÚ on the outside, you know you're in for a delicious treat!
BARÚ is a small company with a sense of fun and magic. Made by hand in small batches, their dedication to using premium ingredients and their traditional Belgian expertise ensures that everything they make is both full of flavour and creativity. At BARÚ, innovation and indulgence are rolled into one. From thier deep aromatic house blend cocoa powder, complemented with an array of tiny dark Belgian chocolate figurines, to fluffy marshmallows or chai spices, everything is sure to bring a smile to your face. All natural, no flavouring or any other funny business.
BARÚ is quirky, contemporary Belgian confectionery that includes signature marshmallow 'clouds' made with real honey and ground vanilla pods to create a soft, light, melt-in-the-mouth experience. The marshmallows are generously coated Belgian chocolate and a milk chocolate, dark chocolate and dark chocolate topped with Fleur de Sel caramel are now available from Waitrose and independent stores
BARÚ provides the ultimate feel good indulgence, with a moment of swirly inspiration!
 BARÚ Marshmallow 4-Pack
The four sweet sins are sitting snuggly in a cheerful box.The blissful white clouds with a crunchy layer of chocolate around them, are available in three varieties: Milk Chocolate, Dark Chocolate and Dark Chocolate with Fleur de Sel Caramel.
Each marshmallow is made according to a recipe from Egyptian antiquity. For these sweet clouds the Belgian chocolate maker uses only natural ingredients and absolutely no flavouring, colorants or preservatives. Wrapped in a layer of the very best Belgian chocolate and you know you're about the bite into a bit of chocolate heaven.
The SLOAN! Review
We love these delectable premium treats in the SLOAN! office and our favourite flavour is Dark Chocolate with Fleur de Sel Caramel which is truly indulgent and a million miles away from rubbery white blobs of low grade confection that one buys in the local supermarket.