Ecommerce platform Teespring has minted more than 30 millionaires and paid out nearly $300 million dollars to its sellers around the world since the company's launch in 2012. In today's digital age, companies like Teespring are allowing budding entrepreneurs to create their own branded merchandise, providing them with the tools to create a million dollar business without any upfront cost or risk. Craig Roberts, Teespring Senior Account Manager, adds his advice to this guide from the ecommerce platform on how you could become an internet millionaire.
1. Find your audience
Finding a passionate audience is the key to success in this business. Put yourself into your target audience's shoes: what do they like, what do they hate, what do they talk about?
Don't be too broad in your targeting, the more specific you get the more passionate people you'll find. Instead of 'dog lovers' try to appeal to a more specific group, like pug owners that love wine. By combining interests you can pinpoint your audience's interests.
Craig's Advice: Finding & building your niche / audience is the key,  you need to identify an audience that is 1) passionate and 2) large enough to scale. I always suggest to people that they build niches around things that they themselves are interested in, you'll be a lot more successful if you share the same passion as your audience about a particular hobby, sport or profession. 
2. Create a kick-ass design
The design is a fundamental element. If people can connect with your design, they're more inclined to purchase your product and wear it! As you brainstorm design messages for your audience, ask yourself if the message can incite any type of emotional reaction; does it make your audience laugh or nostalgic? Is it a message they would be proud to wear? Ensuring your design triggers an emotional reaction or connection with your audience should be your top priority.
Craig's Advice: The visual "design" itself is not the most important element of a successful campaign, it is simply the wording that you need to get right in order to make your product resonate with potential buyers.  Always start off by thinking "what type of emotional triggers do I want to pull with this next campaign?" and that will help set the approach of the marketing.
3. Launch your campaign (aka sales page)
Follow these 3 steps and you will be ready to go in less than 5 minutes:

Jump into the

Teespring Designer

 on teespring.com and upload or create a design.

Select your products, color options and selling prices.

Add a catchy campaign title and description and you are ready to launch!
Craig's Advice: Make sure you are choosing the right products to sell, for example you do not want to be selling hoodies to the Spanish during the summer months.  Also make sure you are making the most of Teespring's Marketplace by opting into this – you will find that your products get a lot more visibility with potential buyers and you may even get a bunch of extra sales. 
4. Promote your products
Time to share your campaign with the world. There are different ways you can share your products for free; the most common methods are social media and email marketing. For example, do you run a Facebook page for cycling enthusiasts? Or are you a blogger and have a list of subscribers? Start sharing your products with the people in your target audience – through Facebook posts, email, blog posts, etc. Once you've gotten your first few sales you can look into selling with paid ads to boost your earnings even more!
Secondly, Facebook. We all are aware about the power of Facebook and people on Facebook really like to voice out what they like and don't like amongst friends. Facebook ads are a great way to bring your design in front of people you don't have direct contact with. All you need to do is to get a nice ad image ready that will stand out from the crowd and to target your audience's interests.
Craig's Advice: I think the thing to really aim for here is virality, the more your campaign is shared, re-tweeted, emailed , featured and spoken about the more potential buyers are going to see it and make a purchase. Really think about this when you are creating a new campaign and setting up the Marketing plan "does it have the potential ability to go viral?" … if the answer is yes then go for it!  
5. Scale winning campaigns
This is the most exciting part of the entire selling experience. When you find a successful niche the possibilities are endless! You can scale up your efforts in many different ways, by investing more money into your ads, by creating more designs for your audience, but also by using Teespring's marketing tools to get the most sales in.
Craig's Advice: Scaling is essentially the process of increasing the number of likeminded eyeballs on your campaign, if you are at the point where you have got a design / campaign  that is say resonating with people who like pugs then all you need to do is think "how can I find more people who like pugs and get this campaign in-front of them?". As I said before there are many many ways to do this, you just need to identify where pug lovers congregate and then get your products in front of them, this can be online, offline, and via a range of different channels.
About Craig Roberts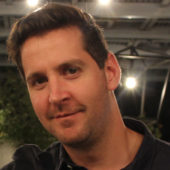 Originally from Cape Town, South Africa, Craig Robert came to London with a place at University and a dream to one day be involved in some sort of technology that is changing the world. Craig's first step towards this dream was with a role at an early startup called Fabrily. By "early stage" this meant it was the founder, an idea and his living room as their HQ. One year later they sold Fabrily to Teespring and Craig is now continuing the mission of supporting entrepreneurs to build their own eCommerce empires with Teespring.