This colourful healthy recipe  was created by Sports Nutritionist Renee McGregor and is taken from her Fast Track Nutrition Plan specifically developed for Speedflex, the unique nationwide results-driven, circuit-based HIIT training concept endorsed by Speedflex ambassador Ben Shephard.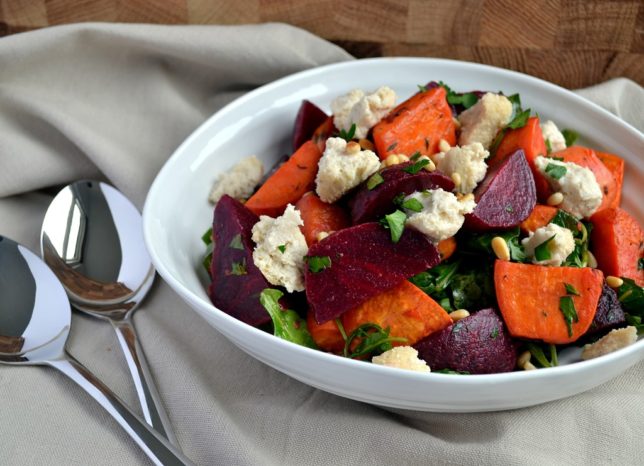 Serves: 4
Preparation time: 15 minutes
Cooking time: 1 hour
Ingredients
2 baking potatoes, scrubbed or 1 large sweet potato
100g mini pickled beetroot/beets, drained
150g mixed salad leaves
200g cubed feta cheese
50g cucumber, cubed
150g cherry tomatoes
1 large carrot, sliced
85g green olives with chilli (optional)
1 handful of chopped coriander/cilantro leaves
balsamic vinegar, to serve
walnut oil, to serve
Method
1. Preheat the oven to 200°C/400°F/Gas 6.
2. Pierce the potatoes with a fork, then bake for 1 hour, or until soft on the inside with a lovely crisp skin.
3. Meanwhile combine all the other salad ingredients in a large salad bowl.
4. Remove the potatoes from the oven. Leave to cool for 10 minutes, then cut into chunks and add to the salad.
5. Toss all the ingredients together.
6. Serve with the vinegar and oil on the side so you can add to taste.