Sharpham Park's Pearled Spelt is high in fibre and an excellent source of slow release energy. These innovative spelt grains are ideal for use in salads as they produce a deeper flavour and a moreish texture. Sharpham Park's products all contain iron, potassium, zinc, riboflavin and other vitamins and minerals – indeed, spelt is one of today's healthiest grains. In addition because of its unique gluten structure, it is easier to digest than its distant cousin wheat – a great option for those who may suffer from wheat intolerances.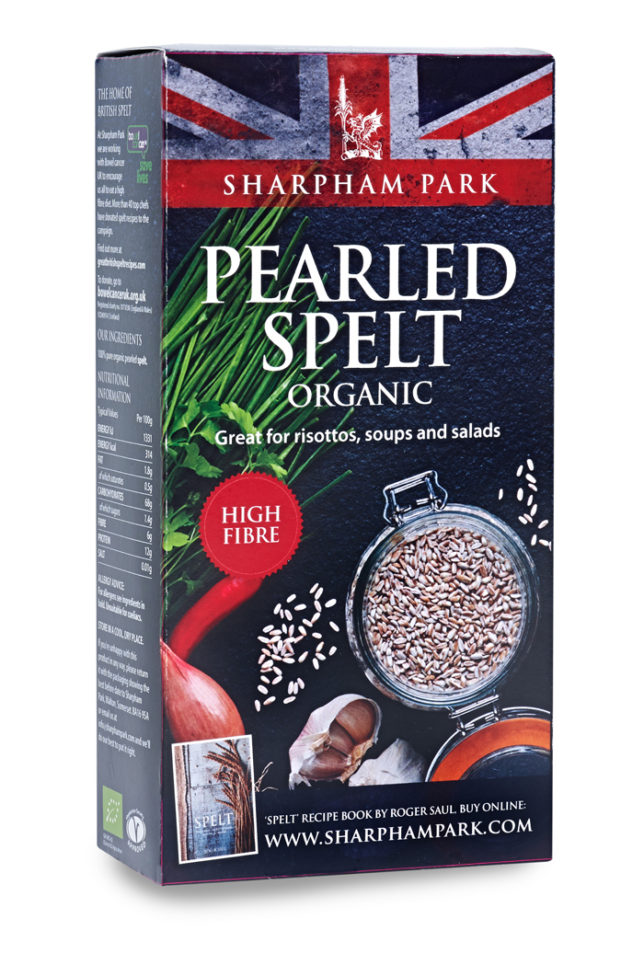 Beetroot, Goat's Curd, Hazelnut & Dill Pearled Spelt Salad
This recipe for an unusual and stunning summer salad was created by Scandinavian food writer Signe Johansen and is a riot of vibrant colours, textures and flavours. If you can't find wild dill pollen in your local delicatessen, you can buy small bottles online or simply leave it out.
INGREDIENTS
1.5kg/3lb 5oz beetroot
250g/9oz/heaped 1½ cups pearled spelt
150ml/5fl oz/scant ⅔ cup raspberry vinegar
juice of 2 lemons
4 tbsp hazelnuts, skin on
1 tsp wild dill pollen (optional)
200g/7oz seasonal salad leaves with edible flowers
300g/10½oz goat's curd, crumbled
sea salt and freshly ground black pepper
SERVES 4–6 as a main course
PREPARATION TIME: 20 minutes
COOKING TIME: 45 minutes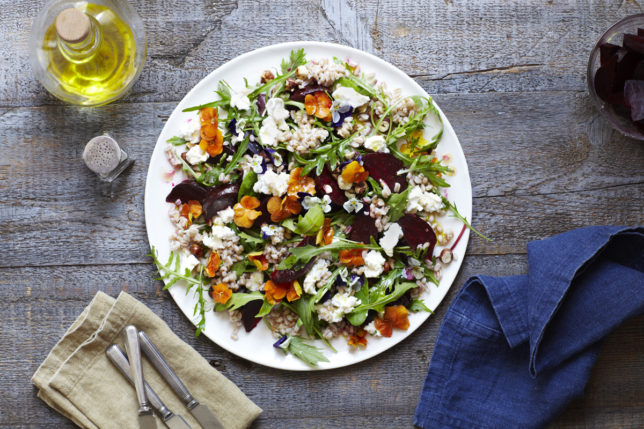 METHOD
Preheat the oven to 200°C/400°F/Gas 6.
Scrub the beetroot and trim off any gnarly bits. Put the beetroot in a roasting tin and pour in enough hot water to come halfway up the beetroot. Season generously with salt and pepper, then cover the tin with kitchen foil, sealing it tightly around the edges. Cook in the oven for 20 minutes for small beetroots and 40 minutes for really large ones.
Remove the tin from the oven and, using oven mitts, carefully lift the foil, keeping your hands and face away from the steam. Turn the beetroot over so that they cook evenly, then re-cover and cook for a further 20 or 40 minutes, as above, until tender.
Meanwhile, cook the pearled spelt in boiling water for 20 minutes, or until tender, following the packet instructions. Drain.
Remove the beetroot from the oven and leave to cool slightly, then drain off the cooking liquid. Peel off the skins while still warm. Cut the beetroot into quarters and put in a bowl. Pour over the raspberry vinegar and lemon juice to taste, then leave to one side. The beetroot is added last so that the dish doesn't turn entirely pink.
Toast the hazelnuts in a dry frying pan over a medium heat for a few minutes until golden and fragrant. Roll the nuts in a clean tea towel to remove the skins. Season with a little salt and crush into pieces.
Scatter the cooked spelt on a large serving plate and sprinkle with the wild dill pollen. Lift the beetroot out of the raspberry vinegar using a slotted spoon and put on top of the spelt, then scatter with the salad leaves, goat's curd and hazelnuts. Drizzle the vinegar over the top, if you like, or serve separately.
Recipe extracted from Spelt by Roger Saul ©Nourish Books 2015, Hardback £16.99, commissioned photography by Lara Holmes.