"Double, double toil and trouble; Fire burn and cauldron bubble" Unknowingly Shakespeare summed up the rush of the early Autumn with these lines from Macbeth; in a short six-day period we toil over costumes and cauldrons to help our little horrors celebrate Halloween before troubling ourselves with bonfires and fireworks to mark that uniquely British anniversary of Guy Fawkes Night! It really is double toil and trouble! But Belvoir Fruit Farms have developed four easy and fun cocktails to celebrate making any Halloween party frightfully good or bonfire party go with a bang!
The Vampire Breakfast
With its gruesome eyeballs looking at you the Vampire Breakfast is ideal for a Halloween house party!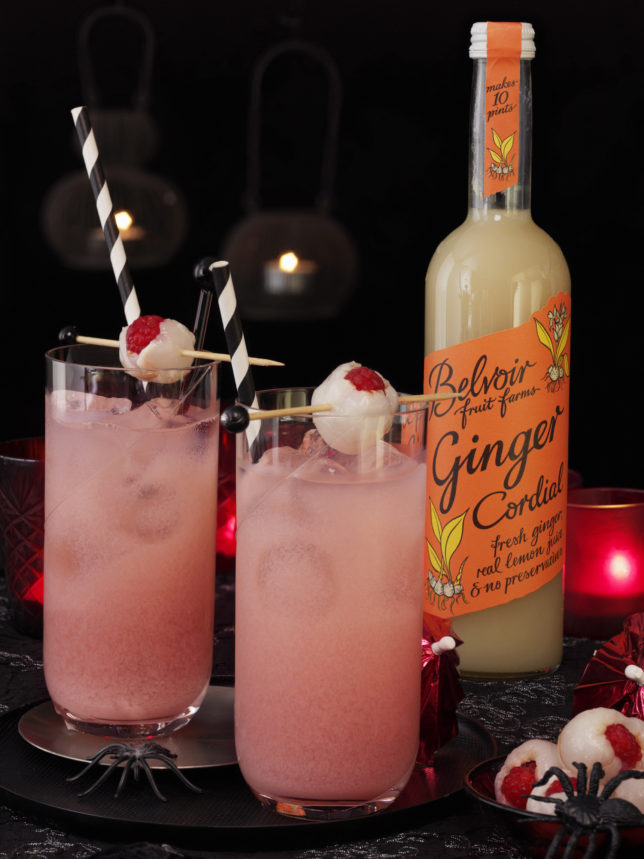 Ingredients
35ml Golden rum
15ml Belvoir Ginger Cordial
75ml Pomegranate juice
10ml Lime juice (Or 2 squeezed wedges)
Method
Pour all ingredients into a hi-ball glass filled with cubed ice and stir.
Garnish with a lychee stuffed with raspberries on a cocktail stick
Bloody Belvoir
Add some horror into your happy hour and some fire into your heart with a cocktail classic that has had the Belvoir treatment!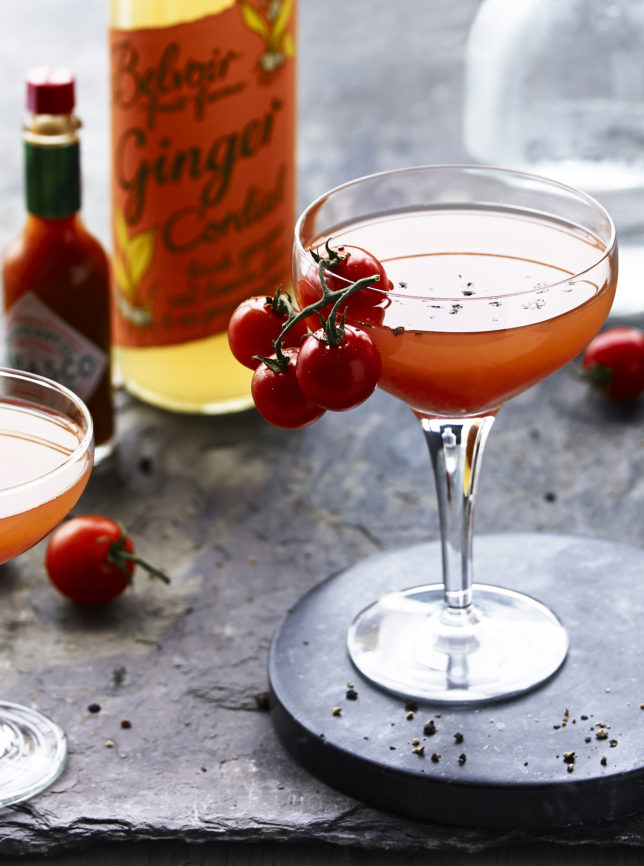 Ingredients
2 x 25ml shots of Vodka
1 shot of Belvoir Ginger Cordial
2 drops Tabasco
25ml Tomato Juice
Method
Shake with ice and strain into a cocktail glass
Add extra tomato juice if required and strain into a glass
Garnish with cracked black pepper for added bite
Belvoir Hot Toddy
This should be served in a cup with a handle as the vessel will get very hot making it the perfect hand warming (not to mention the cockles) tipple for a bonfire party.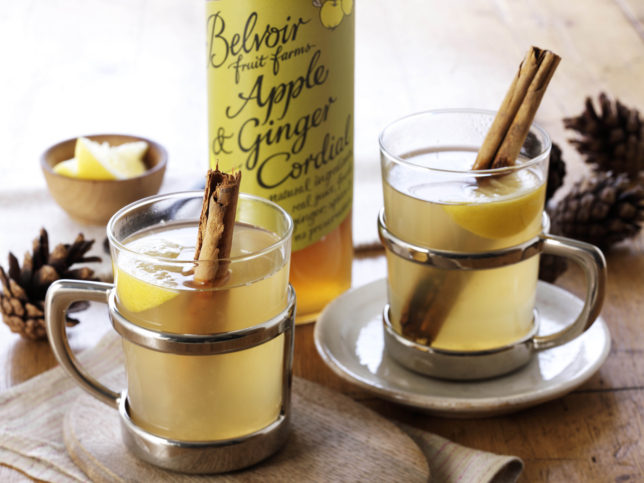 Ingredients
15 ml Belvoir Apple & Ginger Cordial
3 wedges of lemon squeezed
150ml boiling water
1 cinnamon stick
2 thin slices root ginger
35ml Scotch whisky (blended whisky if available)
Method
Add all ingredients into a cup with a handle and allow to steep for 30 seconds. Ensure you squeeze the juice from all three wedges into the cup but only drop one squeezed lemon wedge into the drink, discard the other two. Stir well and garnish with the sprayed zest of an orange peel and lemon rind if available. Add more cordial or lemon juice to meet individual tastes.
Strudel-Doodle-Doo
This deliciously sweet non-alcoholic mocktail lets the kids join in the fun and is the perfect accompaniment to a scrummy, sticky toffee apple.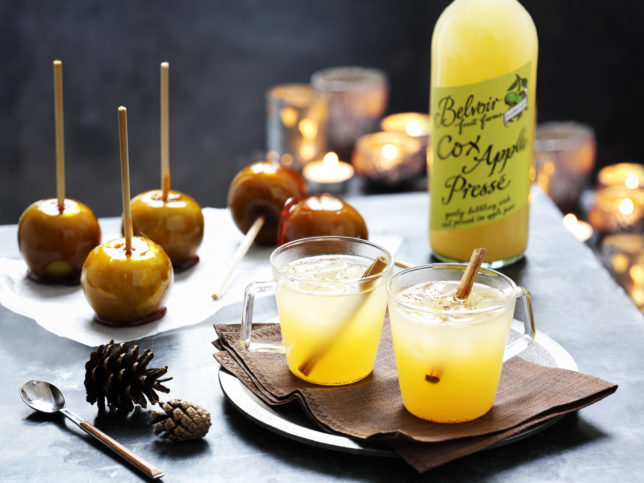 Ingredients
100ml Belvoir Cox Apple Pressé
25ml Butterscotch syrup
15ml Fresh lime juice
Pinch of all spice
Method
Shake the ingredients together in a cocktail shaker then strain over ice cubes into a teacup and saucer. Top up with more Belvoir Cox Apple Pressé before adding a garnish of cinnamon sticks.
Let Belvoir cast a spell on you this Halloween and Bonfire Night with these mouth-watering drinks. For more sparkling inspiration visit www.belvoirfruitfarms.co.uk