Relaxed South London restaurants Ben's Canteen (with a venue in both Earlsfield and Battersea) has launched an interesting menu of new burgers, each matched to a suggested wine partner. Ben's signature Australian inspired, playful selection of burgers have received an overhaul with new additions such as the Posh Fried Chicken, served with Champagne; The Hawaiian with a French Gamay; and the mighty Salad Dodger with a New Zealand Pinot Noir. From just £10.50 for a burger and with wines from just £3.75 by the glass, this is an accessible way to give a new wines a try and enter into the world of food matching.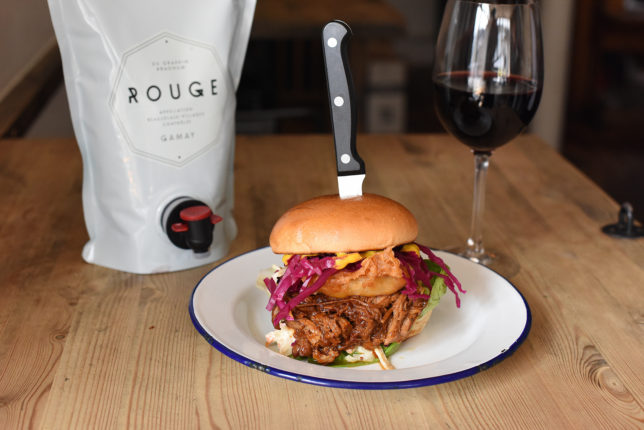 Ben's Canteen prides themselves on an exciting wine list with most regions represented, and a really solid by-the-glass list too. Wine is from £18.50 per bottle, with regular promotions running to encourage guests to adventure beyond their usual tipple. Burgers are 7oz aged beef patties from local butcher HG Walter, and the glazed buns are from Wimbledon's Millers Bakery (also available bunless on request with slaw thrown in) and served with salad and either regular or sweet potato fries.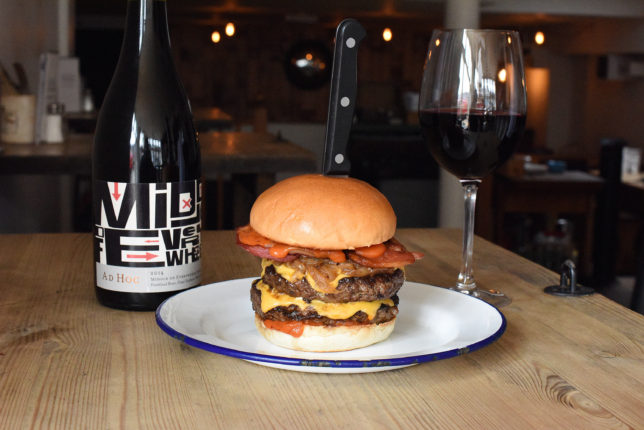 We visited the Battersea site which is popular with the Millenials of Wandsworth and trendy thirty-somethings as a neighbourhood hangout to meet for drinks and burgers. The ambience and menu make it easy for this to be the place to catch up with friends over sharing plates or have a casual date with someone special.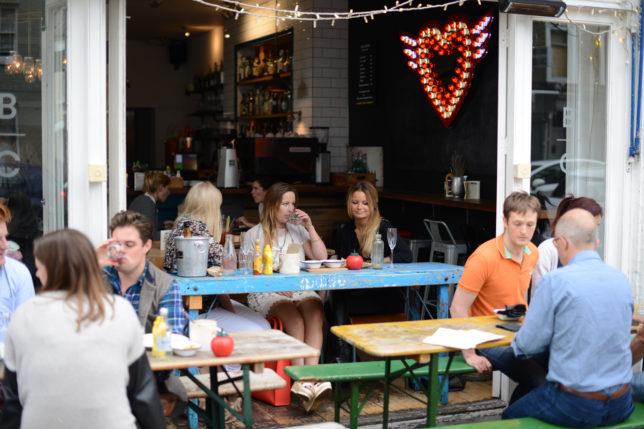 We started with DIY Guacamole which comes out looking like the chef forgot to do his job but was great fun going native with the pestle and mortar creating a bespoke dip with some added kick from the jalepenos for the generous portion of tortilla chips.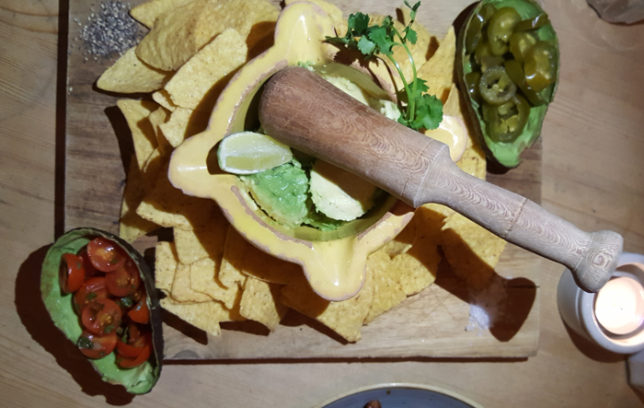 We sampled Ben's Epic Scotch Egg. What makes it epic? Apart from some delicious umami flavours permeating through every bite, these hefty savouries are freshly made on site every day and are large enough to support the saying "sharing is caring"!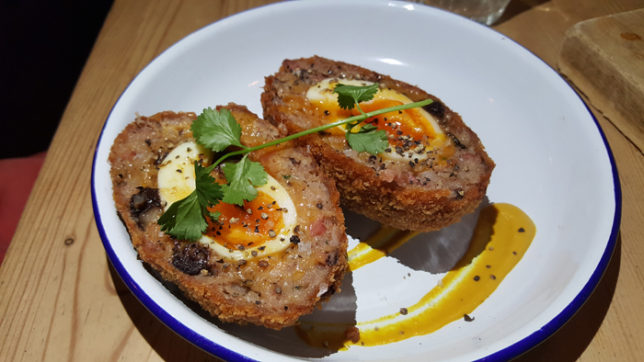 We also tried the smaller portion offering of the BC Chicken Wings – 7 succulent wings in a smoky barbeque sauce that had enough kick to keep things interesting.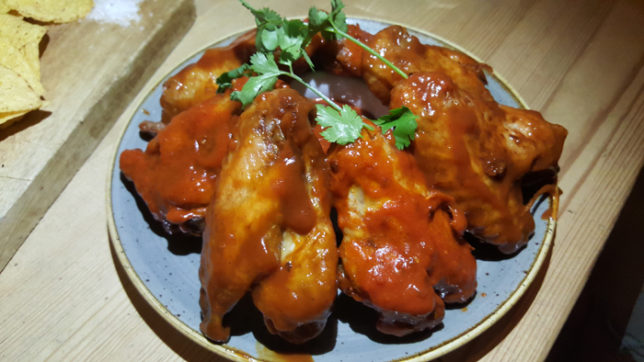 Impressed by the starters which are all perfect for sharing tapas style, we moved on to mains. Highly recommended are the Trio of Mini Burgers consisting of a not-so-small selection of Cheese Burger, Hot Crispy Fried Chicken and our favourite… The Hawaiian created from succulent pulled pork topped with a pineapple fritter.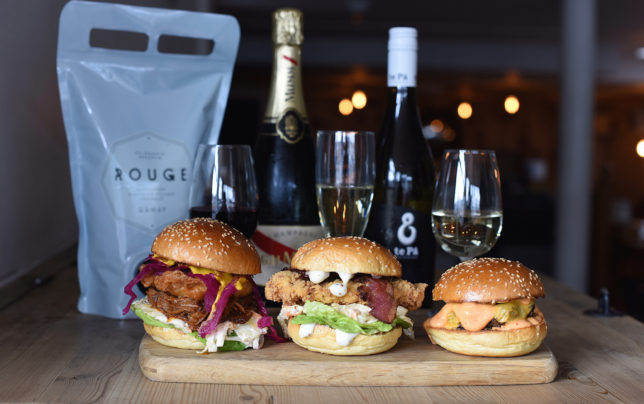 Each burger in the trio was paired with a different wine as you can see and wine pairings are suggested for all the burgers on the menu. For those wanting a meatier offering, Ben's Canteen says it specialises in Burgers and with ten to choose from there should certainly be something to suit all tastes. We went for a plain version of the Bacon Double Cheese… without the cheese or toppings of caramelised onions, mustard & ketchup. With two 7oz beef patties this is not for the faint- hearted and has an interesting texture.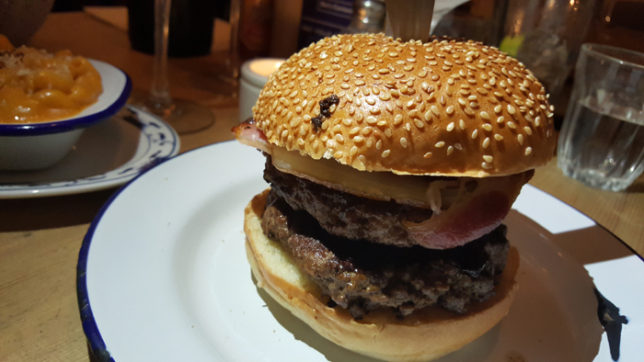 As an accompaniment we chose the Spicy Nduja Mac & Cheese which had an unusual flavour and pleasant texture.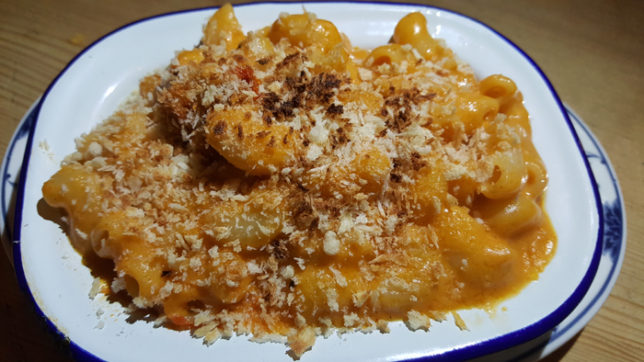 Moving on to dessert, much has been said about the Doctor's DIY Doughnuts by others so the only thing I would highlight is that 50p from each one sold is donated to the Wandsworth Food Bank. In an effort to avoid the ubiquitous, we went for Grandma Rumble's Apple Crumble – a tart style dessert with a crumble topping served with a scoop of ice cream and a pot of custard providing a diverting contrast on the palate.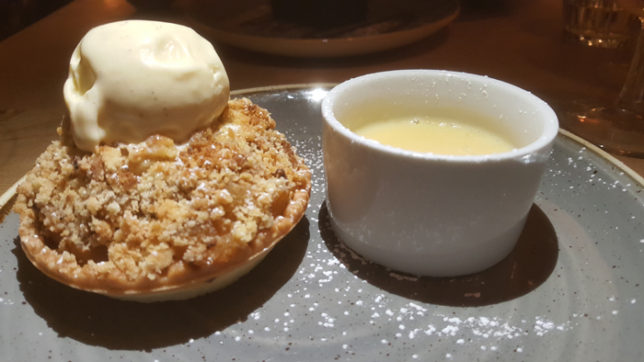 My dining companion is a die-hard peanut butter fiend so we just had to try the Chocolate & Peanut Butter Brownie served with peanut butter ice cream… too much of a good thing didn't even come into it!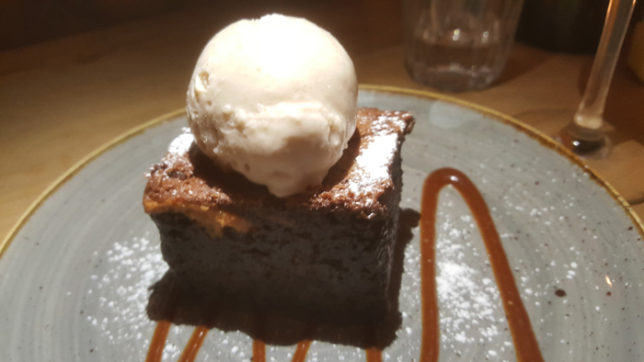 Ben's Canteen feels like the place where young professionals can go to hang loose with an Aussie-inspired menu and a great selection of drinks including interesting cocktails and garnished G&Ts. We can see why Ben's Canteen is popular with the younger set and what it lacks in refinement, it certainly makes up for in ambience.
Ben's Canteen has two sites – the Earlsfield restaurant can be found at 422 Garatt Lane, SW18 4HW and the Battersea restaurant is located at 140 St John's Hill, SW11 1SL.
Ben's Canteen
140 St John's Hill, London SW11 1SL
020 7228 3260
www.benscanteen.com