This month, SLOAN! brings you a round up of the best protein bars available on the market which we have rated on looks, taste and quality. Whether you're a busy active professional needing a quick energy fix or someone who suffers from fatigue and low blood issues, these protein bars are our favourite choices to give you a boost of slow release energy in a nutritious snack.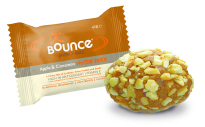 More a ball than a bar, these high quality protein-rich snacks taste great and are made with the best ingredients such as nuts, seeds, whey and pea protein and loads of vitamins and minerals including at least 100% of your daily requirement of Vitamin E. We like how handy and compact they are which is ideal to slip one or two into your bag to ensure you can grab something healthy and satisfying when you have an energy dip during your busy day.
Known as America's favourite energy bar, CLIF bar is made with wholesome, delicious ingredients like organic rolled oats and organic dates and is a source of protein and fibre and contains 11 vitamins including B6 and B12. These energy bars taste great and come in six delicious flavours. Our favourite is White Chocolate Macadamia Nut closely followed by Crunchy Peanut Butter.
The Paleo diet is a very popular choice with celebrities and those who want to eat a healthy diet free of processed refined foods that our paleolithic ancestors would not have eaten. These bars were created by leading UK nutritionist Suzie Walker and have no more than five ingredients, nuts, unsweetened fruit and almond oil. They are gluten free and suitable for vegetarians and vegans. Our favourite bar is Almond & Cashew but they are also available in Coconut & Macadamia and Brazil Nut & Cherry.
This range of organic raw snack bars has something for everyone, whether you are a sporty type wanting a natural energy bar or a parent looking for a healthy lunchbox snack. There's a fat free Banana & Ginger Bar, a tasty Tropical Fruit Bar and a raw energy Peanut Bar. Each using only organic sun dried ingredients, is rich in fibre and packed with vitamins and nutrients. We love the fact that these have no added sugar, salt, artificial preservatives, additives or flavourings in addition to counting as one of your five-a-day.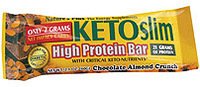 This Nature's Plus bar contains almond slices and crispy protein nuggets swirled into smooth chocolate and almond butter and then enveloped by a creamy chocolate coating. It is a tasty and filling alternative to the usual diet food and contains a massive 21g of protein with a range of essential nutrients. We think it is a good choice for a quick, nutritious snack or can be used as a meal replacement for busy people following low GI eating plans.
This is an ideal snack for any athlete looking to increase muscle mass and fuel the body with quality calories to support an athletic lifestyle. It contains a whopping 19g of protein from whey protein and milk protein isolate. Low in saturated fat and with only 2g of sugar yet still tasting good, we think this high protein oaty flapjack is a healthy choice for pre or post workouts.
USN Muscle Fuel STS Protein Bar
This meal replacement protein bar is the ideal choice for an active person looking to fuel their body on-the-go who has little time to prepare a nutritious meal. Each bar contains 14.4g of quality protein and 25.8g of energy filled carbohydrates to keep you fuelled during the day and support your muscle development if you are a gym user or athlete. The caramel shortbread flavour is really tasty but perhaps a bit too sweet for some.
Warrior FEAST Protein Flapjack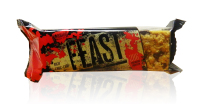 These are one of the highest protein flapjacks available. These are man-sized 100g protein flapjack bars, packed with a huge 21.7g of pure premium protein. We liked both flavours of Chocolate Orange and Rich Chocolate Chip. These are very handy in your gym bag when you're in a rush post training or leave some at work so you always have a healthy meal on hand. We felt these bars were quite large but they were very filling and perfect for the warrior in you looking for a healthy feast!
Bodybuilding Warehouse Protein Flapjack
Another high protein flapjack with just over 18g of protein, this bar is described as "the ultimate athlete's snack bar". Ideal as a stop-gap if you're busy running around or just running or don't have time to prepare a healthy meal when you're on the go. We loved the fact that unlike other protein bars these ones contain real pieces of nuts and fruit and are not just a non-descript amalgam. Our favourite flavour is Blueberry Yoghurt.