We asked Victoria Glass, author of new cookbook Too Good To Waste, for her expert advice on how you can create a feast with the food you would have thrown away thus saving on food wastage but not compromising on taste.
Food waste is big and unappetising news right now. Jamie Oliver has stated that up to 50% of our household food will get thrown away every week. In 2015, in the UK alone, 7.3 million tonnes of edible food was wasted (that equates to £13 billion).  If we could put a stop to this catastrophic food waste, it would have the same environmental benefit as taking 1 in 4 cars off the road. We all want to do our bit, but sometimes the first step is the most daunting. You don't have to be a full on eco-warrior to make a difference; even the smallest changes can have dramatic results.
Reducing your food waste needn't be dreary. Aside from extra smug points, you'll also unlock the potential for so much more deliciousness. We all know that when life gives us lemons, we're supposed to make lemonade, but what do you do with all those squeezed out lemon skins? Make chocolate-dipped candied peel, of course! After you've enjoyed your cheese, what do you do with the dregs? Add them to soups and stews. The rinds impart an extra savoury layer to the dish. The stones from fruit can be used to flavour syrups, vinegars and homemade liqueurs (they have a mild bitter flavour, similar to almonds), and empty broad bean pods can be transformed into moreish fritters: perfect to dunk into chilli-spiked mayonnaise.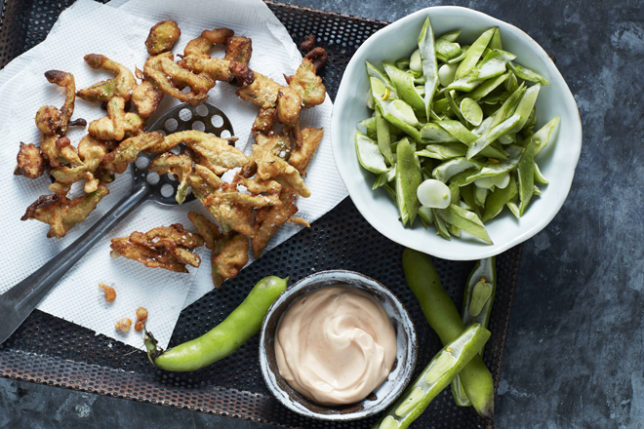 When it comes to vegetables, forget the peeler and give them a simple scrub instead. There is so much flavour and fibre in the skins and leaving them on not only saves time, but also makes for a more delicious supper. If you do peel your veg, instead of hovering your foot over the bin pedal, consider turning those peelings into oven baked root crisps with just a small slick of oil plus a sprinkling of salt and spice (cumin is my personal favourite), or try your hand at making vegetable skin chutney. And never underestimate the restorative power of stock. I like to keep a Tupperware box in the freezer to collect a stash of vegetable trimmings and herb stalks, ready to throw into a pot with the leftover carcass from Sunday's roast. And it doesn't end there.
Mashed potato can made into an elegant vanilla and almond cake with chocolate ganache, or poshed up to make Pommes Dauphine. As well as croutons, crostini and bruschetta, stale bread can be turned into soufflé-topped stew or bread ice cream (trust me, it works!). Chicken skin can be roasted until crisp and served with terragon mousse as a sophisticated canapé, and bacon fat can be transformed into a deeply savoury warm salad dressing. Leftover rice can be transformed into many other dishes, like nasi goreng or a rice tart.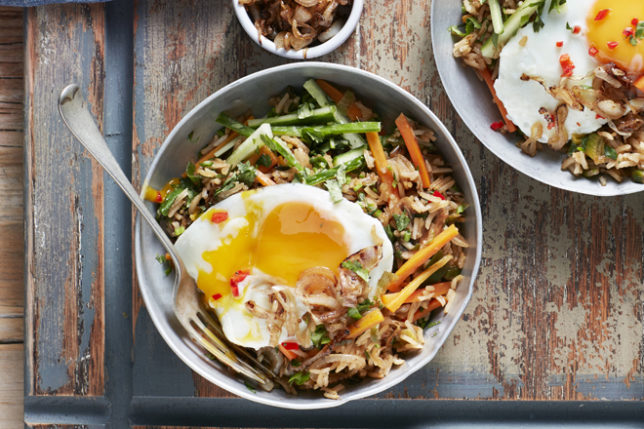 What about those foods that are sightly on the turn? Well, even if your milk has got to the point where it stings your nose, it will make the lightest of scones, both savoury and sweet. Sour milk can be used instead of buttermilk in marinades – the lactic acid helps to tenderise meat and you can also make wonderful homemade soft cheeses. I've found that a little sourness actually makes for a better-flavoured cheese. Aside from milk, leftover cream can be resuscitated into Mascarpone and uneaten plain yogurt can be transformed into Labneh. All have the added bonus of making whey as a by-product to use in bread-making, pickling or even in your bathwater for silky soft skin.
I am fairly cavalier about use-by dates and wholly impractical instructions on jars of preserves – like 'consume within 5 days of opening' – are routinely ignored. Unless eggs float in water, they're still good; you don't need a printed date stamp to tell you otherwise. Please do not mistake my insouciance for irresponsibility. I would never risk month old chops, but it will take more than a limp lettuce or bendy carrot to scupper my supper.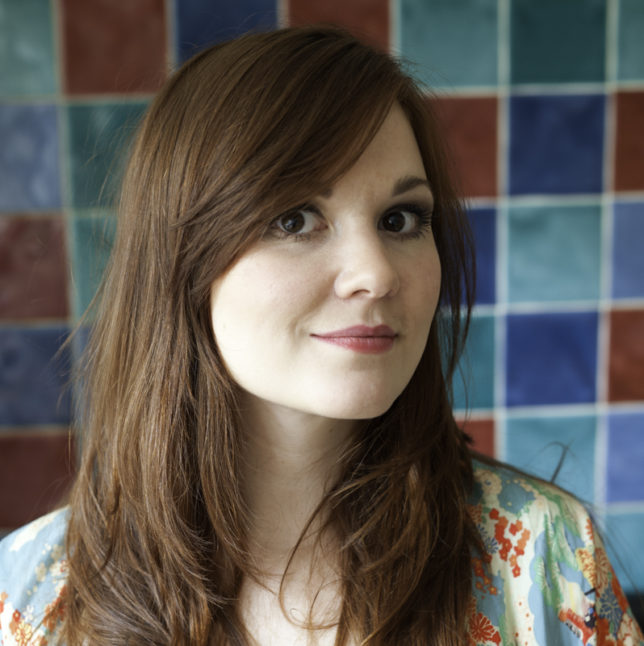 Where food safety is concerned, a little common sense goes a long way. I would never advocate going as far as scraping the mould off the top of anything and eating what's beneath. Some moulds are harmless, but some are not and, unless you are a biochemist, I would recommend exercising caution. There are limits.
But reducing food waste is not just the crusade of the worthy, or the preserve of the short-on-funds, it's also in the best interests of everyone's tastebuds. After all, it is never a hardship to rescue olive brine to make Dirty Martinis!
My new book, Too Good To Waste, thinks beyond the compost to extract every last edible drop from your ingredients. When it comes to reducing waste, you can find uses for even the least likely contenders. Wilted herbs and leaves can be given a new lease of life with my recipes for chicken and watercress wonton soup, rocket gnudi or a dangerously quaffable herbal cucumber gin cooler. Cauliflower leaves make tantalising tempura and broccoli stems are fabulous finely sliced into matchsticks and pickled to accompany gyoza. You can find a wealth of handy tips and delicious recipes to turn even the most maligned fridge finds into a banquet fit for a king.
About the author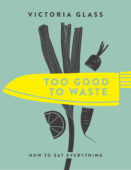 Victoria Glass is a cook, recipe developer and food writer. She is the author of five recipe books, contributor to greatbritishchefs.com and has cooked her way through the alphabet – from artichokes to za'atar zebra – on her blog, Alphabet Soup. She has recently completed a stint as food-writer-in-residence at the Roald Dahl Museum & Story Centre. Find her on Twitter: @victoria_glass