The Eccleston Square Hotel
This Grade II-listed boutique luxury hotel is one of the most hi-tech in Europe and only after 6 months of opening was it awarded In- Room Technology Innovation at the European Hospitality Awards 2011 with each of the forty rooms providing guests with an iPad to use during their stay,  a 46-inch 3D Panasonic television, smart-glass bathroom walls and £12,000 Hästens massage beds said to be the "world's best beds". The hotel's impressive use of different technologies not only creates excellent service delivery to the hotel's guest but also allows for even greater advantages such as lowering the hotel's consumption and carbon footprint. The Eccleston Hotel is owned by Olivia Byrne who at 26 is London's youngest general manager and owner of a five-star hotel. Daughter of multi-millionaire hotelier John Byrne, Olivia manages the hotel with her brother James Byrne, also in his twenties. Although welcoming to all, the hotel is best suited to business people and couples.
The Restaurant
Bistrot on the Square serves refined yet simple bistro-style dishes with distinctive international flavours in a relaxed and intimate environment. Only a short walk from Victoria Station, Bistrot on the Square is a hidden gem popular with both the local residents of Belgravia and hotel guests for being a culinary haven of tranquility in bustling London. The restaurant is small yet never seemed too noisy or busy which gives it the feel of one's own private dining experience. Bistrot on the Square features theatrical black crystal chandeliers as well as a striking open fireplace and is decorated in a muted palette of white, grey and black. Unlike some other hotel restaurants, Bistrot on the Square holds its own as a dining destination in its own right and is a wonderful place to escape for a business breakfast, working lunch, afternoon tea after some retail therapy or an intimate dinner for two.
Starters
It is not often that I start a restaurant review talking about a bread basket but the bread served at the opening of our meal was exceptional and a clear indication of how much attention to detail Bistrot on the Square pays to every element of the meal. The offering was perfectly proportioned for two diners so that having indulged in the carbohydrate-rich yet light textured warm bread there was still plenty of room left to enjoy our starters and the rest of the meal. The wonderful bread set our expectations high for the next course and we were not disappointed.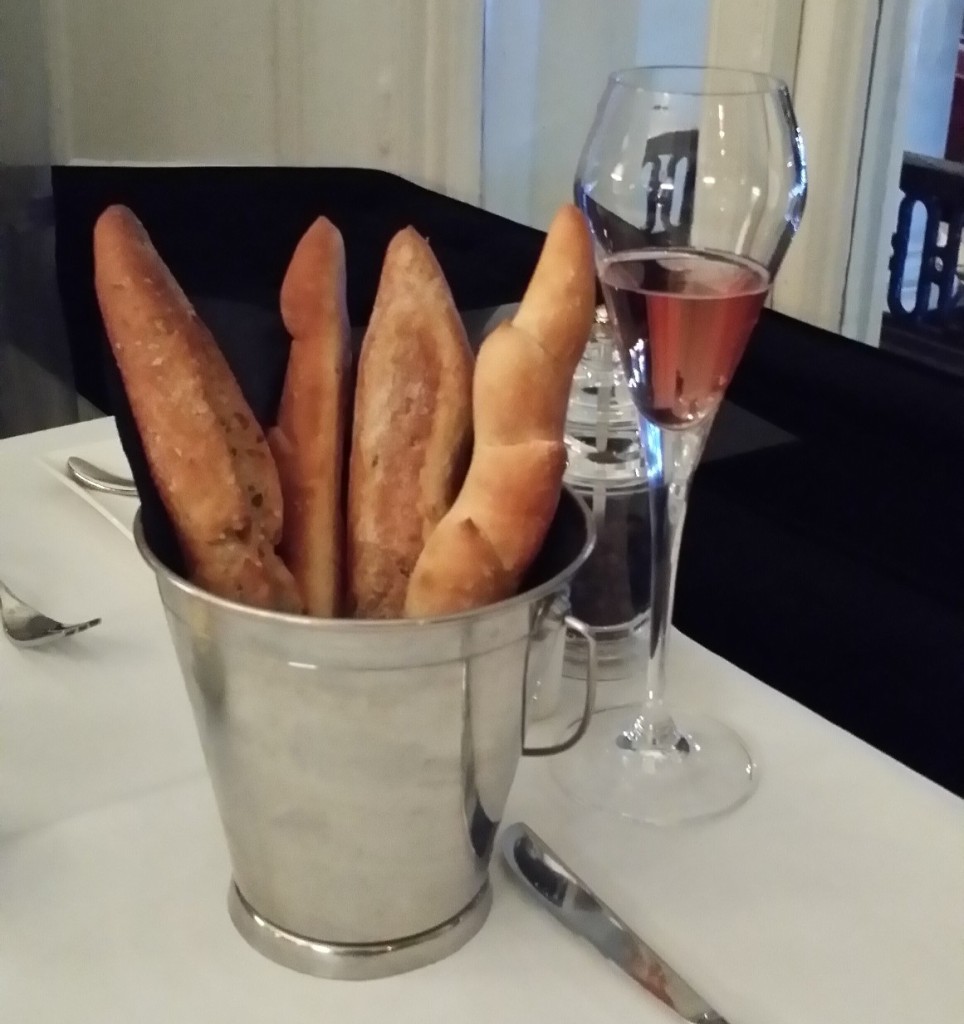 I choose the Spiced Squid and Prawn Fritters. These had a beautifully crisp golden batter which encased perfectly cooked juicy squid and prawns. Served with sweet chilli sauce, this were anything but the usual hit-and-miss battered calamari that one gets in most other restaurants. The starter was a satisfying portion without being overwhelming and I liked the nice touch of serving the fritters on special newsprint reminiscent of the wrapping of traditional fish and chips. Another attention to the small details that make Bistrot on the Square stand out despite it's somewhat limited menu.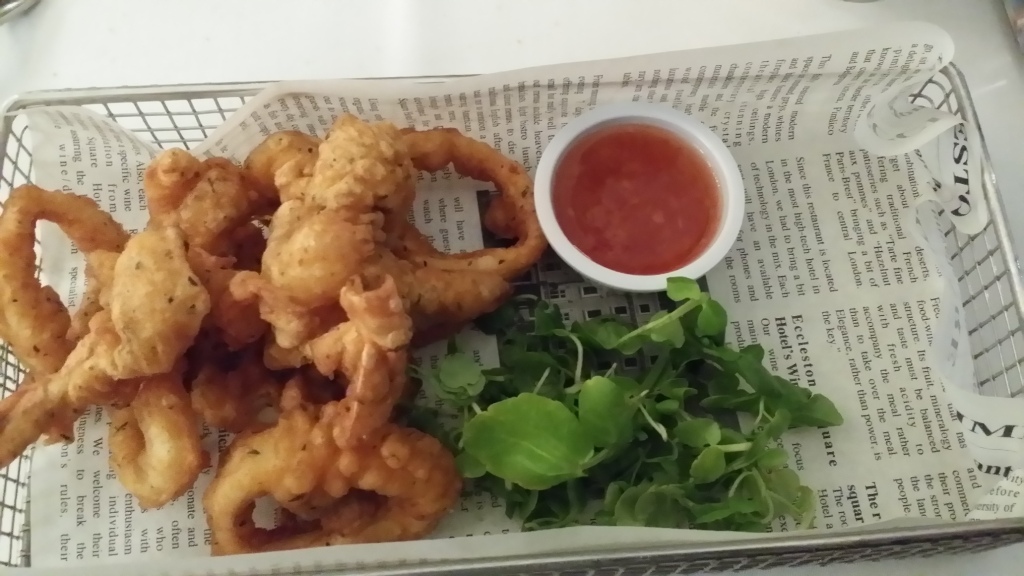 My dining companion started with the Grilled Crottin de Chavignol on Sourdough Toast. This creamy goats cheese from the Loire Valley was served with a fragrant truffle honey, perfectly balanced walnut dressing and a crsip mixed green salad. The cheese was expertly grilled and was lovely and smooth with a nutty flavour that was complimented by the walnut dressing and the earthy sweetness of the truffle honey. This dish took cheese on toast to a whole new level!
Mains
After such delicious starters, we couldn't wait to try the main course and as ever throughout the meal our friendly waiter served the next course in a timely yet relaxed fashion. I decided to go for the steak. The pan fried 28 day aged Scottish rib eye steak was served with a delicious parsley butter (there is also a choice of sauce Béarnaise for those who prefer it) and accompanied by house fries and watercress. My choice of medium rare steak was cooked to perfection.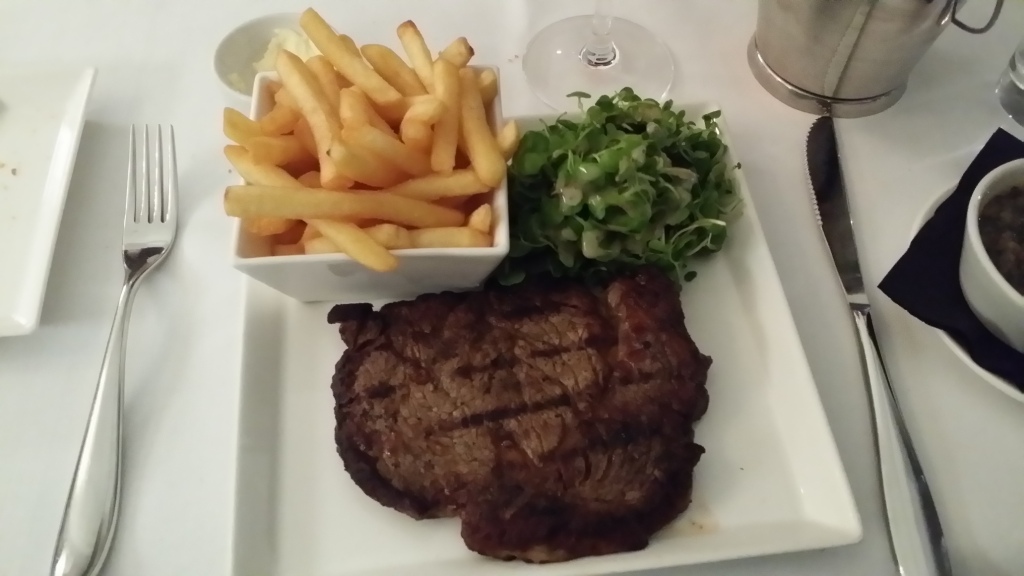 My partner went for the Moroccan Spiced Lamb and Apricot Tagine. This fragrant dish with melting tender lamb was topped with coriander and served with lemon couscous which came in a charming mini casserole pot. The dish had an unusual accompaniment of a slaw of tomato, cucumber and pomegranate drizzled with mint dressing which was  a refreshing contrast to the spiciness of the tagine.
Dessert
Following a suitable pause after finishing our mains, the waiter brought over the dessert menu and we surveyed the short but definitely sweet choices. I was intrigued by the Christmas inspired choice of Gingerbread Ice Cream and decided to give it a go with a serving of my favourite Passion Fruit Sorbet. I must say that while the sorbet was as I expected, the flavour of the ice cream really blew me away and was one of the tastiest ice cream flavours I have had in a long time. It even got me thinking about baking some gingerbread this Christmas, so the festive theme obviously worked!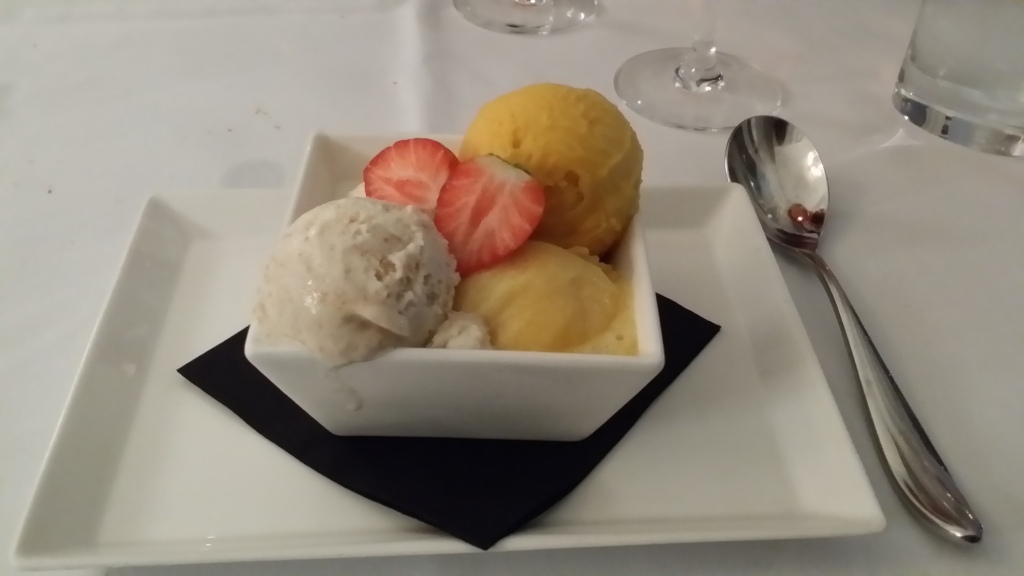 My dining companion has always been a big fan of anything remotely chocolatey so it was no surprise that he chose the Valrhona Chocolate Fondant for dessert. You always know you're in for a treat when you see the name "Valrhona" on a dessert menu. The intense rich chocolate sponge revealed a meltingly soft centre which had all the hallmarks of being made with France's luxury bittersweet chocolate. The richness of the chocolate fondant was balanced with cool creamy vanilla ice-cream and set off with fresh strawberries. Although chocolate fondant is often seen on restaurant menus, this version was anything but ordinary and as my partner commented, was the perfect finish to a perfect meal.

For more about Bistrot on the Square and the Eccleston Square Hotel, see our earlier article here.
Address: Eccleston Square Hotel, 37 Eccleston Square, London, London SW1V 1PB
Telephone: 020 3489 1000
Reservations: eat@ecclestonsquarehotel.com
Website: Visit Bistrot on the Square