Bluebird, the historic Chelsea institution with its striking art deco design, teamed up with Jo Loves, the new fragrance brand created by Jo Malone, to transform the iconic space into a magical Blossom City in celebration of the famous restaurant's 20th anniversary as Chelsea's leading neighbourhood restaurant which coincided with this year's Chelsea Flower Show.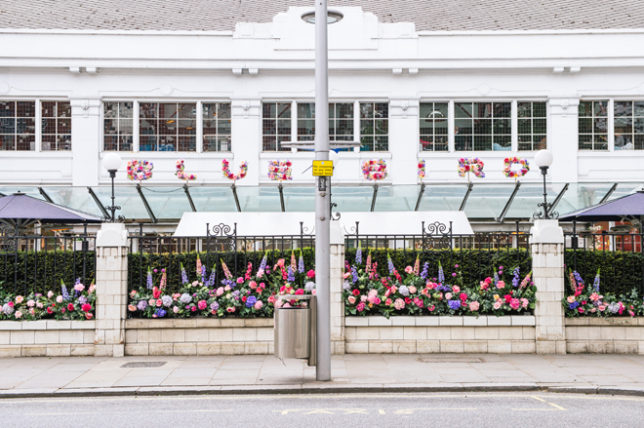 Upon entering the iconic Chelsea landmark, one is transported into a lush secret garden, overflowing with foliage, flavour and fragrance, ranging from the exotic to the classic. The installation will be in bloom until the end of June. Working exclusively with Jo Loves, the Bluebird bartenders have created a playful and interactive cocktail menu inspired by Jo's exquisite signature scents.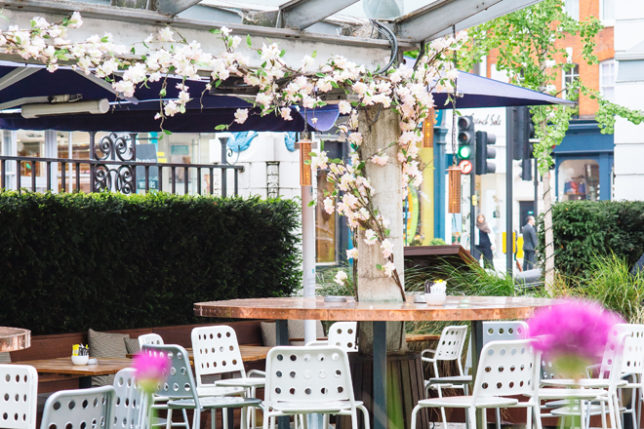 Head Bartender, Egzon Kastrati, has created a collection of cocktails designed to stimulate the senses. Guests can expect to fashion edible floral garnishes, breathe in scented aroma clouds and even eat their chocolate glassware after they have drained their cup.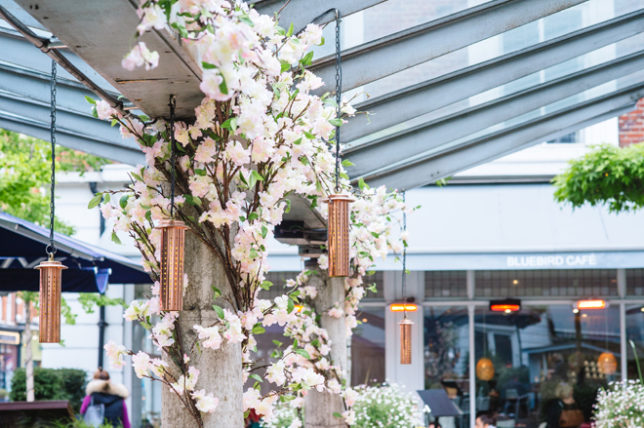 Jo Malone has been described as an 'English scent maverick' and her Jo Loves fragrances are inspired by her fondest moments, which the Bluebird team have worked to capture with the transformation of the space into a mesmerising floral wonderland.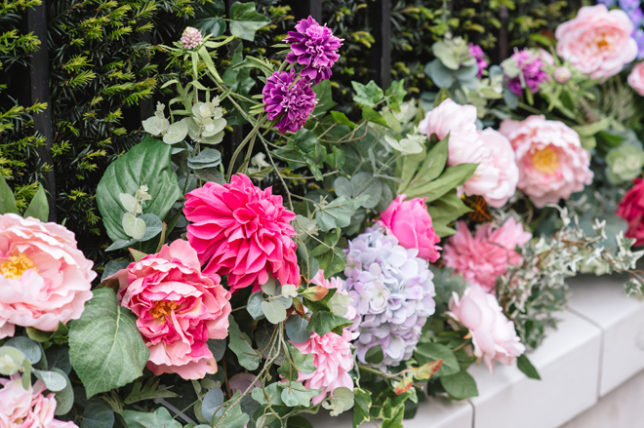 Our favourite (and the most theatrical of the offering) is the No. 42 Flower Shop made with vanilla infused vodka, Chambord, lemon, lychee, rose, cherry and rose champagne muddled with dry junipers, pomegranates and raspberries served in a silver watering can and garnished with dried lavender and an edible flower arrangement. The cocktail conjures up the early morning scent of fresh flowers so loved by Jo Malone when she first started working as a florist.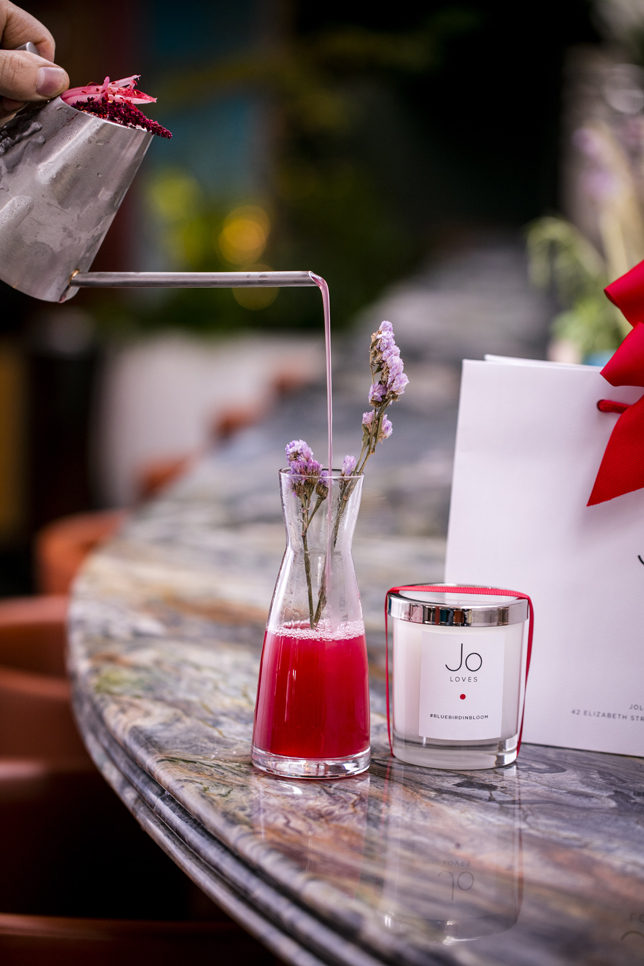 We visited Chelsea's iconic neighbourhood restaurant after a fascinating day at the Chelsea Flower Show not just to marvel at Bluebird in bloom but to also to dine in the award-winning restaurant and sample recently appointed Head Chef Liam Smith-Laing's menu which features simple, fresh and honest dishes inspired by the best of Modern European cooking. As we entered the space, we could't help but notice the beautifully-illuminated central bar designed from stacked stainless-steel bumpers and topped with marble.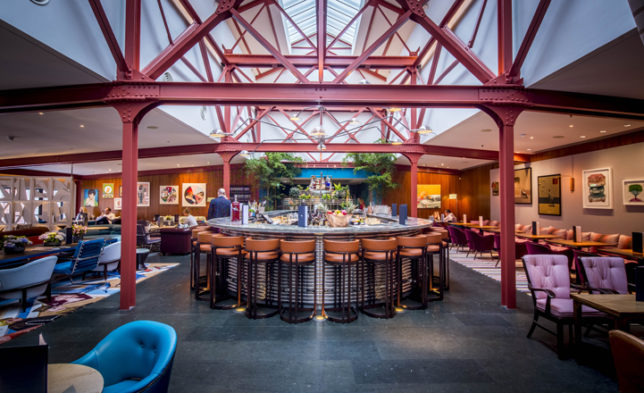 We walked through to the impressive dining room surrounded by mature trees, climbing plants, wildflowers, grasses and herbs, sprouting up across the restaurant. Tables are in cosy alcoves and seating areas, upholstered with plush velvet or butter-soft leather. A decent comfortable chair is always a blessing on London's contemporary dining scene these days! As we perused the menu, we sipped one of Bluebird's excellent cocktails. We chose the Rosalina mocktail made with passion fruit juice stirred with fresh raspberries and rose petal syrup topped with soda water and a sprig of redcurrants dusted in icing sugar.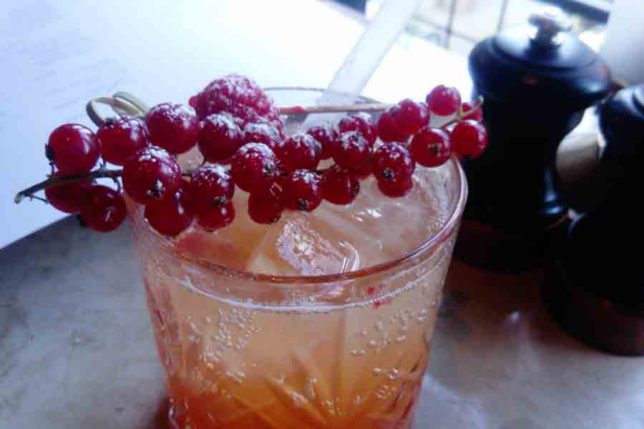 Stunning textiles from British fashion icon Celia Birtwell and intriguing artworks from artists Marco Sanges, Christy Lee Rogers and Raoof Haghighi, bring a pop of colour to this visually arresting space designed by famed interior designers Sagrada who have chosen to paint the industrial steel frame of the airy atrium a striking red hue and the updated lighting is evocative of a 1920s workshop which reminds guests of the building's heritage.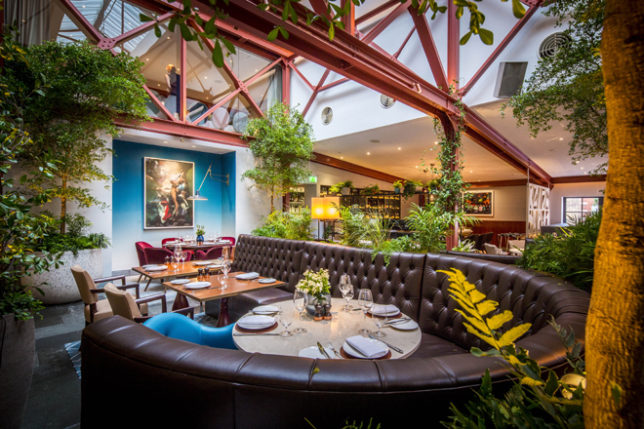 Using only the finest ingredients, the menu offers both small plates and larger sharing dishes, reflecting Bluebird's sociable and buzzy vibe. To start I chose the Baby Octopus with Chorizo, Roquette and Hummus.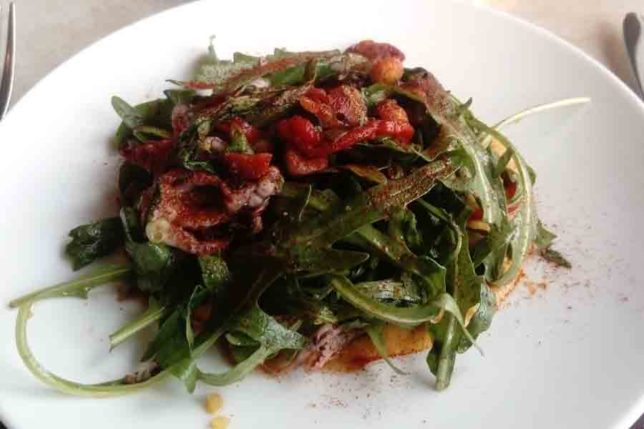 My dining companion enjoyed the English Asparagus with Truffle Pesto as a refreshing cold starter brightened up in flavour by the addition of truffle in the pesto.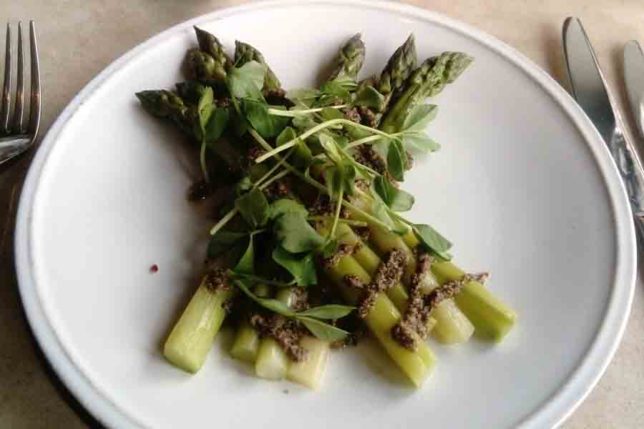 Main courses are divided into meat, fish, pasta and steaks. My companion went for the Roast Baby Chicken with Cavolo Nero, Tarragon and Lemon. The fresh herbaceous flavour of the tarragon paired perfectly with the poultry.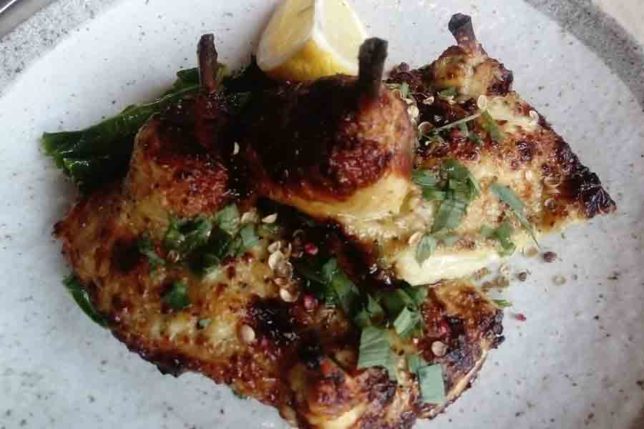 We also indulged in the Iberico Suckling Pig Pork Belly which at 750g is ideal for sharing between two (although it does not mention this on the menu).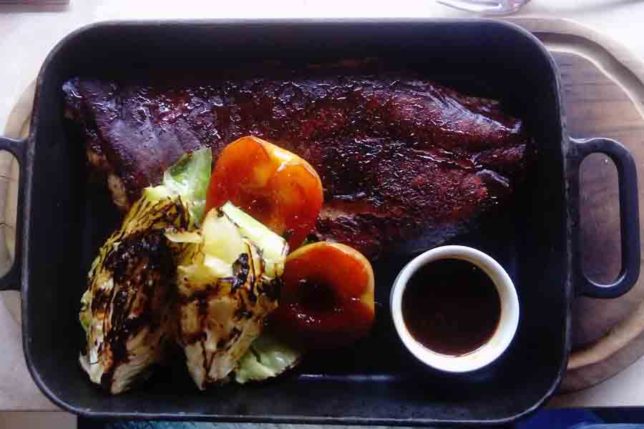 The pork belly is cooked low and slow (to a well-guarded recipe) to produce a juicy tenderness to the meat that's not fatty at all with a caramelised wafer thin layer of fat on top. It comes served with charred hispi cabbage and a sweet baked apple whose firm texture and buttery flavour complimented the juicy pork belly perfectly.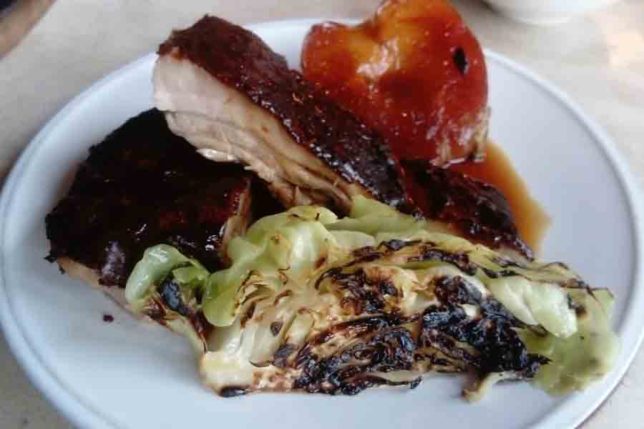 Both my dining companion and I exclaimed that this was the best pork dish in London we'd sampled so far this summer and will be a tough act to follow elsewhere. Just look how juicy the pork is…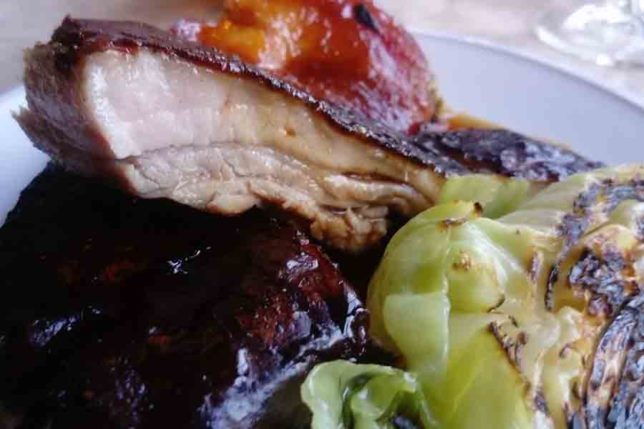 Delicious looking French-inspired desserts designed to delight include Profiteroles, Floating Islands and Tarte Tatin for two. After my meaty main, I chose to go light on dessert and ordered a summery trio of sorbets – Mango, Strawberry and Blackberry – served with a crisp buttery palmier cookie.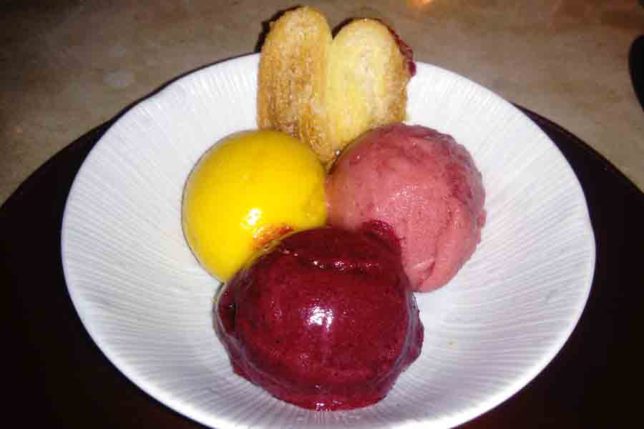 My dining companion indulged her sweet tooth with the Hot Molten Chocolate with White Coffee ice cream. She described the chocolate bursting through the crusty topping like lava from a volcano… but not as hot! And the ice cream has a subtle coffee flavour but the milky flavour was more pronounced.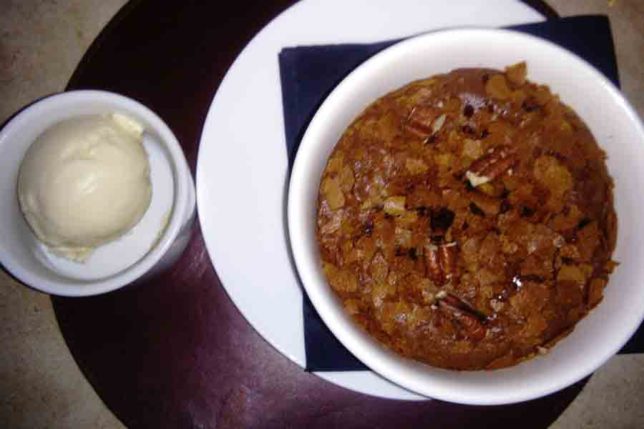 Bluebird boasts 4 private dining rooms and can seat from 10 to 120 guests lunch or dinner, host exclusive events for up to 230 seated or 650 standing and is ideal for weddings, celebrations, birthdays, corporate parties and much more.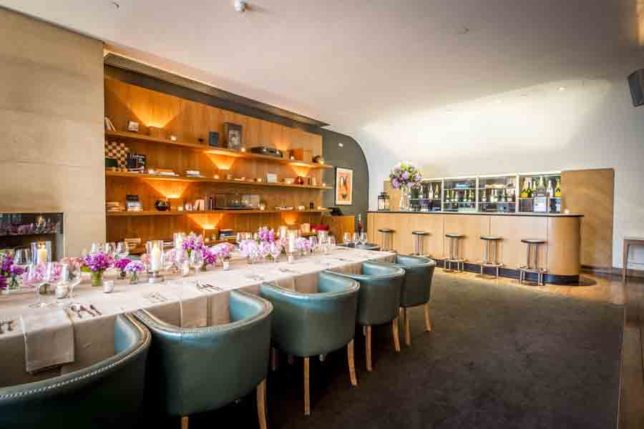 A pillar of the surrounding community, Bluebird has always effortlessly blended relaxed dining and sensational sips with a striking interior and glamorous clientele. Whether you come to try the Jo Loves cocktails or to savouring Liam Smith-Laing's delicious new menu, we're sure you'll agree that Bluebird is definitely the place to see and be seen in the heart of the well-heeled King's Road in Chelsea.
Bluebird
350 King's Road, London SW3 5UU
020 7559 1000
www.bluebird-restaurant.com
@bluebirdchelsea
#BluebirdInBloom