Big Easy Bar.B.Q & Lobstershack Covent Garden has just launched its first unlimited boozy brunch, now available every Saturday and Sunday at the Maiden Lane restaurant. The limitless menu is priced at £29.50, including bottomless Big Easy Brew draught beer, Prosecco or house wine. With such a great sounding offer, we regretfully waved goodbye to our usual haunt of Big Easy Chelsea on the Kings Road and headed down to Covent Garden.
As we walked into the restaurant after navigating the touristy crowds on the Piazza, we soaked up the atmosphere which transported us into our own little haven of Bar.B.Q goodness with glowing neon signs reminding us why we fondly still refer to the Chelsea restaurant as "Crabshack".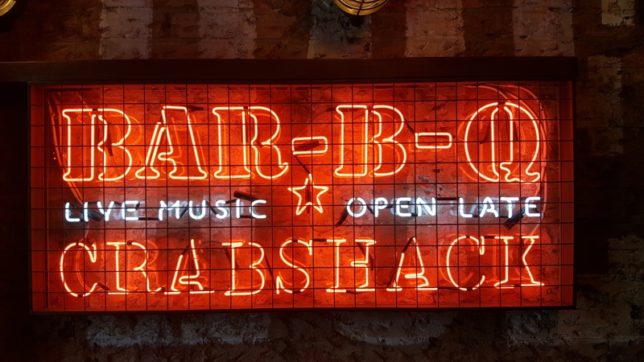 Alongside the unlimited boozy brunch, an a la carte brunch menu is also available. This features American style brunch dishes such as French Toast Waffles… waffled eggy bread with bacon and maple syrup. In a minor setback, the waffles were off the menu on the day of our visit. Undeterred, after exploring the menu further, my dining companion couldn't help but notice the cheesy Mac Attack delight. It did not disappoint. The dish came with three mini skillets filled with plain Mac 'n' Cheese, Mac 'n' Brisket and the legendary Lobster Mac… served with a healthy green salad for those looking for a balanced diet!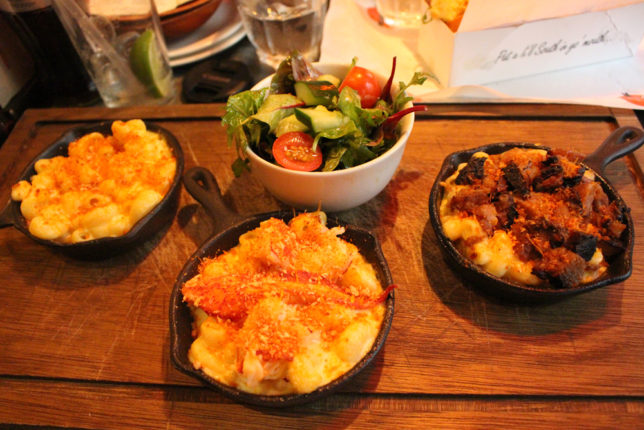 We took a closer look at our Mac'n'cheese selections… The Lobster tasted as good as it looked…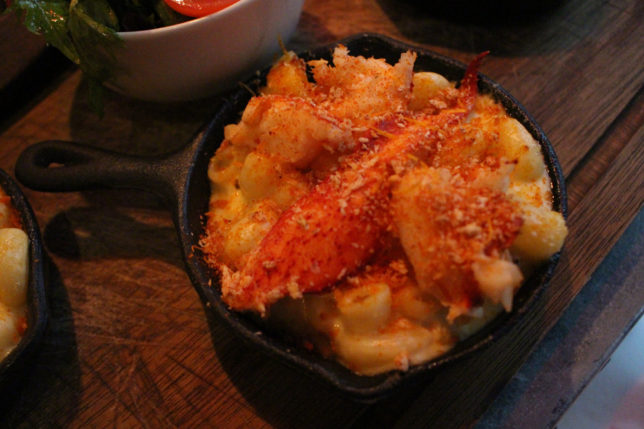 The plain Mac was beautifully creamy…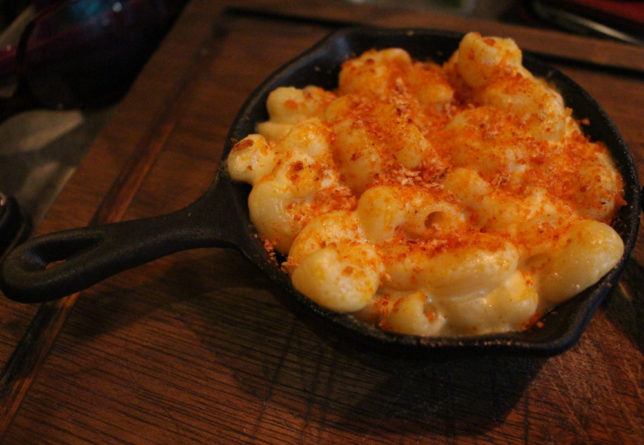 With a generous helping of Brisket who could help but devour this scrumptious dish…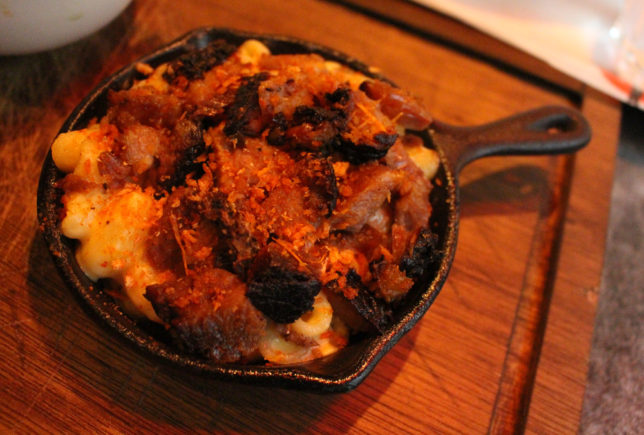 We also ordered the Shrimp Po Boy from the a la carte brunch menu. It comes in a soft Hoagie roll with crispy fried shrimp. The remoulade brings a creamy consistency to the crispness of the fried shrimp.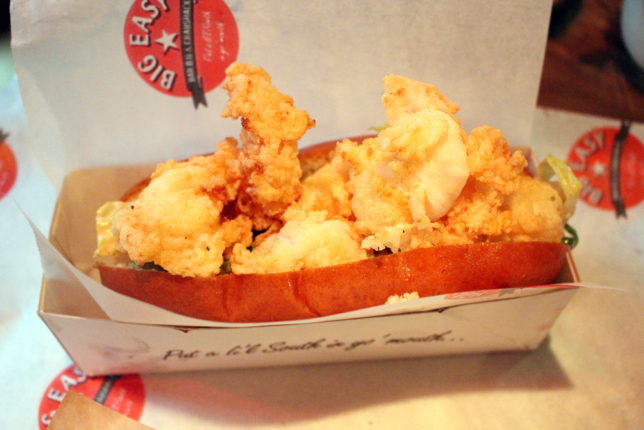 After weighing up the choices on the brunch menu, I couldn't resist the temptation of Limitless Bar.B.Q and simply had to go for  The Big Pig Gig! This big boy of brunch brings North Carolina chopped pork, Pit smoked Bar.B.Q chicken and St Louis pork ribs to the plate. The meat was beautifully tender and succulently cooked. The added bonus to this dish is it comes with unlimited prosecco, house wine or Big Easy Brew.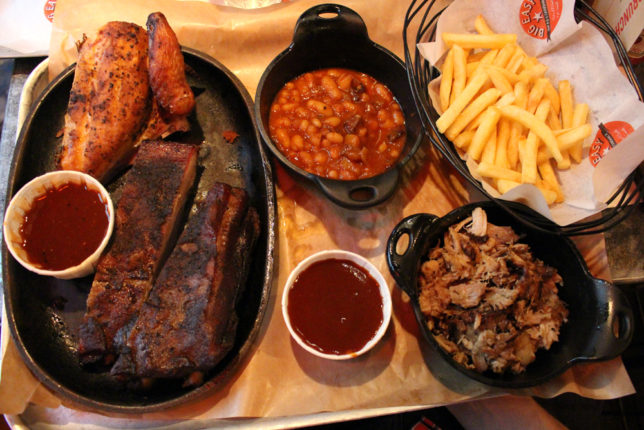 You can see the authentically cooked meat is beautifully seasoned and comes with Big Easy's own BBQ sauce. The Big Pig Gig Unlimited Bar.B.Q also comes with slaw, pit-smoked beans, fries and fresh baked cornbread.
The pit-smoked beans and North Carolina chopped pork were soft and smoky… the kind of smoky that fills the air around your table with a gorgeous Southern barbecue aroma. The meat melts in the mouth and the best part is it is unlimited… what amazing value!!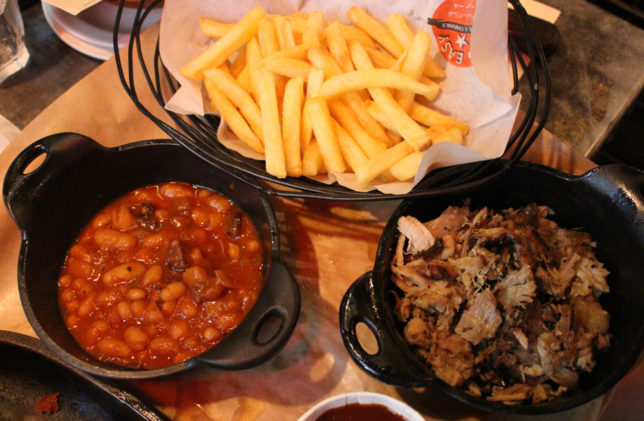 In true Big Easy style, the unlimited boozy brunch not only offers this delicious Bar.B.Q option but there is of course a lobster option as well. If seafood is more your thing why not go for the Lobster Fest instead and choose either a whole fresh Nova Scotia lobster, tasty lobster roll or generous portion of lobster mac 'n' cheese, served with fries and house salad.
The weekend brunch menu is available from 12pm to 5pm every Saturday and Sunday. Kids eat free when accompanied by an adult ordering the unlimited boozy brunch or a starter and main from the a la carte menu.
Big Easy Bar.B.Q & Lobstershack
12 Maiden Lane, Covent Garden, WC2E 7NA
0203 728 4888
bigeasy.co.uk
@BigEasyLondon