They say that breakfast is the most important meal of the day… but here at the magazine, we've always thought that weekend brunch is much more fun and perfect for those looking for something more substantial that coffee & croissants or for those who prefer a lie-in on the weekend… for whatever reason!
So when an old chum suggested we catch up last Sunday, I thought there was no better time to book in with SLOAN! favourite The Jam Tree Chelsea for an extra special weekend brunch complemented by the chilled relaxed vibe and quirky eclectic style of one of Chelsea's most popular local hangouts. What makes brunch at The Jam Tree extra special is the option to go bottomless for £17.50… we're talking unlimited Prosecco here… and when we say unlimited, we really mean unlimited! But more on that later.
What sets The Jam Tree Chelsea apart from its neighbouring bars and restaurants is that the fabulous food and drinks are made even more fabulous because it is served by some of the happiest and most welcoming staff where everyone from the restaurant manager down to the waitress at our table made us feel not just welcome but really at home. It's this warm comfortable feeling that is also translated across in the interior decor.
We love the eclectic mix of inviting leather Chesterfield sofas and rustic wooden tables all bathed in the sparkling light of various chandeliers and metallic accents from the copper lighting above the bar to the stylish polished metal ceiling decorations. The choice of artwork is also an interesting mix of vintage and modern. The interior of the Jam Tree Chelsea reflects its clientele, an interesting mix of Chelsea regulars with their own unique style and taste. The look and feel here is thankfully not the paint-by-numbers restaurant/bar chain monotony that sadly populates every neighbourhood these days. In every aspect of hospitality and service, The Jam Tree Chelsea stands apart from the crowd.
Although we booked our Bottomless Brunch on a Sunday, the deal is available every Saturday and Sunday from 12pm to 3pm. The Jam Tree Chelsea invites its laid back guests to make their brunch even more laid back by relishing in the decadent lazy day that they undoubtedly deserve with the help of unlimited prosecco to accompany their brunch dish chosen from the scrumptious brunch menu. It's a very desirable deal at only £17.50 per head on top of the price of your brunch dish. You are immediately served with a whole bottle as soon as you order.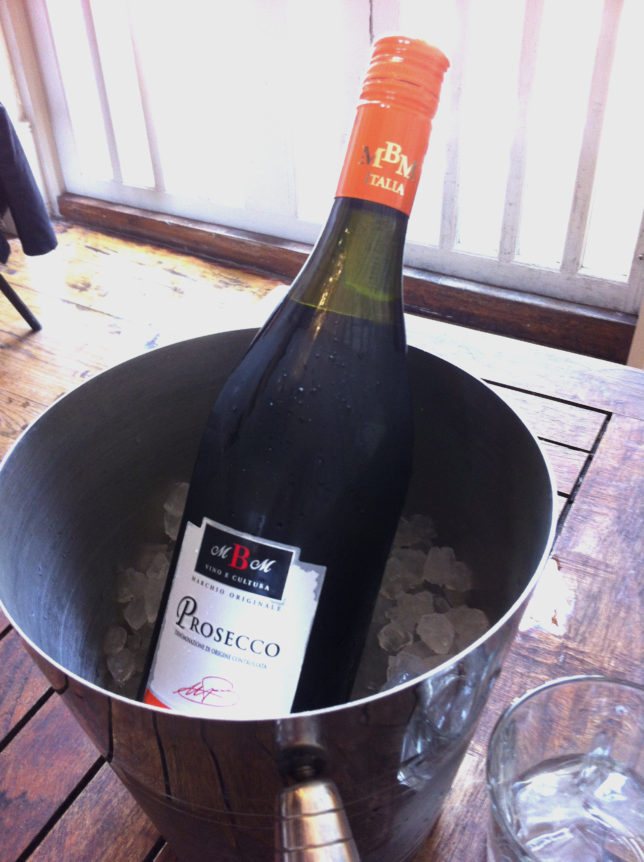 Prosecco has become for many the go-to fizz to enjoy socially and at The Jam Tree Chelsea they have chosen a renowned example of this popular Italian sparkling wine in the Maurizio B Martino Prosecco which normally costs £29.50 on the drinks menu. The Bottomless Brunch at The Jam Tree is therefore an amazing deal from Chelsea's purveyors of pure relaxation. Who could resist pouring it straight away. Is it my eyes or has the camera got slightly drunk just from the aroma of those bubbles!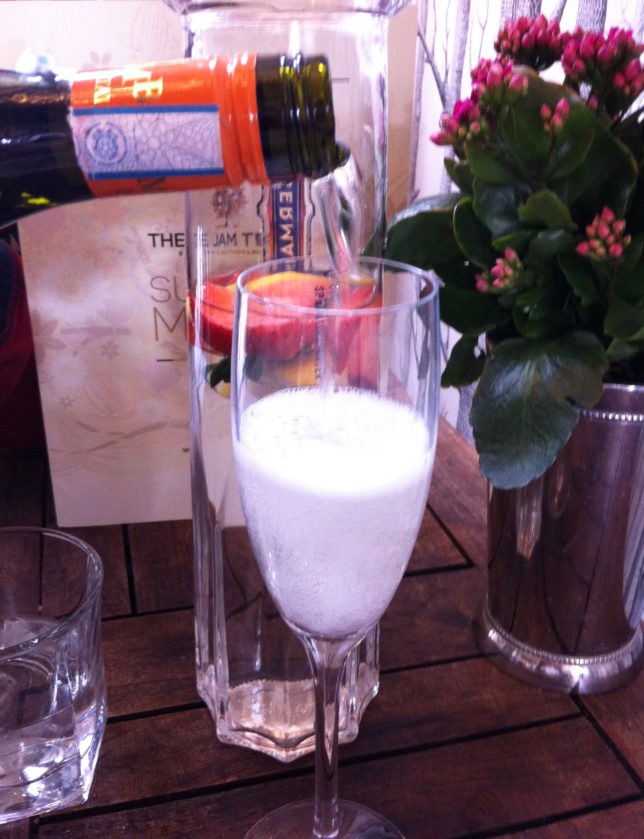 My chum couldn't believe his ears when the manager confirmed that the deal allows you and your friends to enjoy as many bottles of Prosecco you would like up until 3pm. So generous is the offering that many guests decide to stay on after they've finished brunch and set up a tab at the bar so they can continue enjoying the unlimited Prosecco with any other Small or Large Plates from the all day dining menu as they sit back and relax with fine company in finer surroundings making the most of a lazy chilled afternoon.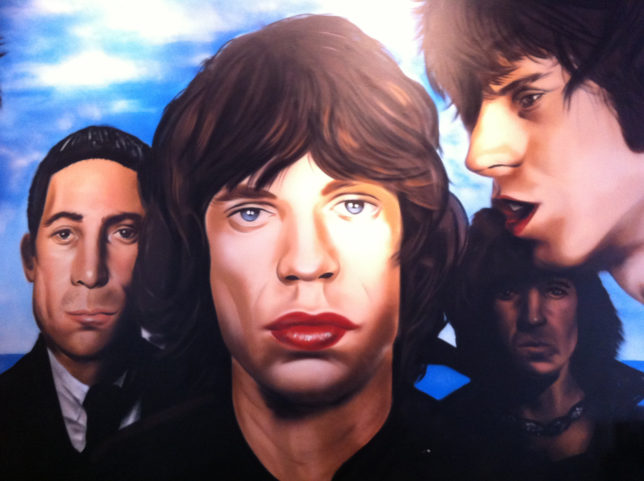 My chum and I were only stopping by for a leisurely brunch as opposed to a whole leisurely afternoon so we got straight down to business and perused the brunch menu while our friendly waitress provided some liquid refreshment. Without having to be asked, a large St Germain carafe of refreshing tap water flavoured with slices of lemon and strawberries appeared on our table with two glasses. I just love it when establishments provide complimentary water for the table – we should all be drinking water these days to stay hydrated and this is especially so when enjoying alcohol.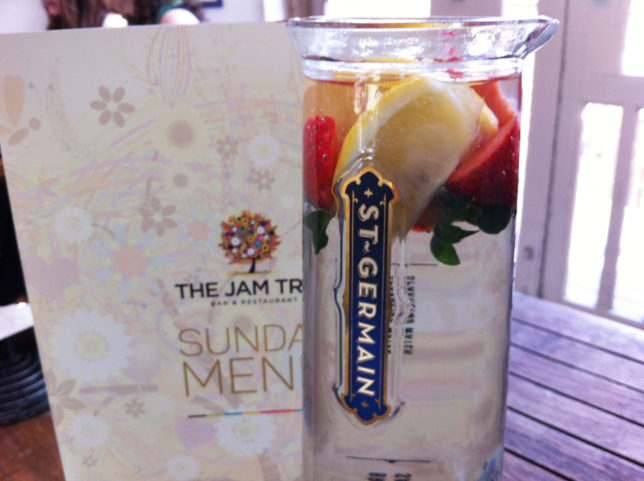 As I was tasked with reviewing the Bottomless Brunch for the magazine, my order of Prosecco was no surprise. It's part of my five a day, I am a growing lad! My friend however gave up alcohol a few years ago (and looks the picture of health for doing so I must say) so his choice was going to be slightly more interesting. Never one to dive straight for the diet coke, he asked the waitress if the barman would surprise him with something gingery but non-alcoholic and NOT ginger ale! She returned a short while later with a beautiful Campari coloured concoction comprising of orange, pineapple, mango and a touch of cranberry blended with fresh ginger and the signature addition of Orange Jam. It tasted as good as it looked.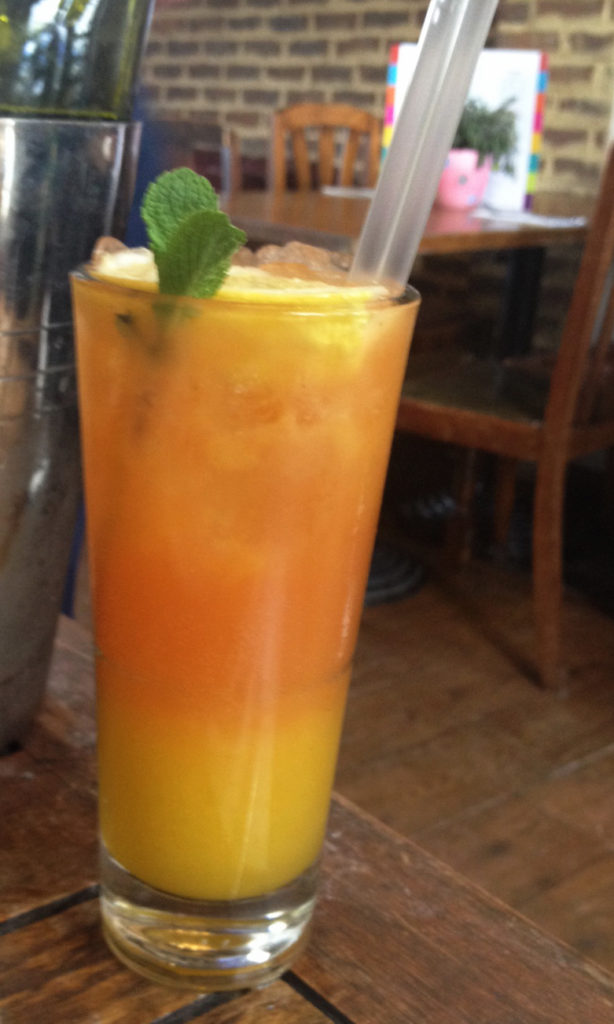 It was time to order and my eyes and appetite were drawn to the Cowboy Breakfast – the perfect weekend indulgence of man-sized servings of sticky baby back ribs, pulled pork, potato hash, Boston baked beans, maple glazed bacon, eggs (fried, scrambled or poached) and corn tortilla. Definitely a dish for those with a hearty appetite or anyone looking for a different take on the Full English (another option on the menu) for the morning after the night before. This dish is a rustic breakfast that feels like you've been taken to a fireside in the Wild West… quite a decadent fireside as I'm sure real cowboys only get the beans! The press pics look amazing..
But it's even more scrumptious in real life…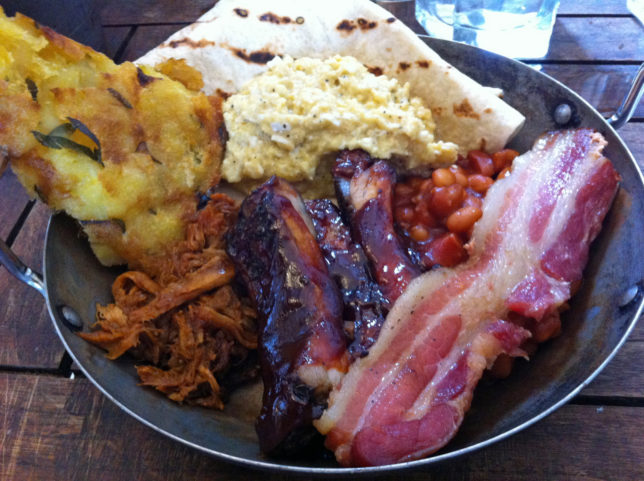 My chum went for a more recognisable brunch dish. Like other brunch traditionalists I'm sure, he was torn between the two classics on the menu of Eggs Florentine and Eggs Benedict. He even briefly debated going for the modern classic of Avocado on Toast, here served topped with poached eggs and sprinkled with smoky urfa chilli. In the end he plumped for Eggs Royale, a decadent choice of perfectly poached eggs smothered in rich hollandaise sauce on a generous bed of slices of smoked salmon piled on gently toasted thick slices of English muffin.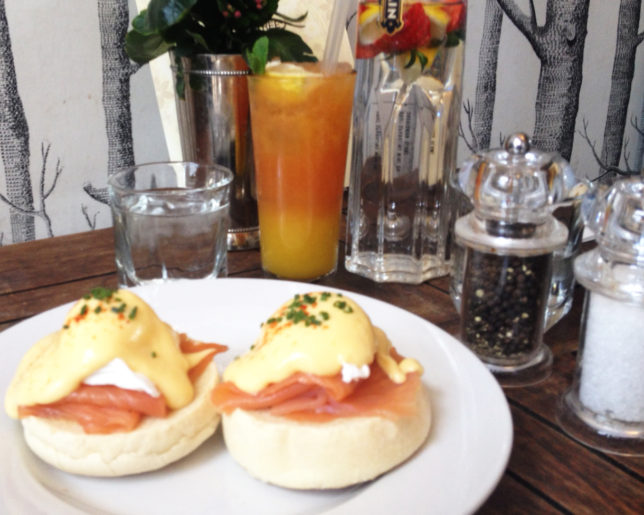 Come in for a closer look…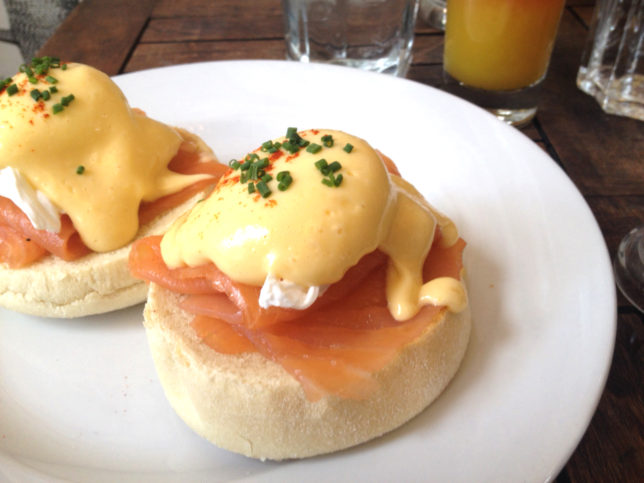 As existing fans of The Jam Tree, we are more than familiar with their talented mixologists exciting and inventive cocktail creations. The Jam Mojito is a definite must-try and as my chum was in the mood for a jammy delight after his first tasty tipple, our flexible friendly barman presented him with a non-alcoholic version with all the same classic flavours of lime and mint but taken to a whole new level with the addition of raspberry jam not just blended into the drink but spooned over the ice on top so one can truly enjoy the fruity richness of berry flavours.We have one word for the cocktails here, and it adorns the walls too…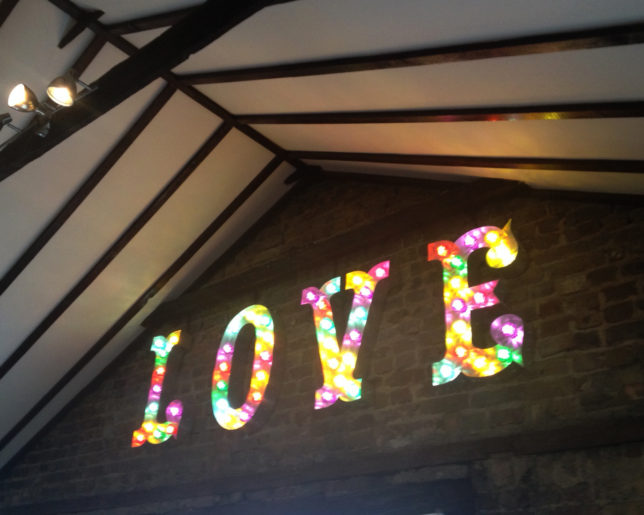 If the jammy cocktails or Prosecco bottomless brunch aren't you're thing, then you can't go wrong with a Bloody Mary from The Jam Tree's famous extensive Bloody Mary menu covering every spectrum of spice and bite, from the Smoking Hot Mary made with Chase Smoked Vodka to the Maple Bacon version made with bacon-infused Jim Bean Maple Bourbon – all made with The Jam Tree's secret recipe mix.
So what are you waiting for? Get down to The Jam Tree Chelsea this weekend and have a Prosecco blow-out (mini or otherwise) with their amazing Bottomless Brunch deal
Available Saturday and Sunday from 12pm to 3pm for only £17.50 extra in addition to the price of your choice of dish from the varied Brunch Menu.
The Jam Tree Chelsea
541 King's Road, London, SW6 2EB
020 3397 3739
www.thejamtree.com
@The_Jam_Tree

[mappress mapid="4″]