One of the oldest and most culture-rich parts of the capital, Bankside boasts an eclectic mix of artisanal coffee shops, authentic Victorian pubs and world-renowned art galleries that have transformed the area into London's most exciting neighbourhood. Over the last five years, SE1 has seen an influx of pioneering restaurants and big name chefs come into the area including Gordon Ramsay's Union Street Café, Mark Hix's Hixter and Rainer Becker's Oblix at The Shard. These top chefs have realised that Bankside is the new foodie hub of London so its no surprise that Hilton Hotels & Resorts has opened its next generation of design-led hotels here which is home to the vibrant upscale OXBO Bankside restaurant.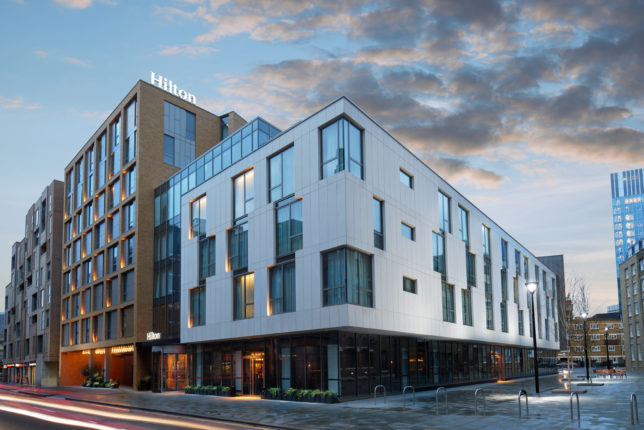 Executive Chef Paul Bates leads the team in the open kitchen at OXBO Bankside and after the success of the Bottomless Sunday Roasts popular with families and older guests, the restaurant launched their Bottomless Brunch earlier this year to appeal to a younger crowd. The new brunch option has proved extremely popular with the area's foodie locals and visitors alike – especially ladies and groups of friends.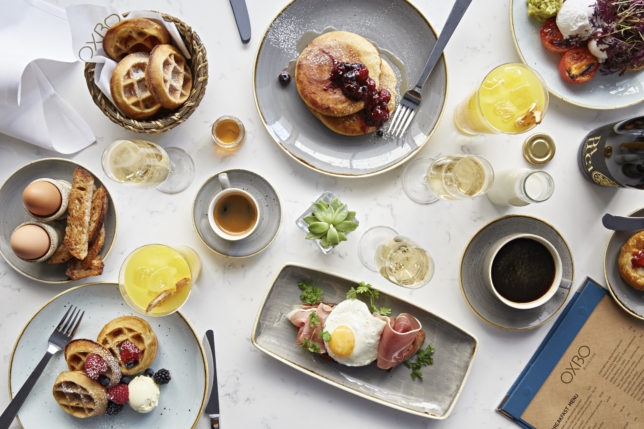 As Executive Chef at OXBO Bankside, Paul Bates is extremely proud of the restaurant he has created. He says, "Opening OXBO Bankside has given me the opportunity to create the restaurant of my dreams, exploring new ways of thinking about traditional British dishes. It was my travels to Australia and Singapore that inspired me to start experimenting with different tastes. I love contrasting authentic ingredients with exotic flavours that give old English favourites that unexpected twist."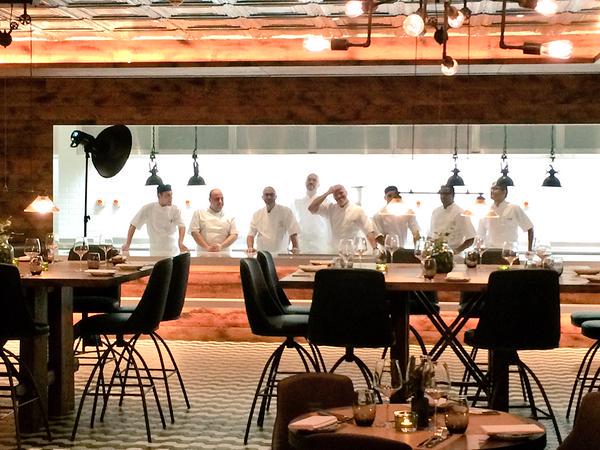 With live acoustic indie performances appealing to the younger thirties diners, brunch is priced at £28 per person for 3 courses and a glass of bubbles. Alternatively, guests have the option of upgrading to bottomless bubbles at a cost of £40. The menu is available every Saturday between 12pm- 3pm – with a 2 hour limit on Bottomless bookings.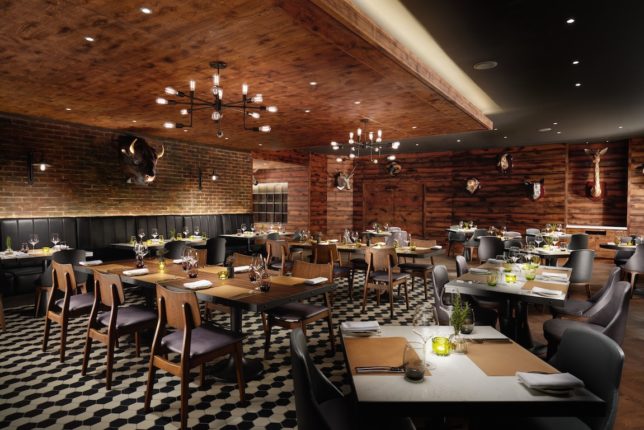 The OXBO Bankside delicious brunch menu includes an extensive choice of fresh market salads, fish, meat and vegetarian dishes, served from the chef's Traders Tables, where guests are invited to help themselves to as many of the starters and desserts as they fancy. The starters Traders Table have a wide range of options for meat lovers and vegetarians – we noted plenty of delicious salad options in addition to palm heart and avocado ceviche and yuzu marinated tofu.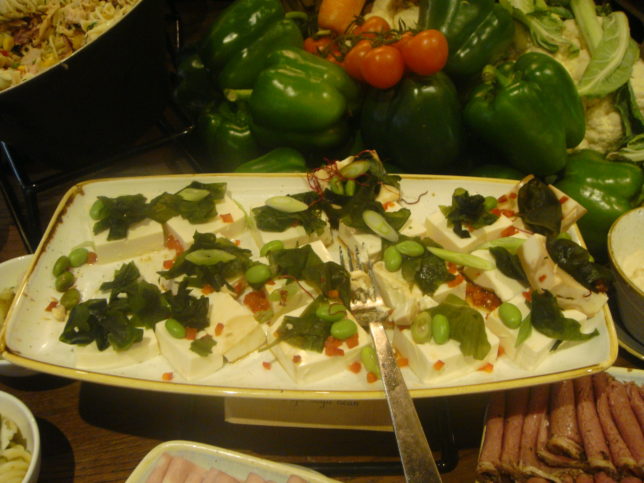 There is a distinct Asian influence as we could see from the wonderful array of super fresh salmon, tuna and swordfish sashimi on offer accompanied by healthy wakame seaweed and pickled ginger. There is also homemade gravadlax and juicy tiger prawns to add further dimension to the seafood selection.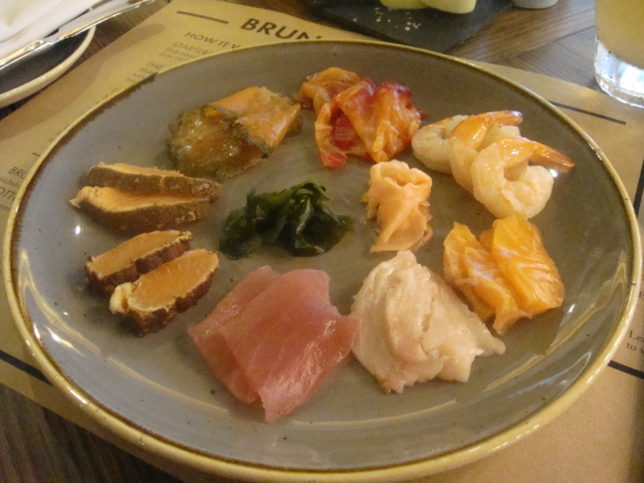 Meat lovers will not be disappointed with choices including honey roast ham, peppered pastrami, smoked chicken, turkey breast and other cold meats all served with their accompanying sauces like mustard or horseradish.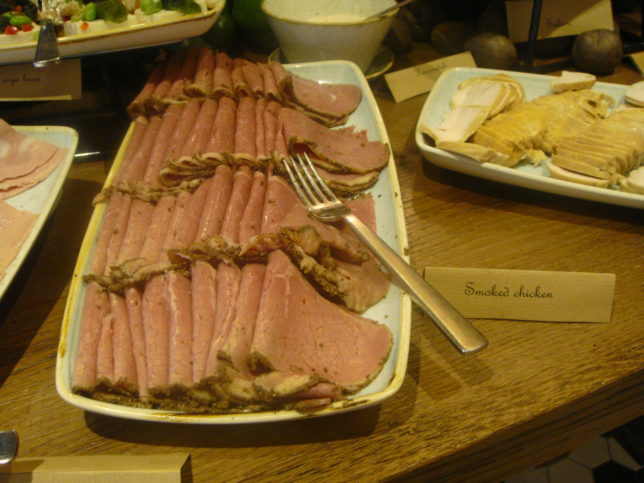 Available every Saturday, the Bottomless Brunch also includes a live waffle and egg station hosted OXBO's open kitchen where the Chef's team rustle up variety of freshly prepared classic dishes including Eggs Your Way (boiled, poached or scrambled), Eggs Benedict, Eggs Royal with smoked salmon, and Three Egg Omelette with fillings ranging from ham and tomato to mushroom. We suggest you continue the freshly prepared theme by accompanying your omelette with some of the lovely fresh salad vegetables on offer from the Chef's Traders Table.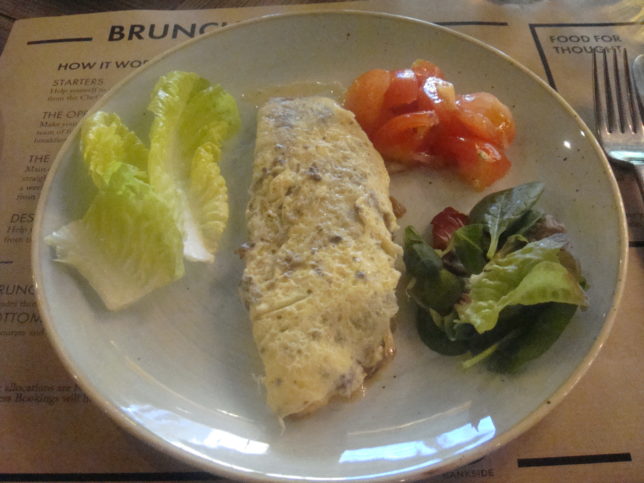 If you have a sweeter tooth, the freshly made pancakes and waffles are a popular choice for those wishing to have a more American brunch with a wide range of toppings available from maple syrup and chocolate sauce to marshmallows and fruit to even Hundreds and Thousands appealing to our Inner Child.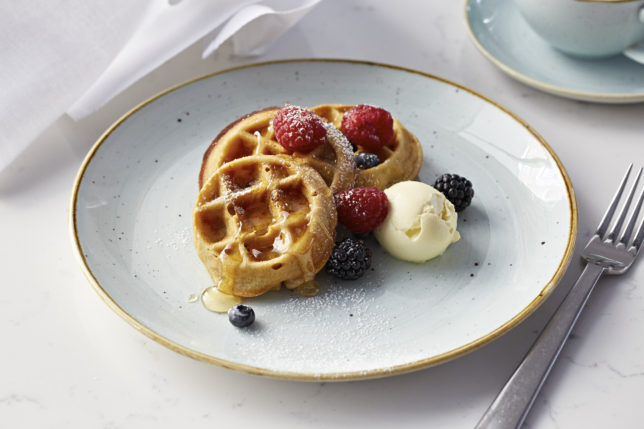 Main courses are served as three sharing plates to your table and change on a weekly basis depending on what is in season and available from local markets. There is always a meat, fish and vegetarian option so everyone is catered for. On the week we visited, OXBO Bankside were served Casterbridge Sirloin as the meat option with celeraic and carrot with thyme jus. The meat was beautifully most and tender and served just the right side of rare. You could really appreciate the distinctive flavour and succulence particular to Casterbridge beef.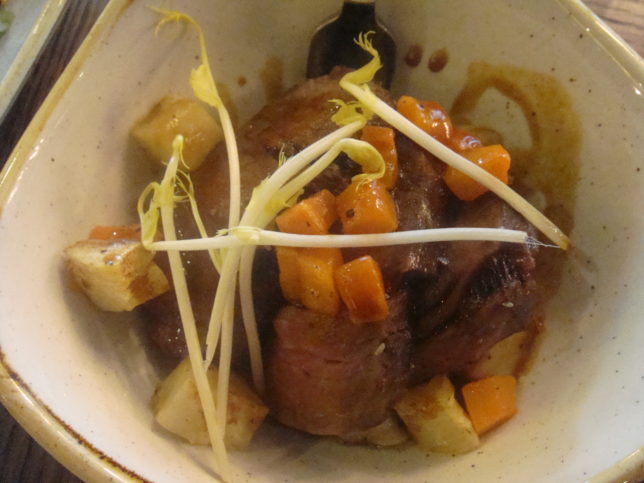 The fish option was Red Snapper with clams and mussels subtly served with a bouillabaisse sauce. An excellent choice of fish dish which stood up to the stronger elements provided by the Casterbridge sirloin. The fish was firm in texture and full of flavour with the addition of the clams and mussels adding another layer to delight the taste buds,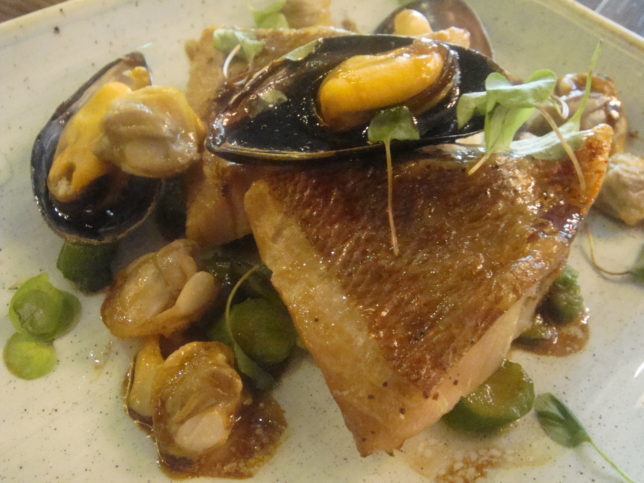 The vegetarian option was a delicious sounding tortellini but due to a gluten intolerance the chef kindly prepared a special third dish for us created on the spot from stir fried tofu, crisp broccoli and meltingly soft sweet potato. A well-balanced combination which clearly demonstrated the skill and expertise of the chef team led by Paul Bates.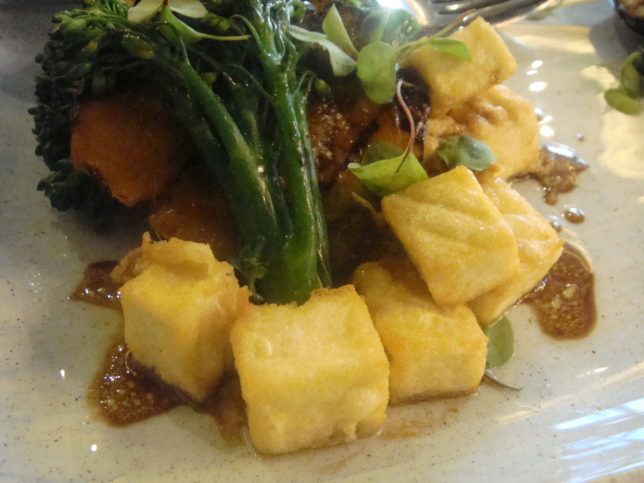 Saving room for dessert is a must as the Trader's Table is laden with so many delicious and tantalising dishes from the healthy to the decidedly indulgent with both universal appeal and something for every taste. There is a help-yourself cheese board with a choice of six market cheeses served with homemade apple and pear chutney, walnut bread and wheat crackers.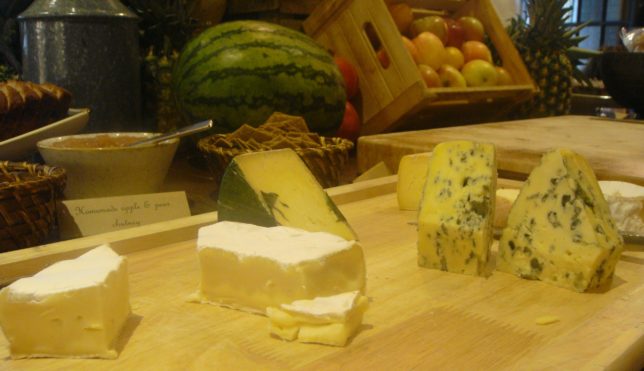 Gluten free dessert options included the elegantly presented Chocolate Mousse topped with popping candy, Lime Posset topped with fresh raspberry and a delicious crustless Peanut Butter Cheesecake layered with a berry puree.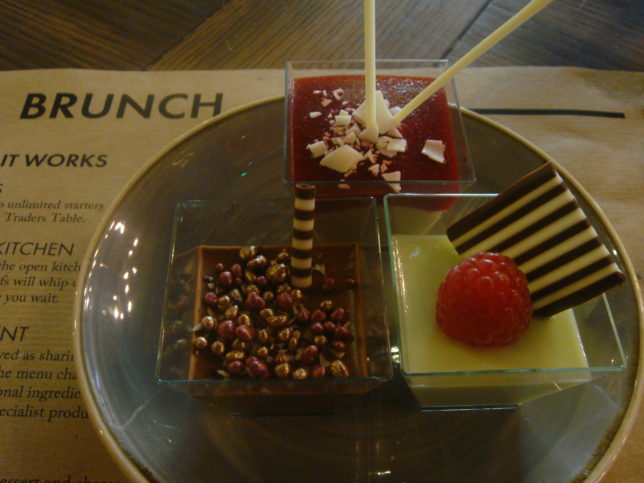 From the unlimited desserts at the Chef's Traders Table, there are also some tempting cake choices to indulge in such as treacle tart, pear bakewell tart, banana & blackberry loaf, coconut cake and salted caramel chocolate tarts. Or why not try one (or more) of the delicious breakfast pastries, muffins, cookies and sweet shop favourites on offer.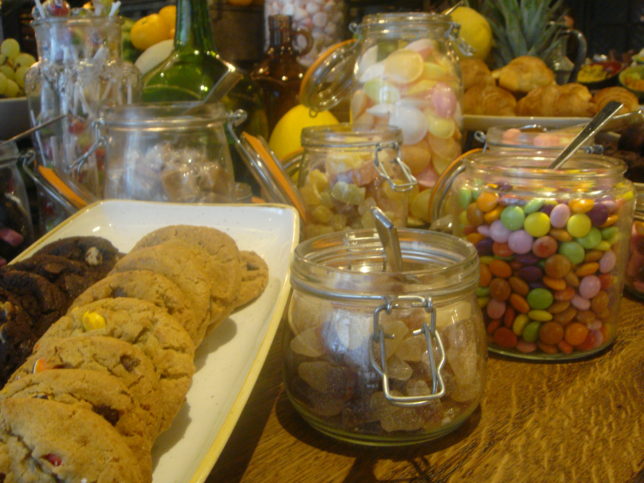 We would like to thank Restaurant Manager Yacine Bezegouche and his front-of-house team for making our visit feel extra special with their warm hospitality and attentiveness from the warmed bread immediately delivered to our table upon arrival to the special non-alcoholic cocktail made for one of our party who could not join in with the unlimited prosecco on offer.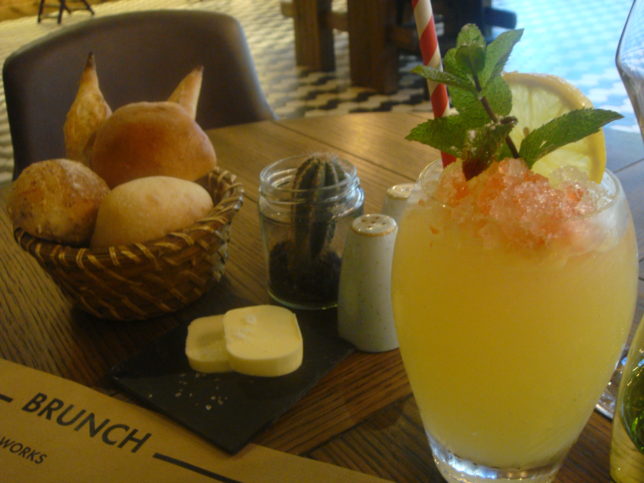 Yacine and his team ensured we enjoyed the true OXBO Bankside experience and we were very impressed with the high levels of customer service and attention to detail which made the whole Bottomless Brunch for everyone feel personalized which is by no means an easy feat when the restaurant catered for 135 covers on the day of our visit. Highly recommended!
OXBO Bankside
Hilton London Bankside
2-8 Great Suffolk Street, London SE1 0UG
0207 5933 900
www.oxbobankside.com
@oxbobankside