Brady's has been serving posh fish and chips and superbly fresh grilled fish at less than posh prices for over 25 years. Started by Luke & Amelia Brady over a kitchen table and following in the footsteps of Luke's grandfather who started a chain of pubs in London in 1920, Brady's restaurant menu features homemade salmon fish cakes, fresh oysters and the best Cornish scallops and Brady's famous puddings  including the ever-popular apple crumble.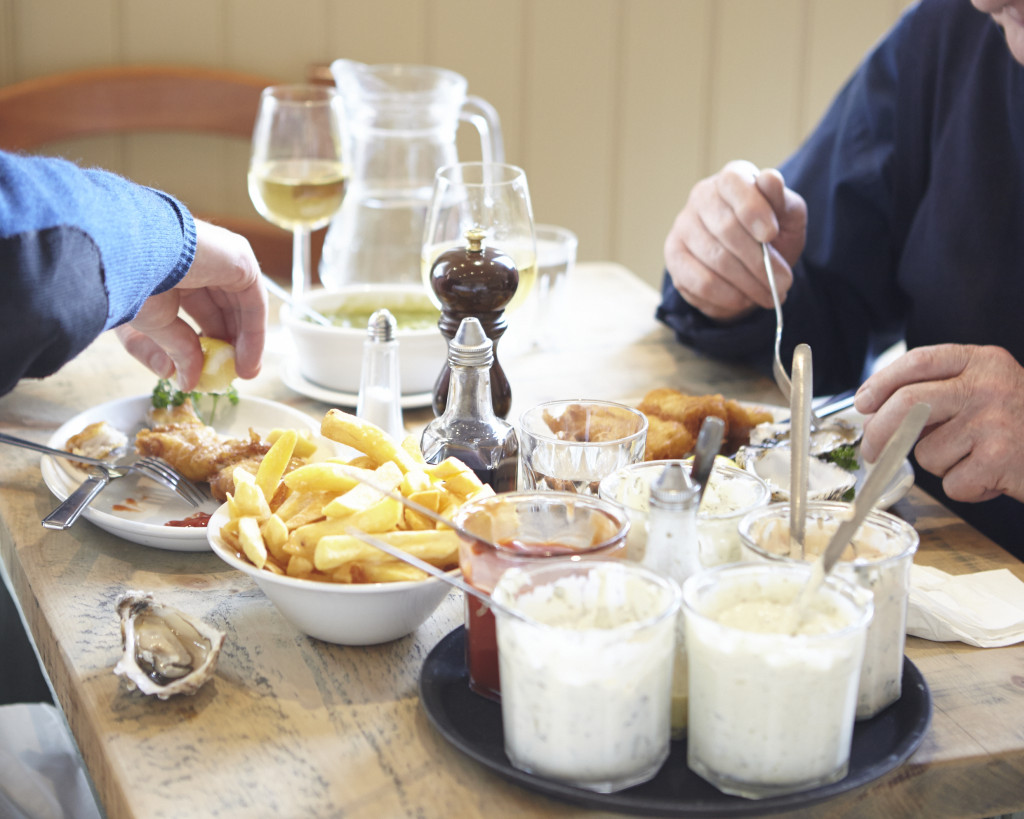 Originally Brady's was to be found in Old York Road and then decided it was time for a move so now at their new location on the river next to The Ship by Wandsworth Bridge. There is an outside terrace and a great bar with Kentish draught beers from Shepherd Neame, the family run brewery in Kent including Spitfire, Masterbrew and Asahi lager. Gin and Vodka from the Sipsmith Distillery, the first proper copper distillery in London in 200 years. The location may have changed but Brady's still has the cosy, familiar feel, the warm welcome and the top quality seafood that regulars have enjoyed for over two decades. It's no wonder that once you've experienced a delicious Brady's fish supper, you find yourself coming back for more time and time again.
In this age of the chain or transient pop up restaurants, Brady's has been a rare constant in Wandsworth life and is fiercely proud of its independence, quirky style and personal service. If you're looking for good honest food at good honest prices, Brady's is definitely worth a visit.
The SLOAN! Review
Based north east of smugglers way on Jews Row, Brady's is well worth a visit and you will be pleasantly rewarded when you find this riverside restaurant. On arrival at Brady's we were greeted with a drink at the bar, where we were able to settle down and take in the ambiance of the restaurant. The layout of the restaurant is interesting with a life size blue fin tuna on the wall and pictures of the fish that adorn the menu, so you not only know what they look like but discover how they taste as well.
The menu is very simple it has a good selection of starters with a very reasonably priced selection of wines on the back. Interestingly as the fish is brought in fresh on a daily basis from the Cornish quayside the "grilled fish of the day" is presented on a hand written menu with the type and number of portions remaining making for very traditional menu presentation.
To start we choose the Potted Shrimps and the Cornish Scallops. The Potted Shrimps came with clarified butter and lightly toasted bread. The Cornish Scallops interestingly came with the roe still attached something that not only adds extra flavour but is rarely seen when ordering scallops. They were cooked to perfection and really whet the appetite before the main course.
We continued our meal with the Whole plaice and skate from the grilled fish menu. All fish on the menu is served with chips which can be swapped for salad for those wanting a healthy option. The chips were some of the best we have tasted and come served with Brady's unique fresh herb sauces. The five flavours include tartare, dill, tarragon, tomato and basil and tomato ketchup. These flavours just heighten the experience and keep you coming back for more! The fish came beautifully cooked straight off the grill. The smoky flavours of the grilled just melted into the fresh flavours of the fish creating a simple but tasty dish you want to come back for time and time again.
After such a beautiful meal we found some room to taste one of Brady's amazing home made desserts. We chose the treacle tart which was heartwarming and made with coconut. This was accompanied with some salted caramel ice cream and comes highly recommended.
Overall we really enjoyed our time at Brady's, the warmth of this family run restaurant shines through with both good hearty food  and a fabulously welcoming vibe for all generations. For a Wednesday night it was at 80% capacity, with Mr Brady himself mingling with his regulars having a healthy debate about Wimbledon. This establishment is a very person led brand and upon speaking to Amelia Brady we found out that they are keen to raise awareness for Alzheimer's and respective charities that help the cause, as sadly Amelia's mother suffered from the condition.
Located on the river close to Wandsworth Bridge, Brady's is a haven of seafood yumminess in the heart of South West London.
Brady's bar & restaurant
39 Jews Row, London, SW18 1TB
Tel: 020 8877 9599
www.bradysfish.co.uk