The Braun Series 9 is a masterful combination of design and technology to create the world's most efficient and exceptionally gentle shaver. This award-winning electric shaver is Braun's most advanced yet to give a more thorough shave than ever before with unparalleled skin comfort.
Built with state of the art technology, the Braun Series 9 shaver adapts to your face. Using Braun's patented intelligent SyncroSonic cutting system technology, the shaver reads the density of your beard while you shave, automatically adapting to your beard 160 times a minute. This personalisation provides extra power exactly where and when you need it capturing more hair in one stroke than any other shaver in the world.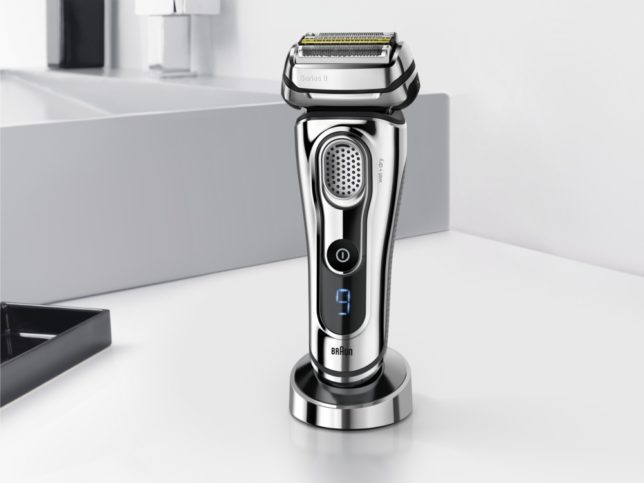 The SyncroSonic™ shaver head is driven by Braun's powerful Linear Drive motor. It generates 10,000 sonic micro-vibrations which delivers 40,000 crosscutting actions every minute and read and adapts to the density of your beard 160 times per minute. This intelligent shaving technology has been 'torturetested' on 3-day beards, guaranteeing the fastest Braun shaver ever*, meaning less friction, less irritation and less burning than ever before.
The Series 9 boasts 40º macro swivel adaptation allowing the fully flexible SyncroSonic shaving head to navigate facial contours with ease. The five shaving elements in the shaving head work in complete harmony and synergy together to capture every type of hair.
The Series 9 uses SynchroSonic technology and is the first shaver from Braun with five specialised shaving elements, including the NEW Titanium coated HyperLift & Cut Trimmer, which combined with the SyncroSonic technology provide the most efficient and intuitive shave ever from Braun. A truly personalized shaving experience like you have never known… until now!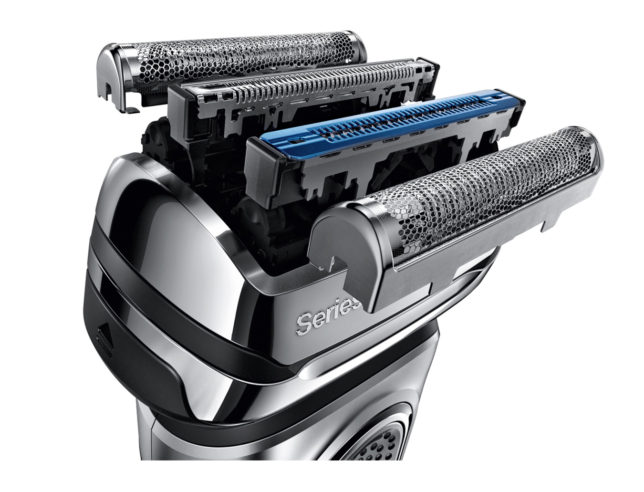 The unique OptiFoil blades capture stubborn hairs and even the shortest stubble. Braun's advanced micro-adaptation OptiFoil shaving foils manoeuvre nimbly to cut hair as close to the skin as possible over every contour. They work with the centre cutting elements, creating precision teamwork that minimizes the risk of top layers of skin being cut during shaving, helping to avoid skin irritation. The synchronicity of the shaving head elements are designed to master every type of hair leaving a man's face stubble-free, soft and smooth.
The two centre blades consist of the Direct & Cut Trimmer and the HyperLift & Cut Trimmer which lift, direct, trim and cut tricky facial hair. The Direct&Cut trimmer aligns and cuts hairs growing in different directions whereas the latest innovation in shaving comes from the titanium-coated HyperLift & Cut Trimmer with a unique gold strip customised by a Titanium Nitride (TiN) coating. The premium strengthening coating is designed to reduce friction delivering an extremely pleasant skin feel. The coating also provides protection from corrosion and improves wear resistance, resulting in a more durable shaver that lasts for up to 50,000 shaves.
The Series 9 can be used dry, with gel or foam or in the shower. It is completely waterproof – up to a depth of 5 metres! Cleaning is simple, either rinsing under running water or for even better results, use the specialized Clean & Charge station which at the touch of a button hygienically cleans, charges and lubricates your shaver for maximum convenience. The alcohol cleaning fluid removes 99.99% of germs during every cleaning process which is an amazing 10 times more hygienic than simply rinsing the shaver under tap water.
The synergy of Braun's Series 9 perfectly synchronised shaving elements amplified by sonic technology delivers 40,000 cross-cutting actions per minute to capture different types of hair for your closest shave yet thanks to top notch German engineering. What more would you expect from the shaving experts at Braun!
The Braun Series 9 is available in Chrome (£329.00), Silver (£339.00) and Black variants (£269.00) and is available to buy at www.Boots.com and www.Amazon.co.uk.