They say you can get heavenly healthy with the new Breville Halo+ Health Fryer. The upgraded low-fat fryer gives you the ability to transform your old food favourites to match your healthy lifestyle – making it the perfect kitchen companion.
Take the nation's favourite comfort food: chips. With this nifty gadget, just half a tablespoon of oil will cook a whole kilo of tasty chips – whilst the unique tilt function and non-stick rotating bowl makes sure each chip is evenly browned. It has an instant dual heat source so you can get cooking in seconds. This is a perfect accompaniment to Lose A Stone with Sloan. We here at SLOAN! don't believe in living without when you can still enjoy the same creature comforts as before but with a fraction of the oil.
The Breville Halo Fryer, you can also bake, sauté and roast a wide variety of foods. 3 different cooking methods including grilling mean you can cook up a storm with ease. From Bean Chillis to Crème Brulees, it's the gadget that'll keep you coming back for more – and with its 1.25kg capacity – the whole family will want in too.
This new model will also save you bags of time too. 28% faster than its predecessor, the Halogen element provides instant heat-up; whilst the 75 minute digital timer, sound alert and automatic shut-off ensures every meal is cooked to perfection.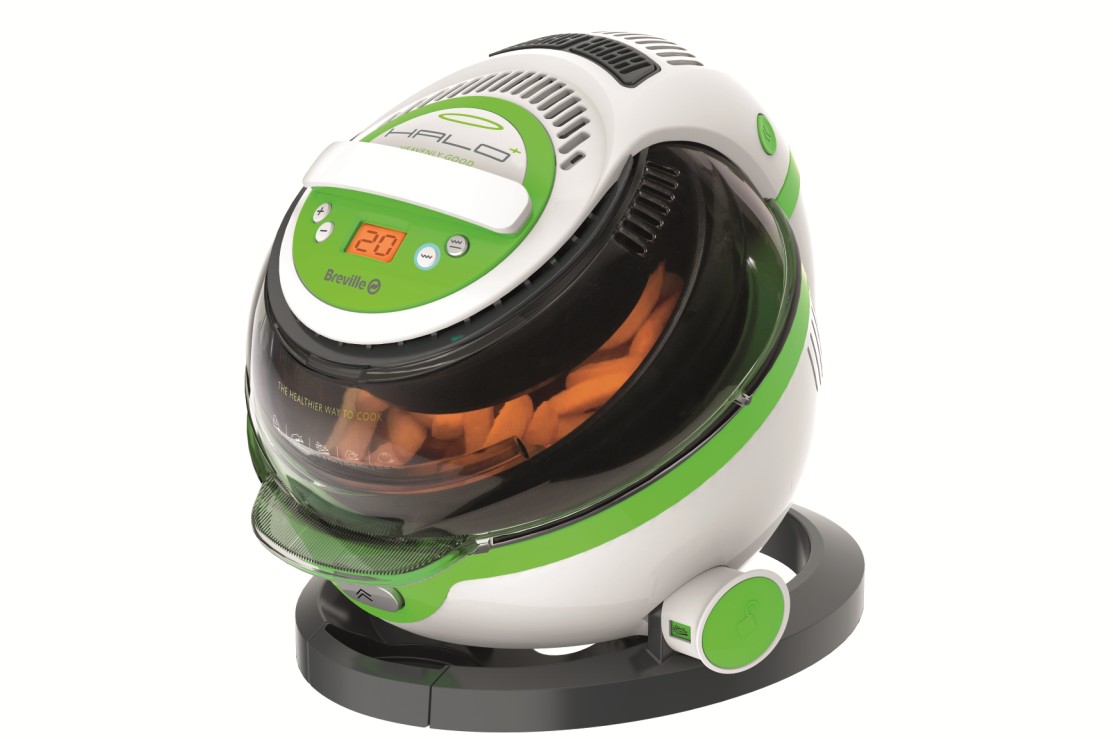 We tried the Thai Red Chicken Curry recipe…
What you'll need
1 Onion, thinly sliced
1 Stalk lemongrass, finely sliced
1 Halo tbsp Vegetable oil
3-4 tsp Red Thai curry paste
4 Chicken breasts, cut into strips or small pieces
1 tbsp Fish sauce
1 tsp Brown sugar
4 Kaffir lime leaves
400ml Coconut milk
20g Fresh coriander
To a little crunch and colour to your Thai curry, add Mange Tout, Sweetcorn and Red Peppers.
How to do it
Fit the paddle to your Halo fryer. Add the sliced onion and chopped lemon grass to the bowl. Drizzle with a Halo spoon measure of oil.
Set the Halo's timer to 5 minutes and cook until the onion begins to soften.
Add the chicken pieces and Thai paste and cook for a further 10 minutes.
Add the fish sauce, sugar, kaffir lime leaves and coconut milk. Continue to cook for 15 minutes until the chicken is thoroughly cooked.
Whilst the chicken is cooking, strip the leaves from the coriander stalks, gather into a pile and chop very roughly. Add a little more curry paste to suit your taste. Stir half the coriander into the curry and sprinkle the rest over the top.
Visit Breville at www.breville.co.uk for more information