You would be forgiven for walking by this café and making a quick judgement call to eat at a neighbouring restaurant, but those in the know would be rushing to grab the next free table here because the food is truly exquisite. The Parisians have it right, sitting outside at the Brew Café on a summer's evening was a refreshing and relaxing experience. My dining companion exclaimed on more than one occasion that he felt he had been whisked away on a cosmopolitan break for a fraction of the price, that too midweek. The soundtrack played at just the right pitch to remain unobtrusive but catch your attention every now and then. Be it a catch up with friends, a Sunday brunch with the family or a romantic but casual meal for 2, the Brew Café caters for all.
There are currently three Brew Cafés – one on the Northcote Road, one in Wimbledon and the one in Old York Road where we decided to venture for our evening. The staff are not only friendly but they are extremely accommodating of dietary requirements, be it a food allergy or a preference. They are there to explain any part of the menu yet disappear, as if on cue, when you want some privacy.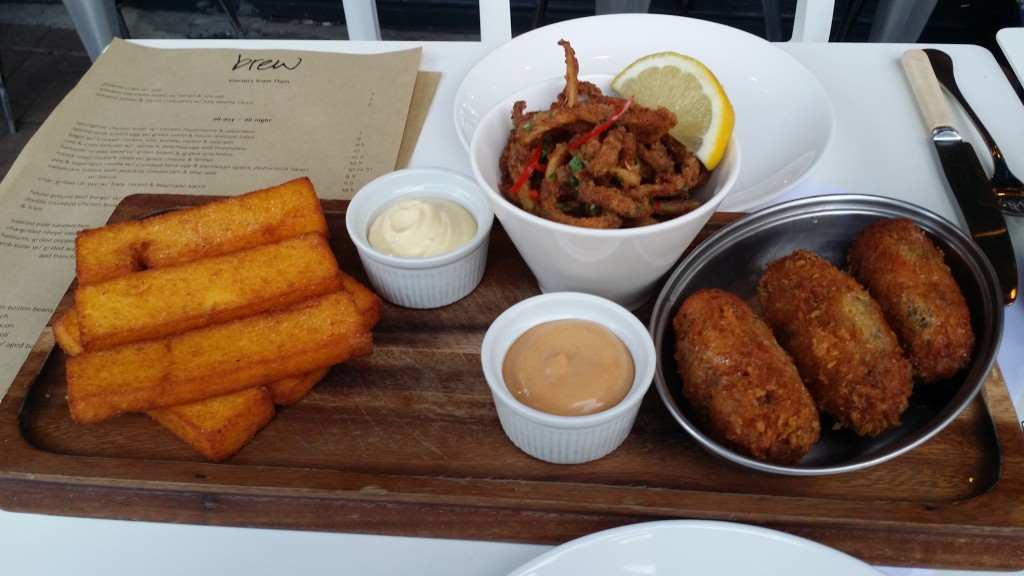 We were welcomed with an introduction to the Brew Café Brinner, which is a concept that they serve breakfast all day, which may not appeal to all, but I would hazard a guess if breakfasts could talk the traditional fry up would be left gobsmacked at some of the Brew Café's delicious creations. They also serve a lunch and dinner menu full of dishes prepared with culinary artistry that would make any self-respecting local restaurant wish to up their game. If with only three cafés, Brew Café has already carved a unique position in the South West London dining scene, I cannot wait until they make an even bigger name for themselves with the opening of two more cafés, one due in Putney by September and the other in Primrose Hill.
The brains behind this soon to be rather large chain, have drive and ambition which clearly shines through with one of the founders suggesting that he is aiming for 10 Brew Cafés in what to most would seem a relatively short period. After hearing only a small part of some top secret plans for the Putney branch, I suggest the Brew Café is definitely one to watch over the coming months.
To kick things off, I started with a Sipsmiths Summercup to complement the delightful summer evening while glancing at the wine list. The list is equally as perfect for the novice or the connoisseur as it very niftily adds a bluffer's guide to wine tasting notes beside each wine and for the more popular dishes recommends a pairing that will compliment your chosen dish. They cater to every taste and although serve a small selection of pale ale, Meantime beer and Peroni complete with frozen tankard it satisfies the majority of tastes. Those who want to consume a large number of calories for every good reason should look out for Brew's to die for milkshakes including Oreo, Malteser and Minstrel.
For the starter we chose the polenta chips and the potato and bacon croquettes. As I have a slight intolerance to one of the ingredients I was also offered a smaller size of one of their specials as a starter. I have to admit all three starters were so good, I threw caution to the wind and had a few cheeky bites of the croquettes even with my intolerance! The portions are generous and rather filling.
For the next course we went for the very popular cod and crab fishcake, topped with a poached egg and spinach garnish. You can tell how fresh the ingredients are. The yolk of the egg is practically orange and the fishcakes had been freshly made that morning. I had one of the specials of the day as I had already decided I would be back to check the regular menu. The classics like the steak sandwich, and the double breaded chicken burger on a brioche bun with honey mayonnaise already have grabbed my attention as has the chorizo and egg breakfast which is deemed very popular with the locals.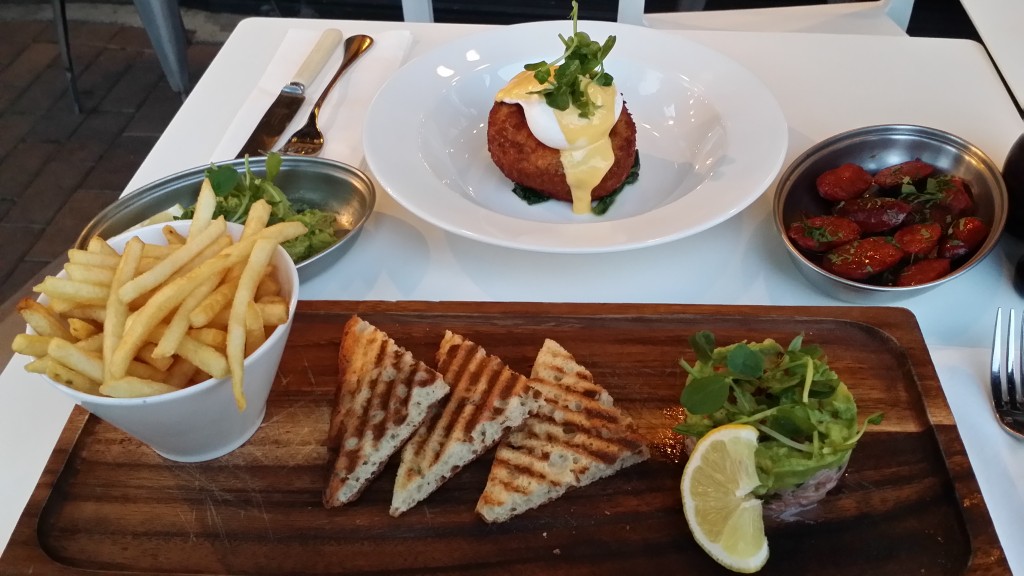 Dessert had an interesting choice of ice cream flavours with the blueberry being my favourite. I also partook in the chocolate and hazelnut brownie. I was not as fond of dessert partly because I was too full to appreciate it as the portions are rather generous and also because my personal preference is a gooey chocolate brownie.
We also noticed that Brew Café do a breakfast on the run option which is perfect when you are dashing to the train station just moments away. Or if you have time, sit down for a quick home made granola or scrumptious cooked breakfast. They are used to a fast turnaround so if you are running early take that little extra time, it will put a spring in your step for the rest of the day. I think I will be grabbing one of their scrummy peanut cookies next time I am passing.
I am very much looking forward to returning and a big thank you to everyone at Brew Café Old York Road who helped make our evening so delightful.