All the buzz of Modern Bangkok is in evidence at the latest opening of Busaba on Eastcastle Street, Oxford Circus. Upon entering the restaurant, I was warmly welcomed by the manager and shown to my table, walking past the Buddhist shrine which takes pride of place at the front of the dining room and inhaling the heady aroma of incense I felt as if I had left the crazy streets of Oxford Circus far behind and stepped into a haven filled with Bangkok delight.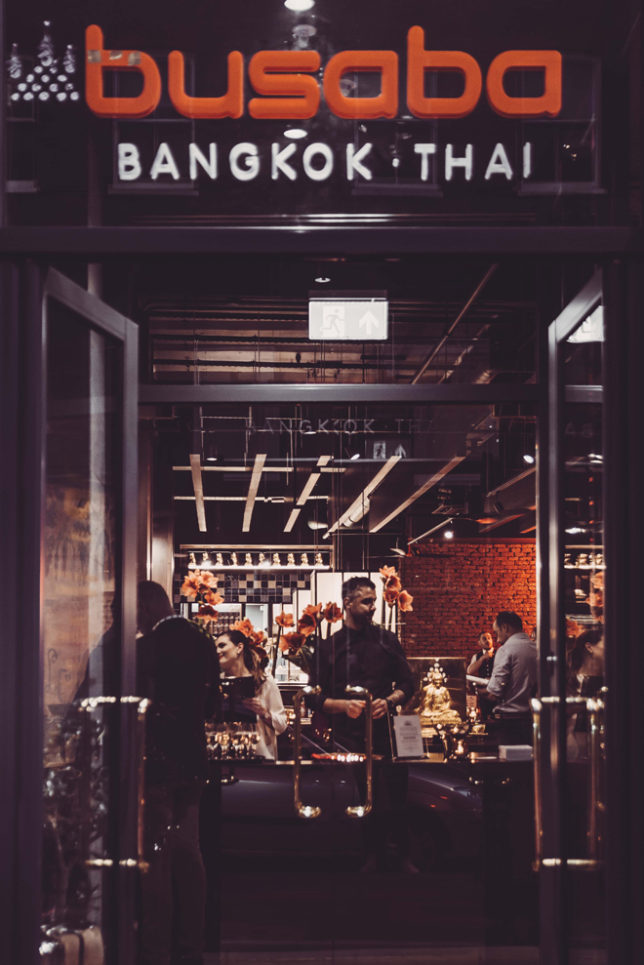 The interior reflects present day urban Bangkok with all its diversity and creativity, welcoming guests with a unique sensory experience of tastes, sights, aromas and energy. Described as Asia's new metropolis of cool, Busaba has brought this to life via an exclusive collaboration with two of Bangkok's most recognisable street artists, Alex Face and Rukkit.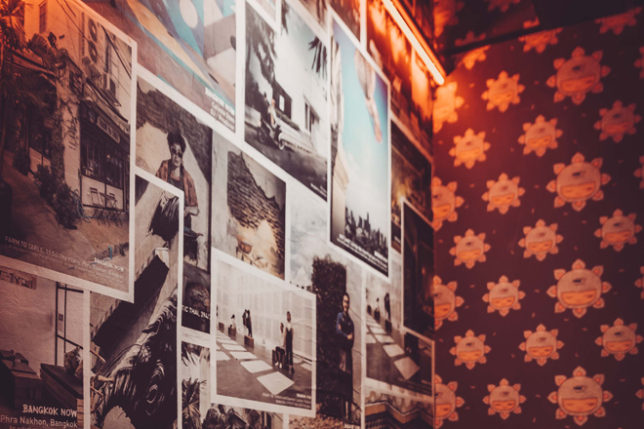 Their graphic street art is displayed within the restaurant and on the menus alongside images of Bangkok and art from throughout the city. The artwork creates a contemporary funky feel complemented and enhanced by the funky beats played in the background and the classic Busaba square communal tables.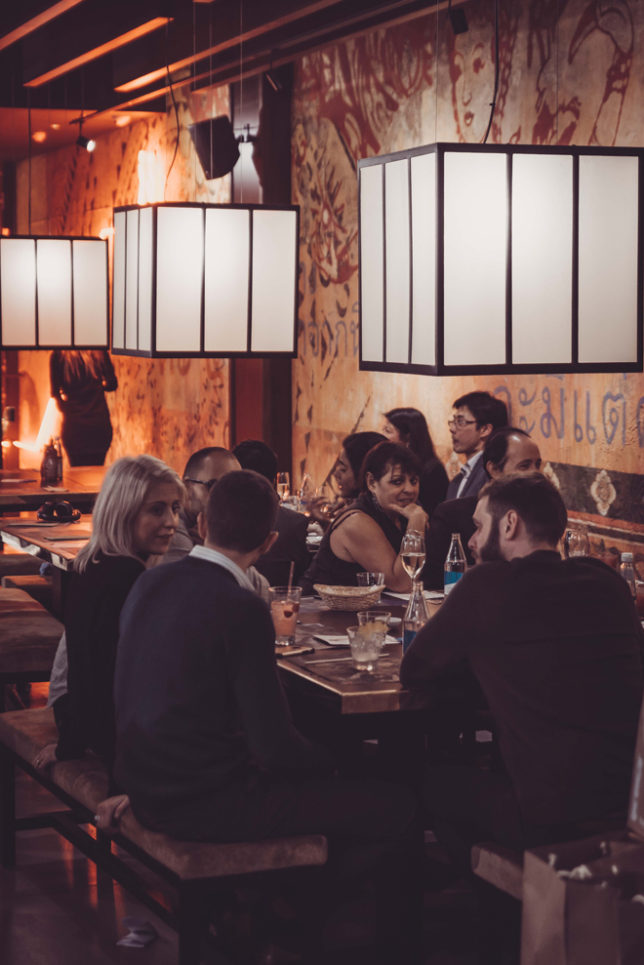 Busaba speaks the language of modern Bangkok eating, inspired by the traditions of Thai cookery, with the fragrant flavours and vibrant colours of every plate transporting you across the Indian Ocean, with a menu created by Executive Chef Jude Sangsida. I opened my meal with a selection of nibbles including the ever-popular Thai Prawn Crackers served with sweet chilli dipping sauce – crispy, fragrant and oh-so-much nicer than the oily Chinese variety.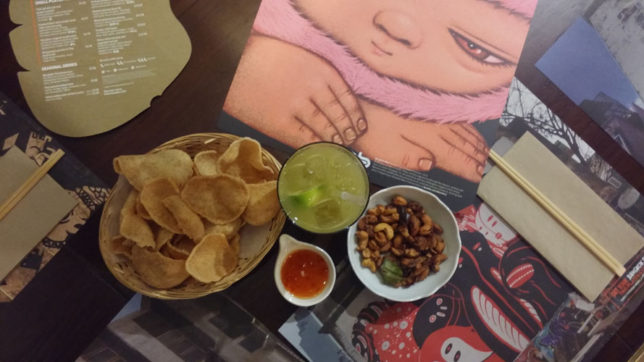 I also sampled the Wok Tossed Cashews which were super moreish and full of caramelised Thai flavours from chilli, fried shallots, kaffir lime leaves. To drink, I tried the Spiced Apple freshly pressed juice over ice – wonderful aromas of coriander, ginger and lime cutting through the crisp apple taste. Refreshing and awakening my palate preparing it for more to come in the form of Busaba's signature Thai calamari with zingy ginger and green peppercorn.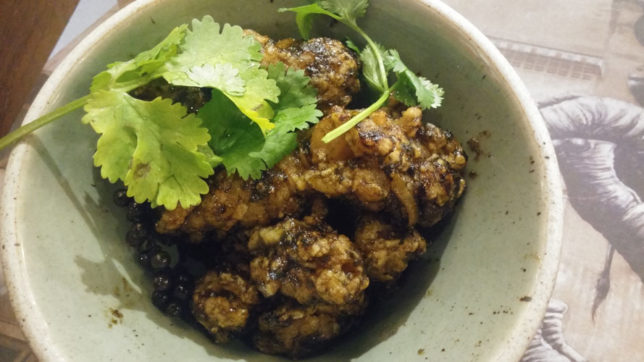 Those looking for something salty and richly savoury will love this signature dish. The glaze coating the calamari has a strong heady flavour that is perfect washed down with an ice cold bottle of beer from the vast selection of Asian beers on offer including Busaba Saison – exclusively brewed for the restaurant by Hop Kettle Brewery – or Chang, Thailand's most famous beer.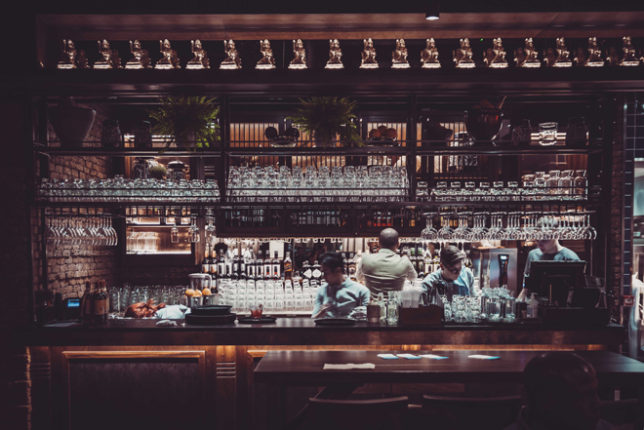 Taste is a personal preference but if you are not drinking because of a teetotal lifestyle or designated driver role, I recommend asking for the chef to go light on the glaze so you can enjoy the more delicate flavours underlying this calamari dish. Just look at how light and crispy the dish looks with less glaze but still full of flavour from bright peppercorns and fiery ginger – oh yum!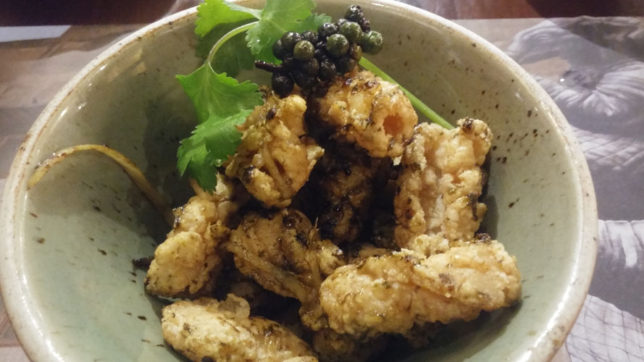 New to the Eastcastle Street restaurant is the Bangkok Char-Grill category with dishes featuring a distinct seared barbecue aroma and taste, such as Issan-style chicken with spicy cucumber salad, tamarind-grilled duck with Chinese broccoli, and green curry with grilled chicken. Continuing the fishy theme from my small plate choice, I chose the Grilled Salmon Fillet from the new Char-Grill menu. This dish comes with cocounut rice usually but I opted for some vegetable dishes to keep things light and healthy.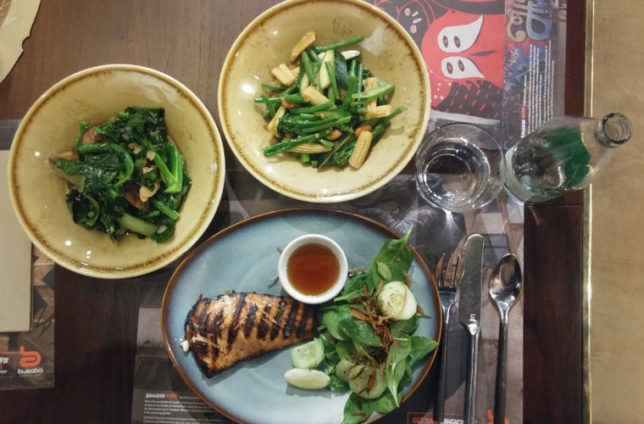 The succulent salmon fillet is marinated in light soy sauce before hitting the grill to lock in that delicious flavour and juicy succulence. The salmon is then served with a fresh salad made from baby spinach and cucumber and a sprinkling of crispy fried shallots. Those familiar with Thai cuisine will know the Thai love serving dipping sauces with meals. The sauce here was typical of the Thai concept of balancing all the flavours that hit the taste buds. It was sweet, salty, sour and spicy – the perfect complement to the fish.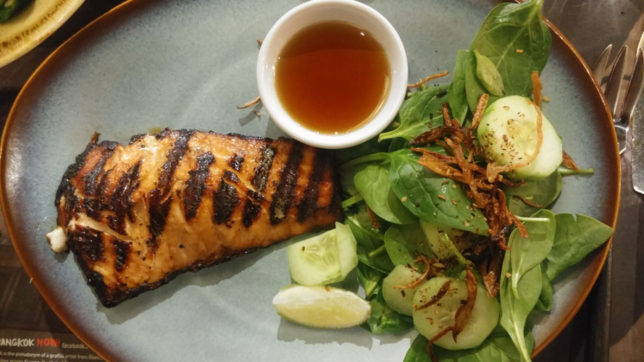 I ordered two vegetable dishes with the salmon. The first was Phad Phak which combines french beans (probably long beans is the traditional ingredient but these are difficult to get sometimes outside of Thailand) with broccoli, baby sweetcorn, courgette, cashews and pine nut. The vegetables were perfectly cooked al dente with satisfying crunchy texture and fresh flavours which complemented the richness of the salmon well.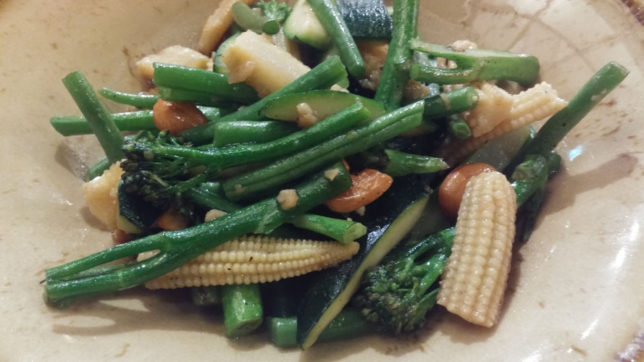 My second vegetable dish was a simple combination of Chinese broccoli with shitake mushroom and garlic wih some Chinese leaves like bok choy thrown in to add flavour and texture. Again lots of bite and lovely green flavours which worked well if the fish.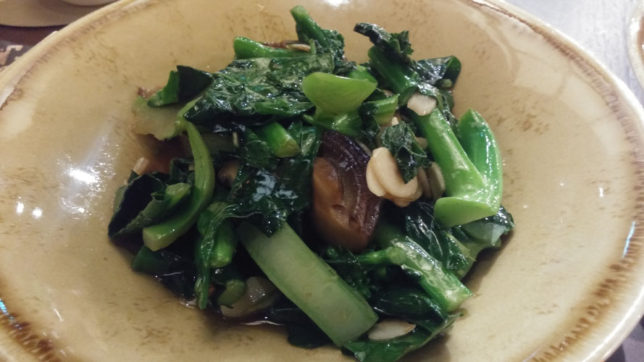 Disappointingly for some but certainly something to keep you healthier, Busaba Oxford Circus does not serve desserts like its classic sister restaurants. However as well as some delicious sweet cocktails, there is also an interesting selection of soft drinks available, including chilled sips like Aloe Vera Juice and Ecos Thai Coconut Water, and Busaba's famed fresh juice blends, such as Koh Samui (orange, carrot, lime and coconut) and Guava Collins (guava, kaffir lime leaves, lime and coconut).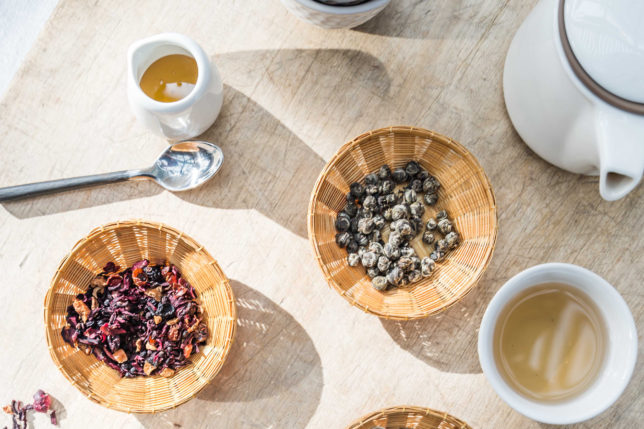 I went for Busaba's exclusive unique blend of loose leaf tea flavoured with coconut and pineapple. As well as being caffeine free, the fruity tropical aromas wafting up from the teapot signal the perfect end to a delicious Thai meal.
Busaba Oxford Circus
52-53 Eastcastle Street, London W1W 8ED
www.busaba.com
@busabaeathai