Caffé Caldesi is the flagship bar and fine dining restaurant of the Caldesi group of restaurants and cookery schools. Set in its own little corner of Italy in London's trendy Marylebone, the Caffé Caldesi brings a truly authentic slice of Italy to the city.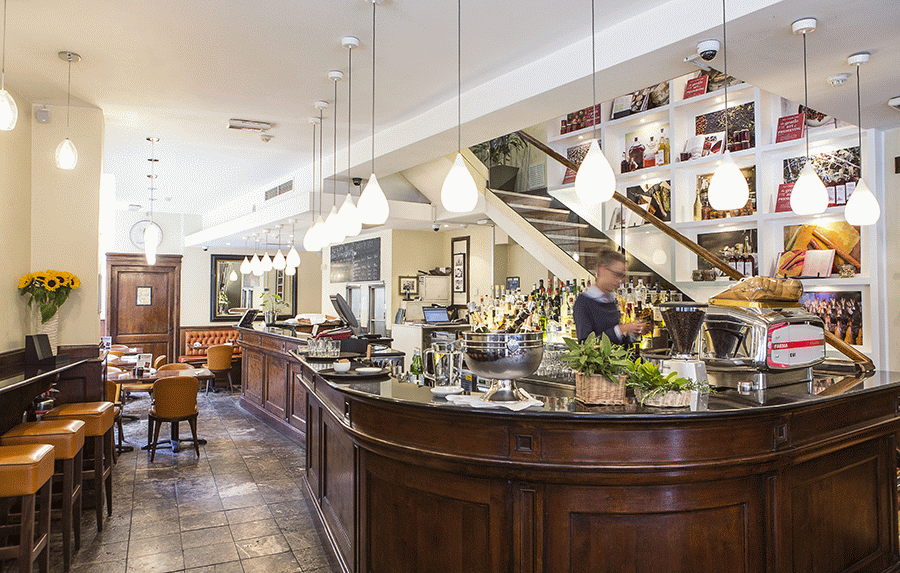 The downstairs cafe/bar area offers informal service with a menu that has been heavily influenced by owner Giancarlo Caldesi's Tuscan heritage. Here you can enjoy a range of great Italian wines and cocktails, beers and of course the best Italian coffee. Upstairs there is a fine dining restaurant boasting seasonal Italian dishes with a refined touch. Caffé Caldesi is a favourite haunt of many of London's ex-pat Italian community as it truly delivers real Italian food, cooked with passion and flair by talented Italian chefs.
We were delighted to sample the new menu.
No surprises that I ordered the scallops which came with a truffle puree, salty bacon and pistachio nuts. Slightly heavy on the pepper for me but nicely seasoned and a very generous portion.
So scrumptious they deserve a closer look…
Caffe Caldesi prides itself on its homemade pasta so my dining companion sampled the Spaghetti "Busara" with prawns, chilli and a garlic and tomato sauce. It was a perfect way to start his meal. Large enough for a main course for lunch but perfect for this very hungry man!
The main course choices include grilled wild seabass which was deboned but a smaller portion than other restaurants we have reviewed. However the flavours created infused into the sift succulent flesh and combined well with the garlic and rosemary roast potatoes.
The beef medallions were cooked in a thyme jus and were pink as requested. Texture was succulent and flavours were meaty and well balanced. The authentic cooking at Caffe Caldesi creates a genuine home cooked dining experience in a warm friendly atmosphere in the upstairs dining room.
The desserts are extraordinary. They are worth coming in just for a bite. We ordered the pistachio dessert which was light in texture and delicate in flavour.
And we enjoyed the chocolate decadence of the Delizia alla nocciola with Ferrero Rocher mousse and nutella ice cream.
Both were scrumptious and provided a delicious end to this interesting and refined meal.
Caffe Caldesi
118 Marylebone Lane, London W1U 2QF
020 7487 0754
www.caldesi.com