The pioneering team at itsu have teamed up with leading wellbeing expert Calgary Avansino on a new fresh juice range; 'Purify'. By combining the best health credentials, delicious taste and homemade quality, itsu's 'Purify' range is now hailed to be the leading ready to drink brand on retailer shelves. Launching in three flavour variants, 'Purify' cold-pressed drinks will be available for purchase from itsu stores nationwide from November 2014.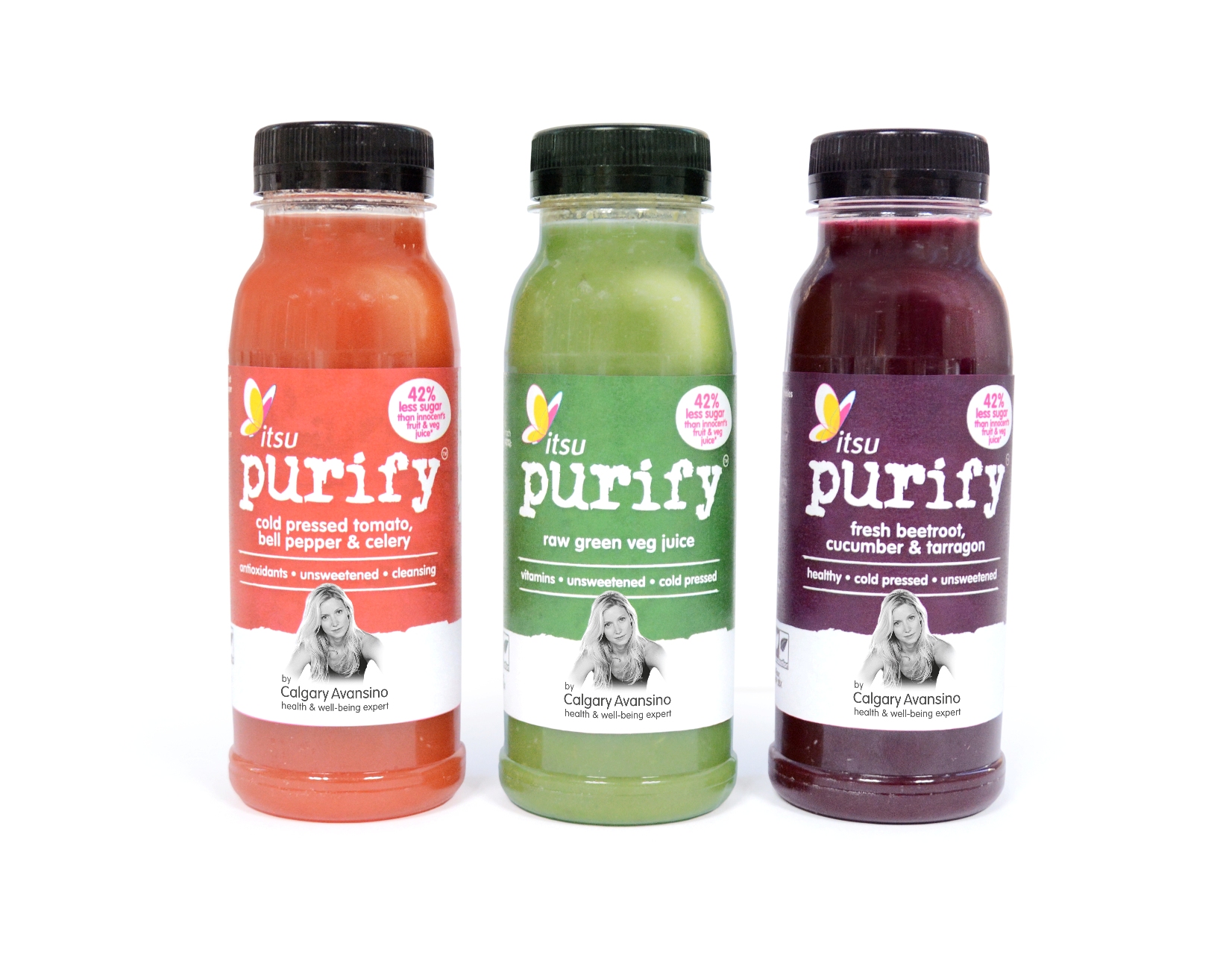 Each flavour range contains at least 60% vegetables in every serving, in combination with unique blends to create truly delicious, thirst-quenching drinks. All 'Purify' drinks are 100% pure, fresh and raw. The range caters for all kinds of health needs, lifestyles, ages and palates, ranging from "fiery", to "earthy" and "savoury". Each ingredient, carefully selected from the different colour families, has been chosen for the unique benefit it contributes to balancing incredible taste with health benefits.
Calgary Avansino is a contributing Editor of Vogue, a leading columnist of Sunday Times Style and has become a go-to voice for healthy eating and wellbeing. She said of the launch: "I had grown frustrated by being sent countless 'veg juices' that had virtually no veg! I felt like there was a real need to create an honestly veggie based, low sugar range, which is why I approached the great team at itsu with the idea. I feel truly honoured and blessed to be able to put my expertise and passion into products that consumers can enjoy at home or on the move. I hope my readers enjoy and learn from all my health and wellbeing advice and now they will be able taste it for the first time too!"
The Purify range is made with non-thermal high-pressure pasteurization (HPP), which preserves the fresh taste, and naturally present vitamins. There is no heat treatment, added sugar, water, extracts, additives, powders or concentrates. Simply cold-pressed, cleansing and delicious!
Creative Director of itsu Julian Metcalfe said of the launch: "We know that healthy can taste delicious. Calgary and the team have been working tirelessly to create 'eat beautiful', delicious blends that tick all the boxes and we can't wait for the British public to try them."
The 'Purify' range is available from itsu stores nationwide. The flavour range is as follows:
Spicy tomato, red pepper and celery: (Tomato juice-76%, Red Pepper-10%, Celery-10%, Lime Juice, Cucumber Juice, Cayenne Pepper)
Raw green vegetables: (Cucumber-26%, Kale-10%, Fennel-8%, Spinach-6%, Avocado-6%, Broccoli-4%, Apple Juice, Lime Juice)
Beetroot, Cucumber and Tarragon (Beetroot Juice-35%, Cucumber Juice-31%, Apple Juice, Lemon Juice, Tarragon)
RRP: £2.95 for 250ml
The SLOAN! Review
Highest raw vegetable ratio than any other blend
No added sugar
Cold pressed preserving vitamins and fresh taste
First product developed by wellbeing expert Calgary Avansino