Camilla Costello is leading the way as an independent dealer in textiles of India.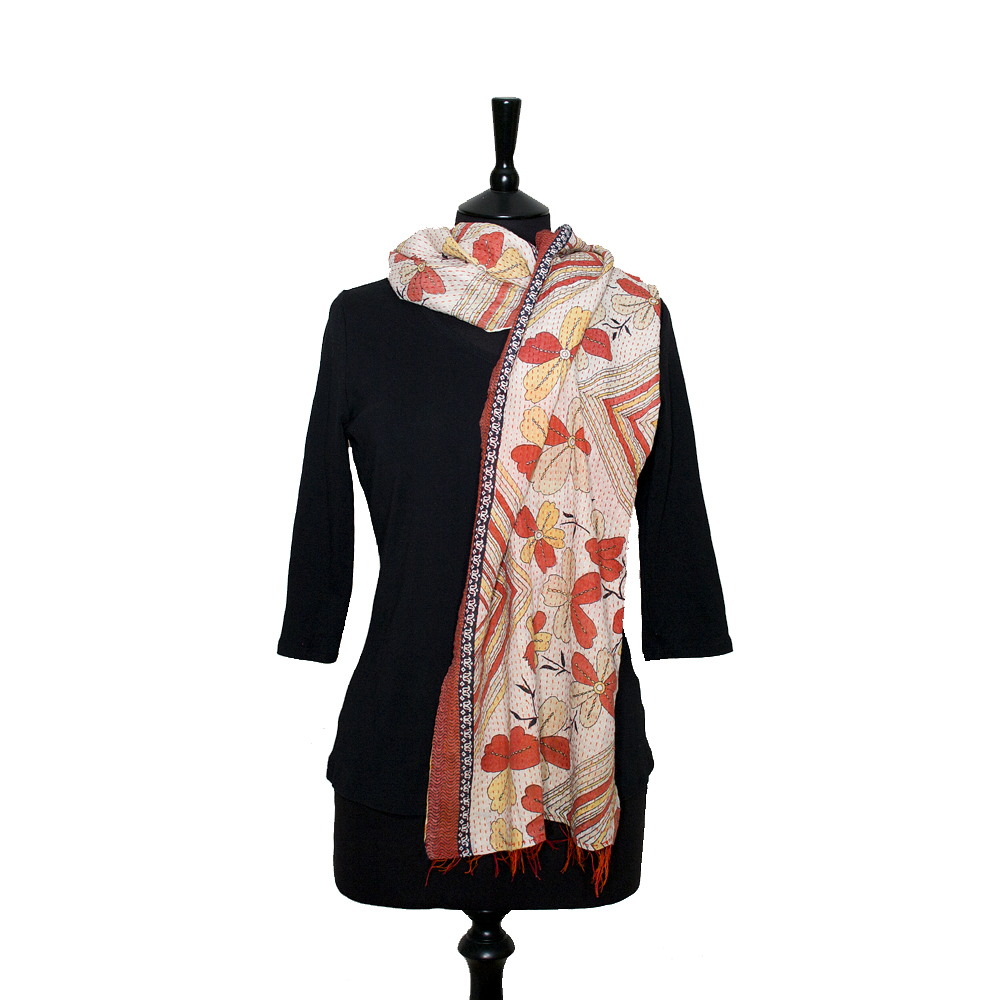 In 2010 Camilla Costello travelled to Rajasthan for a holiday; she had recently left her job as Picture Librarian after 20 years at Country Life; and was enthralled and excited by the array of textiles she saw on her travels. Bringing a selection back for her own use, friends and acquaintances were equally captivated and asked her to source some for them.   So Camilla returned to India and begun buying textiles, she came home with hand blocked cotton tablecloths and self designed bags and jackets, which have been a hit ever since.
The business has grown rapidly and Camilla returns frequently to India, to Jaipur, Jodhpur and Udaipur in Rajasthan, and occasionally further afield to Gujurat, Madhya Pradesh and Orissa. Camilla meets crafts people and dealers in search of new textiles all hand stitched by local artisans of the region.
Camilla's bestsellers are her designed jackets, bags, waistcoats and scarves, handmade from the vintage kantha throws. This vintage material is made by women in Bengal from layers of recycled saris sewn together with a running stitch; they are reversible and each one is unique in design and colour. They are exquisitely soft as they have been washed many times before – also making them very hard wearing.  Kantha is perfect for throws for sofas and chairs.
Camilla also sources hand block printed materials from Jaipur, which is famous for the craft. She has available beautiful hand blocked cotton tablecloths, bedspreads, and fabric by the metre – perfect for wonderful curtains and blinds.
Camilla says "I've been so inspired by developing this business – it is a remarkable journey from India to London through textile, I am influenced by the wonderful strong colours I see around me, and come back with a whole spectrum, all the while being mindful of the less dramatic contrasts that pervade the UK.   The process of finding the right kantha throws is an exciting adventure – I have to sift carefully through at least 200 pieces to find 20. It is very rewarding when a customer gets equally excited on purchasing their first kantha jacket"
Camilla sells her products at Fairs throughout the year and through her website. She also has a showroom in south London on the borders of Clapham and Brixton. You can ring for an appointment on 07956402833 or visit her website at www.camillacostello.co.uk.