London's first dedicated Guacamole and Tequila Bar has opened within the acclaimed modern Mexican restaurant, Cantina Laredo. An independent restaurant, Cantina Laredo is owned and operated daily by the Ginsberg family who are dedicated to creating a truly authentic modern Mexican experience. Tarryn Ginsberg has teamed up with one of Mexico City's culinary experts, Roberto De la Parra to create an informal sharing menu that takes diners on an unforgettable journey through Mexico's diverse regional cuisines.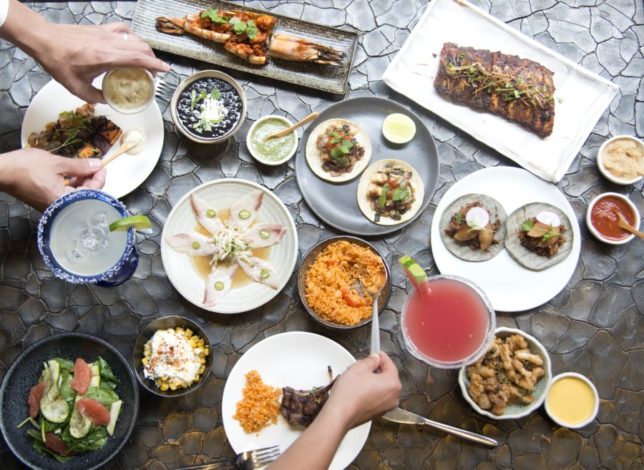 The Guacamole and Tequila Bar features their in-house "Guacamaestro" who theatrically prepare 'The Great Eight Guacamoles' in front of you. As experts in the art of guacamole, Cantina Laredo only use house-selected and perfectly ripened Hass avocados with truly sensational ingredients to create one of a kind guacamoles. The menu also includes exciting dishes such as Grasshoppers served with Grilled Avocados, Creamy Blue Cheese with Almonds and Pineapple with Pomegranate Seeds.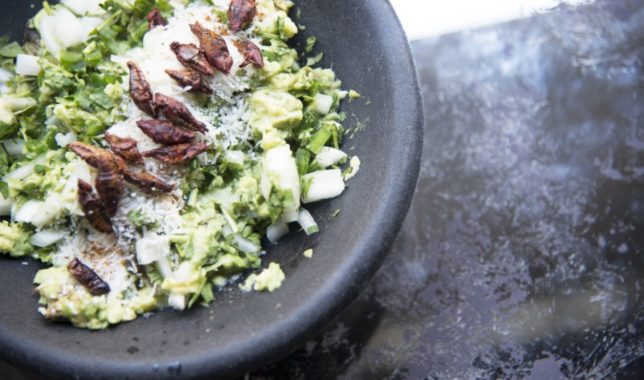 Leading the new Mexican wave of 'sip, don't slam', with 100% blue agave tequilas and a range of Mezcals that delight the smoky spirit lovers, the talented bar team create premium margaritas and signature cocktails that embrace Mexico's true spirit. Certified 'Tequilistas' will be on hand to guide you through the unique tequila infusion menu.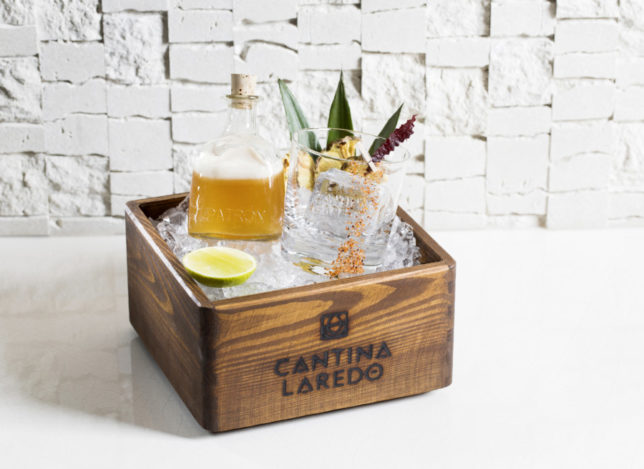 Cantina Laredo's new design, by the international award-winning Robert Angell, is inspired by Mexican nature, culture and tradition. The captivating new space features warm woods, Aztec-inspired art and imported agave plants. State-of the art lighting and artistic clay plaster merged with more rustic materials and furniture, creating a sense of the classic and the contemporary in perfect harmony.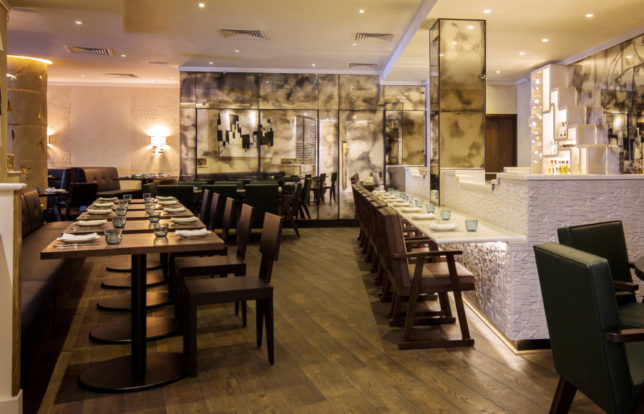 We started our meal with an aperitif to liven our appetities. The Pine for Patrón combines pineapple infused Patrón Silver, ancho chile shrub and lime. This cocktail gently awoke the taste buds with a pleasant spicy kick.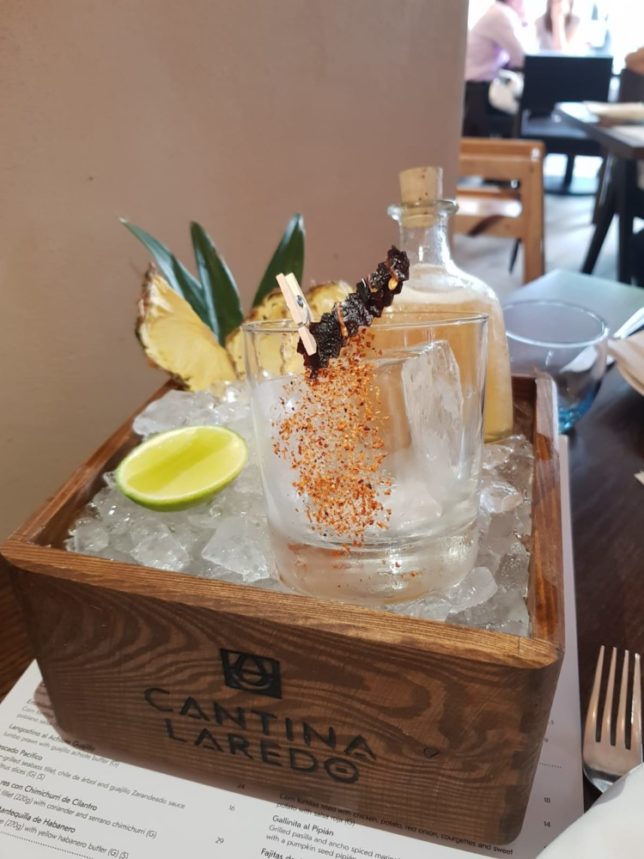 As the meal began, this lovely selection of starters transported us straight to the heart and soul of Mexico without even having to leave the heart of Covent Garden… or our table for that matter!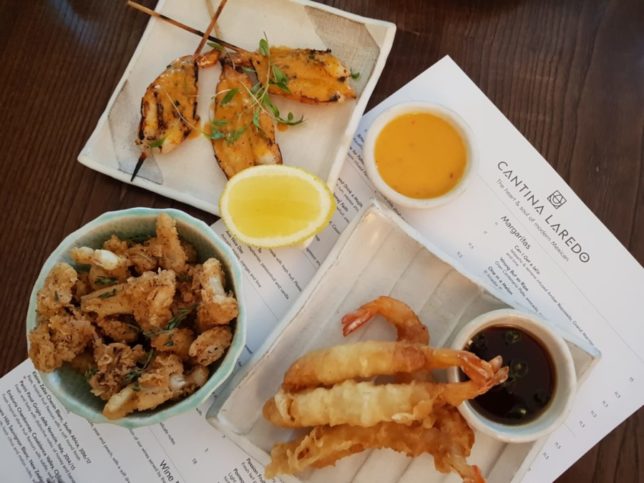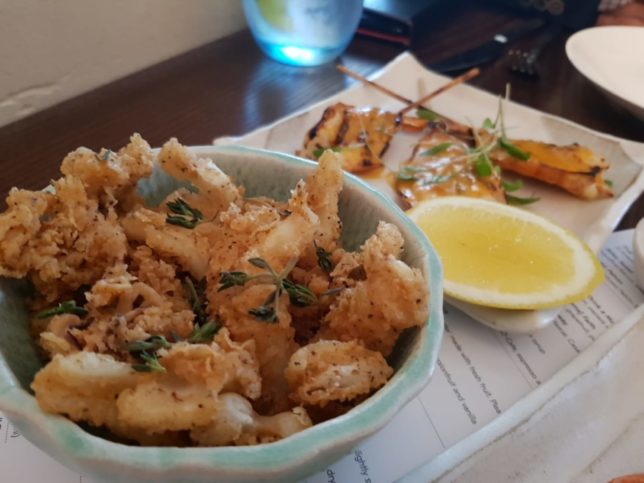 Next up was Brochetas de Camarón – a delectable dish of butterfly tiger prawns grilled on skewers and served with spicy Valentina butter. The perfect bite for any seafood lover, a squeeze of zingy citrus really brightened the flavours of the prawns.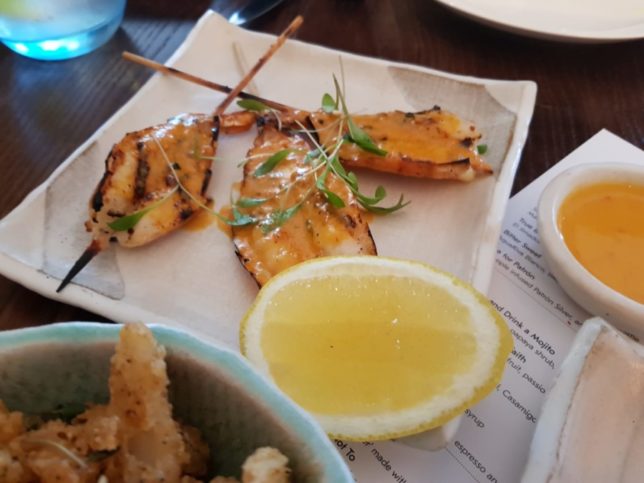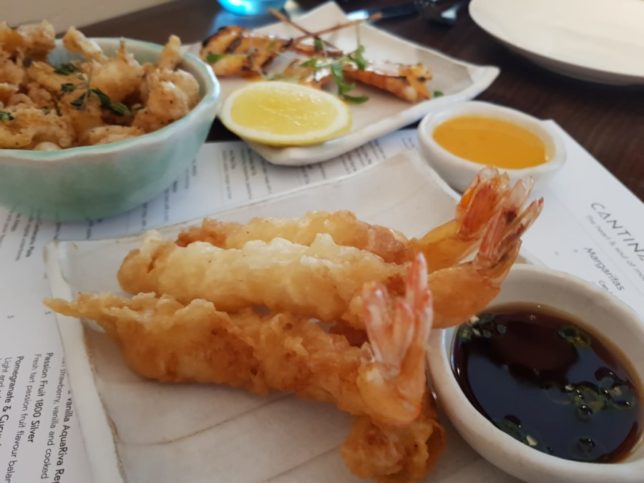 Continuing our fiesta of Mexican flavour, we chose a selection of larger sharing dishes including the Mexican which is a 28 day aged juicy ribeye steak grilled to medium rare perfection accompanied by a mouthwatering yellow habanero butter.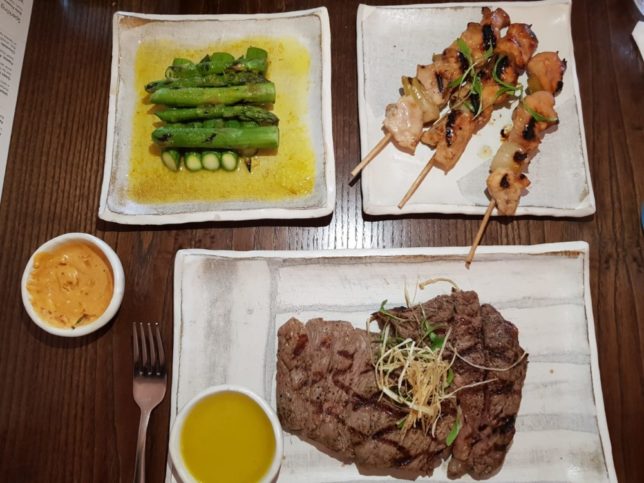 The Brochetas de Pollo was another dish designed for sharing with three succulent chicken skewers hot off the grill coated with an agave chile glaze – oh yum!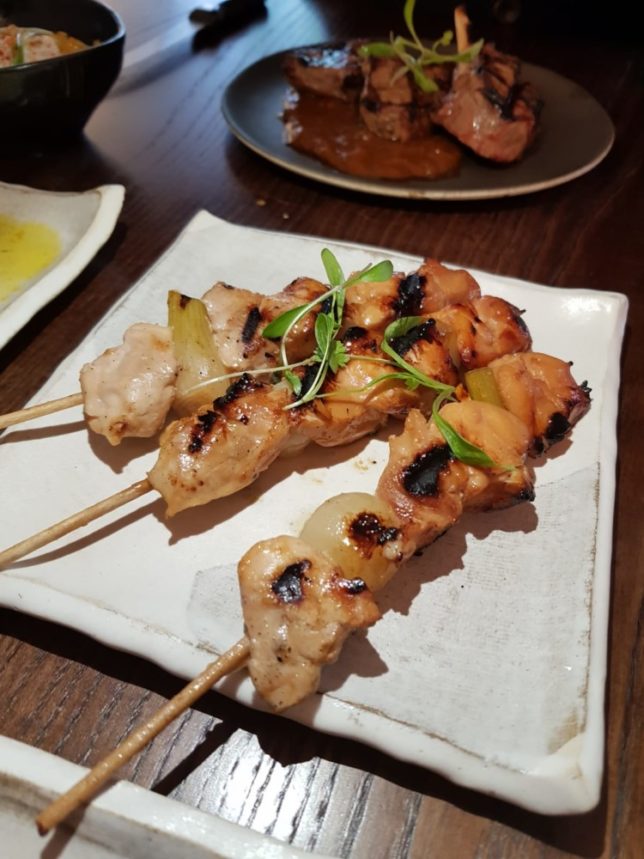 For some colour and freshness, we also ordered a vegetable side of Espárragos al Grill – grilled asparagus bursting with spring flavour and served with more of Cantina Laredo's mouthwatering yellow habanero butter.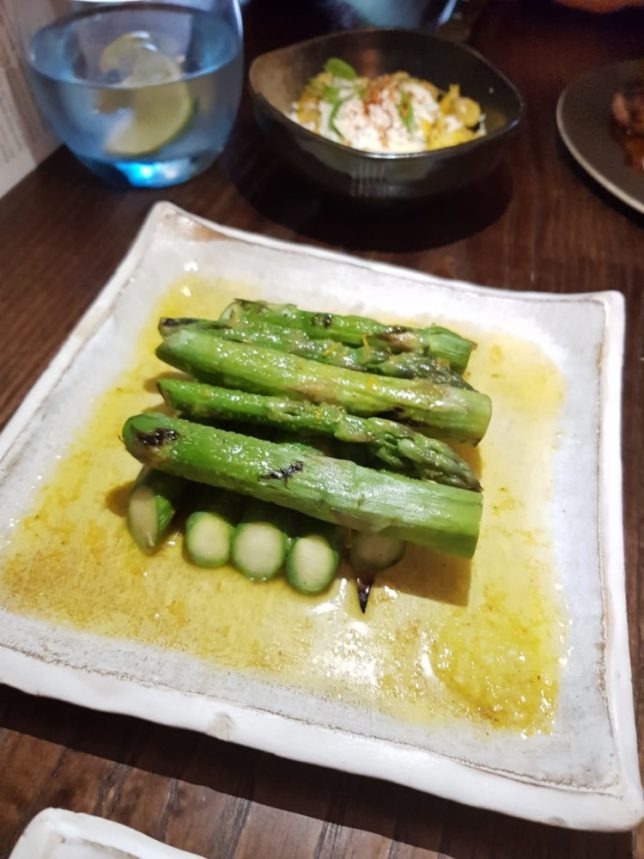 Moving on to something meaty, we also shared the Costillas de Cordero en Mole Amarillo which is an ideal dish for lovers of lamb cutlets, here served the Mexican way with an Amarillo curry mole that tantalises the taste buds.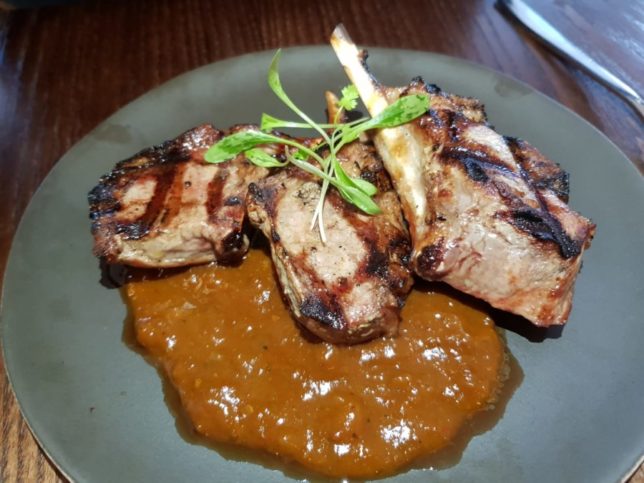 Extra colour was brought to the table in the form of Esquites. This spicy dish of grilled sweetcorn topped with mayonnaise, sour cream, queso fresco and chile piquin is a great accompaniment to the meat dishes and is also gluten-free!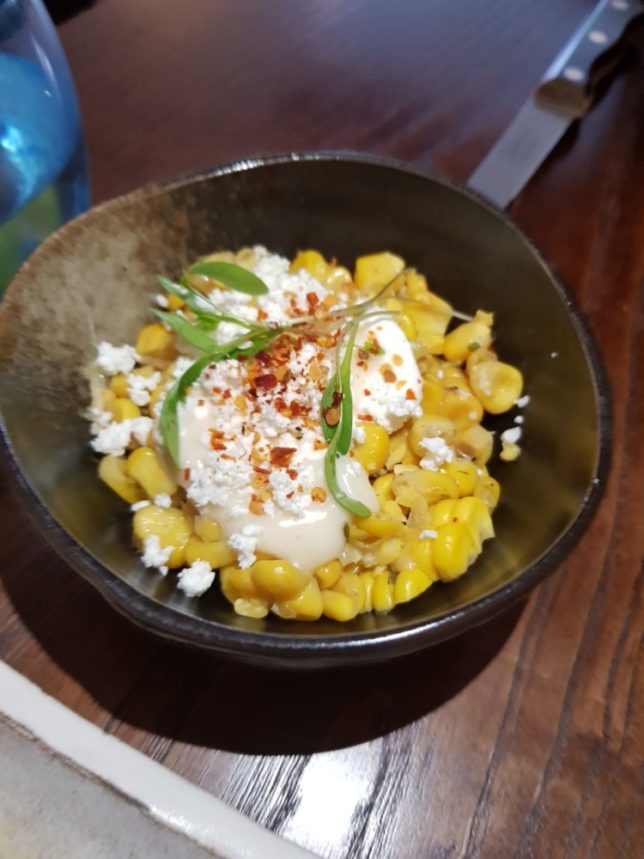 To finish, the incredibly long named Churros de Canela y Azucar con dips de Chile Chocolate y Fresas con Crema (or just Churros for short) is the familiar Latin American favourite of fried churros doughnuts dusted in sweet cinnamon sugar and served with a mildly spicy chile chocolate sauce and an equally as decadent strawberry cream.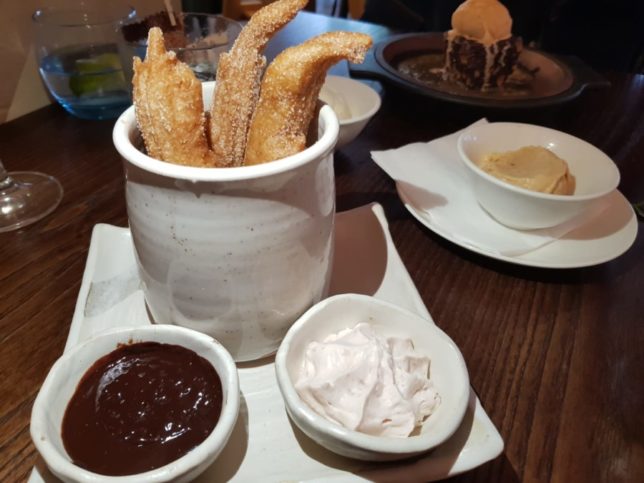 Another dessert worth a try and one we certainly couldn't resist was Brownie de chocolate con Helado de Vainilla – a delicious fusion dessert of North America's popular chocolate brownie (here with the added nutty flavours of pecan and walnut thrown in) served with a Latin inspired salted dulce de leche ice cream – this dessert is rich and creamy with all the elements to make it Instagram-worthy! #FoodPorn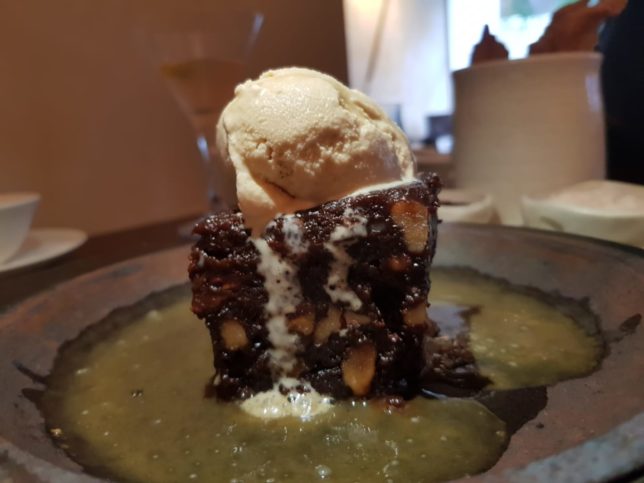 Cantina Laredo can accommodate private events for up to 100 people seated and 150 people standing. For those looking for a smaller and more intimate get together, there is also the 'Frida' Private Dining Room that seats up to 14 people. From educational tequila tastings to live Mexican music, Cantina Laredo and their new bar ensure the merriest of Mexican fiestas.
Cantina Laredo
10 Upper St Martin's Lane, London WC2H 9FB
cantinalaredo.co.uk
@CantinaLaredoUK