Kulfi (Indian ice cream) is particularly popular in Delhi, where you find an astonishing variety of flavours these days, from chocolate and mint to paan, yet the traditional combination of cardamom and pistachios remains my favourite. Making kulfi requires patience – no short cuts can give the same amount of flavour as hours spent reducing the milk, so it's definitely worth the effort.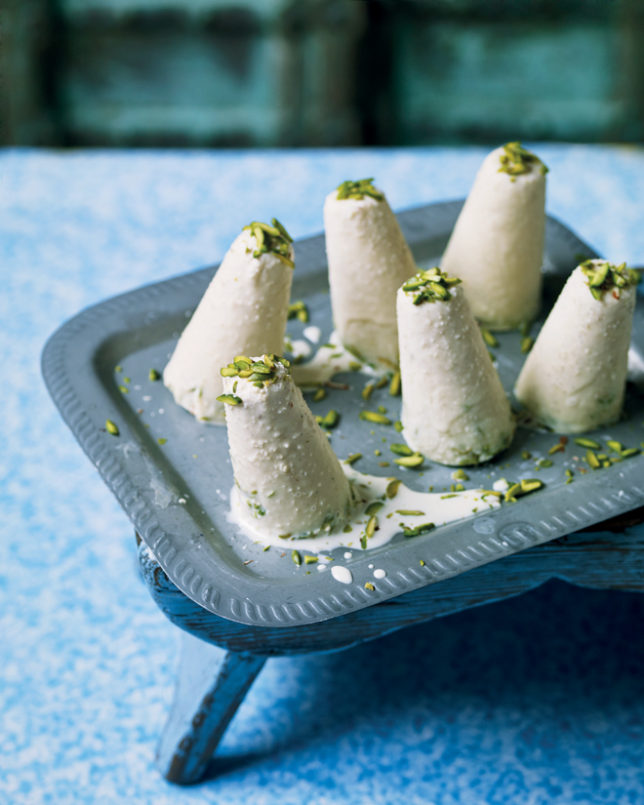 Ingredients
1.5 litres (23/4 pints) milk
50g (13/4oz) golden caster sugar
½ teaspoon ground cardamom
3 tablespoons finely chopped pistachio nuts, plus extra to decorate
Method
Pour the milk into a large, heavy-based saucepan. Bring it to the boil, then reduce the heat to low and simmer for 3 hours, stirring every 5–7 minutes to ensure the milk does not stick to the bottom of the pan.
Once the milk has reduced by two-thirds, measure it to ensure the volume has reduced to 500ml (18fl oz), then return it to the pan. Add the sugar and cardamom and stir for 1 minute, then add the pistachios. Pour the mixture into a jug and leave it to cool a little.
Divide the mixture between 6 kulfi cones (use plastic containers if you don't have any) and freeze overnight.
When ready to serve, dip the cones in warm water for a few seconds, then turn out the kulfi onto individual serving plates. Sprinkle with the extra pistachios to serve.
Chai, Chaat & Chutney by Chetna Makan is published by Mitchell Beazley, £20 (www.octopusbooks.co.uk)