This delicious curry by Miles Hopper and Giles Humphries of Mindful Chef is packed full of Caribbean flavours with fresh ginger and juicy mango. The Mindful Chef boys also added in red peppers, as they are rich in vitamin C and contain more antioxidants than other coloured peppers.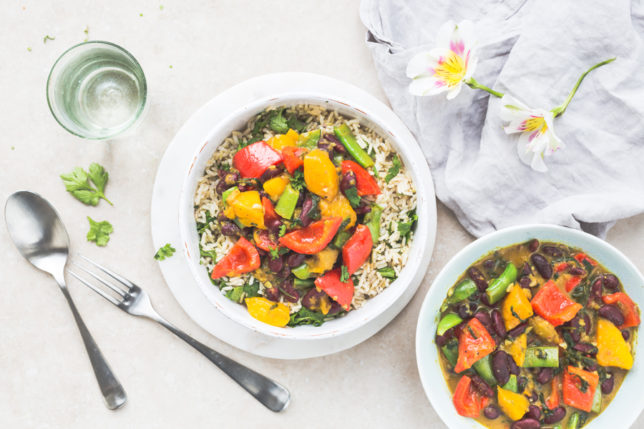 Ingredients
1 mango
1 red pepper
1 tbsp curry powder
1 tsp oil
200ml coconut milk
240g kidney beans (drained)
2 garlic cloves
4cm fresh ginger
80g brown rice
80g sugar snap peas
Method
1. Boil a kettle. Rinse the brown rice and place in a saucepan with 400ml boiling water and a pinch of sea salt. Simmer for 20-25 mins until cooked.
2. Peel and finely chop or grate the ginger and garlic. Cut the red pepper into bite-sized pieces. Peel and cut the mango into 1cm cubes, removing the stone. Cut the sugar snaps in half widthways.
3. In a bowl, roughly mash half of the mango. Drain and rinse the kidney beans.
4. Heat a medium-sized pan with 1 tsp oil on a medium heat, add the garlic and ginger to the pan and cook for 1 minute. Then stir in the curry powder along with the red pepper, crushed mango, sugar snap peas, kidney beans and coconut milk. Season with a pinch of sea salt and black pepper and simmer for 10 mins until the sauce has thickened. Then add the remaining mango pieces and cook for 2 mins.
5. Drain the brown rice.
6. Place the brown rice on two warm plates and top with the Caribbean-style mango and red pepper curry.
Nutritional Information
677 calories – 92g carbs – 26g fat – 18g protein
Mindful Chef by Miles Hopper Giles Humphries is available from all good bookshops