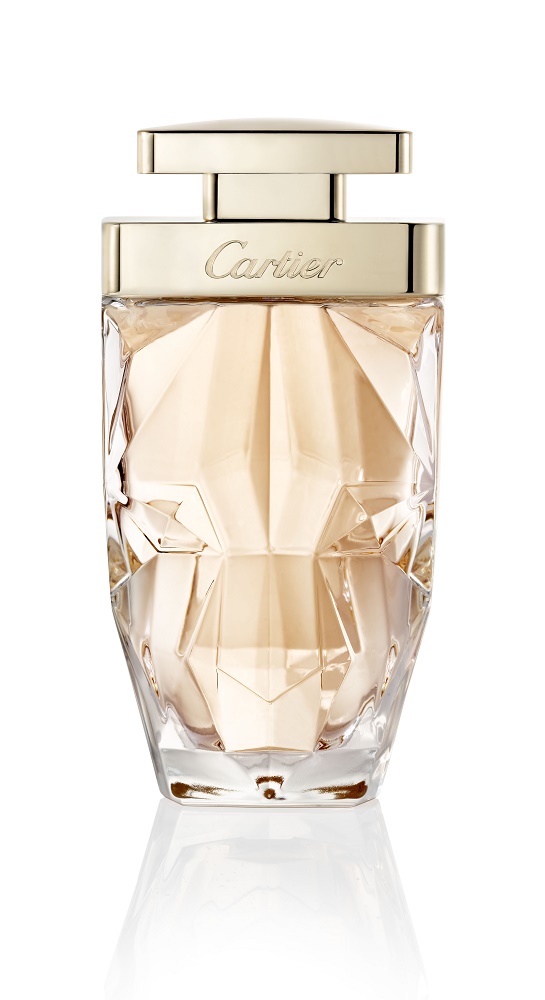 The panther is the symbol of Cartier femininity: divine, exquisite and rebellious simultaneously.
In a word: free. Free to love and live life to the full, with passion, eye to eye.
The panther first inspired a Cartier perfume in the 1980s. The fragrance captured the zeitgeist of its day but was in need of an update,
a more contemporary sillage, an unexplored, almost paradoxical accord: a feral floral.
Cartier perfumer Mathilde Laurent began with a gardenia. From this fresh flower she set out to create a fragrance that would leave pure, mesmerising tracks of a colour pushed to its animalistic limit.
At the heart of the fragrance crouches the panther, poised to seduce with the sensuous supremacy of a sun-drenched wake. This feral yet floral scent ensnares with the charm of a most irresistible creature, celebrated by writers from Theophrastus to Dante for the irresistible lure of her scent, the most seductive perfume in the animal kingdom.
Floral, yet feral. The captivating ambiguity of the La Panthère fragrance is illuminated by the pure, raw and reactionary presence of a lively flower enswathed in velvety chypre nuances.
Animality pulsates from the heart of a tamed gardenia, as palpable as a feline caress, revealed in the architecture of a musk that is at once traditional and contemporary, bodily and abstract. Defined by gentleness, the delicate surprise of a triple accord of chypre, flower and musk, a triptych of emotions that evoke the personality of the panther.
Feline and flower come together to embody the La Panthère fragrance, this allegory of Cartier femininity who seduces with her wit and liberty. Carved from within in a groundbreaking feat of craftsmanship. A panther poised like a heart of precious stone carved within a block of glass. This enigmatic, masterfully executed bottle endows a feline presence with feral tones. The unprecedented bottle is carved from within in an incredible feat employed for the first time in perfumery.
As the secrets of its mystery clocks once fascinated, the Maison captures the imagination once again with another enigmatic technique. How? This extraordinary totem elicits wonder and fascination. Square jaw and bevelled eyes gaze out from an angular head sculpted line by line. The streamlined, facetted features of the pared-down design are softened by the gentle glint of sunlight.
Orange and gold are the surprising reflection of an animalistic gardenia inflamed with chypre notes. Floral felinity is crystallised in perfectly proportioned bare glass sides which deify the panther and her sensuous, velvety femininity, her mesmerising tracks.
The regal bottle is crowned by a metal cap which is pressed to extract the perfume. This architectural feat of simple, geometric lines, minimalist in the extreme, offers a decidedly cubist interpretation of the panther kingdom.