BY KIRSTEEN CONNELL – The pressure of that "perfect" dress can get too much sometimes, you want that fairy tale train to flow down the aisle but you also don't want to be tripping over it at the reception. You want to look sexy for your man but respectable for your Dad… You want it to fit in all the right places but not at the expense of your ability to breathe… There's too many expectations to meet and no single dress can cover them all… so why not hop on the next big thing and get TWO dresses, one for the ceremony and one for the reception?
Many bridal designers are designing dresses that are similar in style so you can have a "2 piece" style wedding. Many can have removable and attachable pieces to transform one dress to another effortlessly, allowing you the freedom to dance the night away without any of that extra tulle holding you back.
Here are a few of our favourites: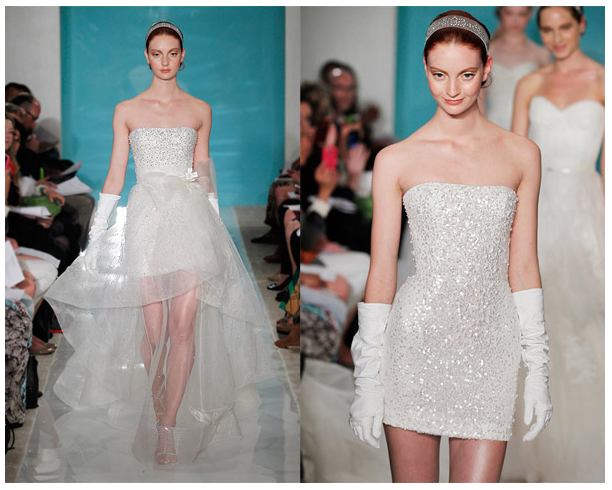 ReemAcra have opted for fun and flirty, this barely there sequined tube dress is layered with a sheer tulle skirt with a high-low illusion. With the metallic colours and sequins, this is a perfect dress for the out there fashion forward bride.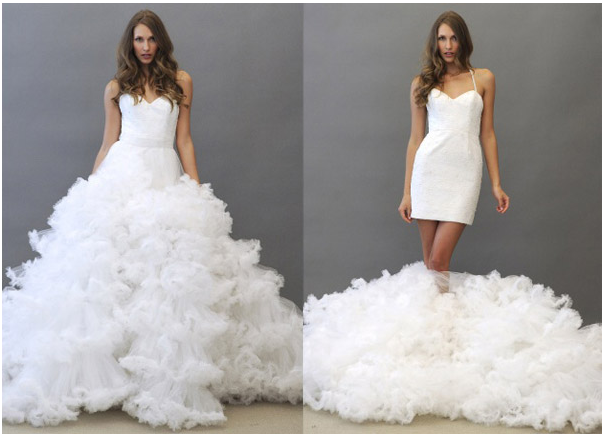 Hayley Paige allows the bride to enjoy the best of both worlds with a classic meringue style tulle skirt that can be removed to reveal a simple and elegant plain white shift dress. There's no need to sacrifice the girly glam if you're worried about it getting in the way of your dance moves later in the night. Get one of your girls to help you out the skirt and you're good to go!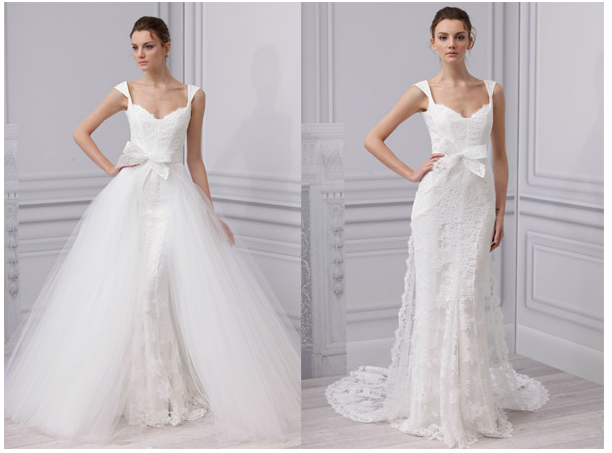 And finally Monique Lhuillier went for romance with lace, tulle and bows. If you fancied a change in pace for the reception dress but still wanted the elegance of the reception dress this would be the gown for you. The dress is a slimline meringue dress and the reveal is a floor length fitted gown with a tiny train, the little attentions to detail is what really makes this dress special.
So whether you're incredibly indecisive or just need a little something more flexible for the evening there is a dress out there for you, or if you want to go all out and have 2 completely different dresses – go for it. It's your day and you deserve whatever your heart desires.
Here at BB HQ we are loving the Lhuillier, which dress is best suited to you? Would you change your dress half way through the day?
Bridal – Kirsteen Connell

Kirsteen Connell is CEO of BELLA BRILLA, a new dynamic fashion design house showcasing the best of British Talent in the fields of textiles, millinery, accessories and jewellery. BESPOKE design for busy people www.bellabrilla.com It is a fabulous new Luxury accessory shopping experience with the most creative, innovative and freshest designs from exceptionally talented designers from the specialist fields of fashion, jewellery and textiles. Handpicked designs for all your accessory needs are kept afloat with our Bespoke Consultations in person and online for truly unique style.