CERU is a contemporary Levantine restaurant located on Bute Street in South Kensington serving sumptuous small sharing plates and delightful drinks inspired by the feast of flavours found on the eastern Mediterranean coast. This Levant region consists of countries on the crossroads of East and West including Turkey, Cyprus, Lebanon, Israel, Jordan and Syria. The area has not been without its well-publicised troubles, but has a rich and colourful culinary heritage that lies at the heart of the CERU menu.
Barry Hilton, the founder of CERU, started in the music business before becoming a restaurateur and says that CERU was born from a love of food, drink and sunshine. Barry Hilton went on to say, "I have lost track of how many days and nights I've spent eating and drinking my way around the various countries that form the Levant. Encouraged by Levent Kayapehlivan who I met in a back street café near the Galata Bridge in Istanbul, I was inspired to create a flavour journey that provides an insight into the rich food heritage of the region."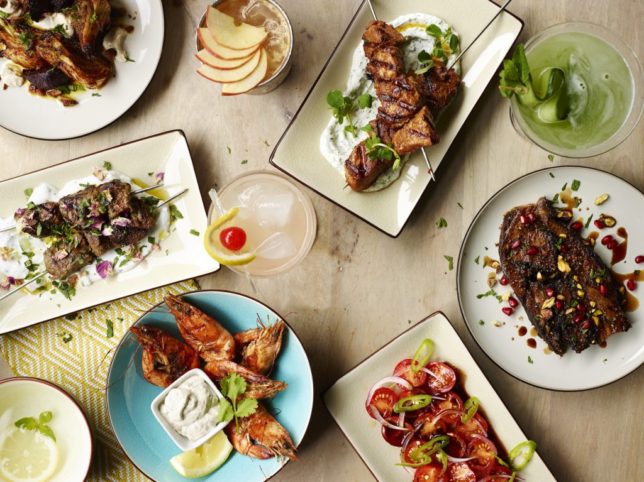 The interior of CERU continues the Levantine theme with colourful geometric tiles and bright copper lanterns creating a dining space that draws you into the vibrant bosom of the Eastern Mediterranean. The wine list at CERU features bottles from Greece, Turkey and Lebanon. Other drinks available include a Lebanese Pilsner-style beer and CERU's own pale ale brewed at the Hop Kettle Brewery alongside an array of inventive cocktails.
We focused on the wine list, intrigued by the grapes from the Levant and my companion ordered a glass of Turkish white wine from the Kayra Winery made from Narince grapes whereas I chose a Gulor Estate Rosé also from Turkey which was a blend of Sangiovese and Okuzgozu grape varieties. Both were excellent with our starters, mine being the Roasted Aubergine with chermoula served with a herb yoghurt and lohz.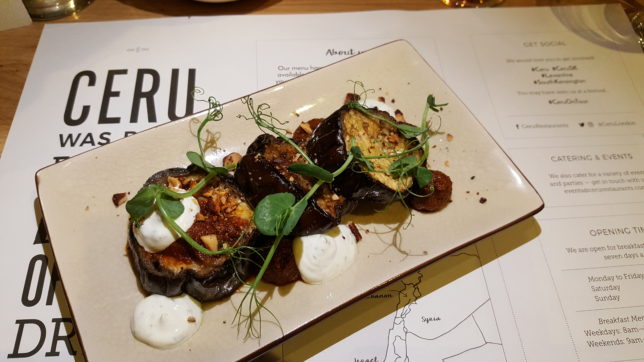 The CERU team have eaten and drank everything on the menus and they are passionate about food and ensuring guests are happy. Answering any questions you may have about the Levantine menu, the restaurant team make dining at CERU an experience to remember both in and off the plate. For his starter, my dining companion chose the Karides – whole grilled garlic prawns with a dried lime and coriander labneh. The prawns were cooked to perfection by the CERU kitchen and served shell-on to allow one to savour the seafood flavours permeating through each juicy prawn.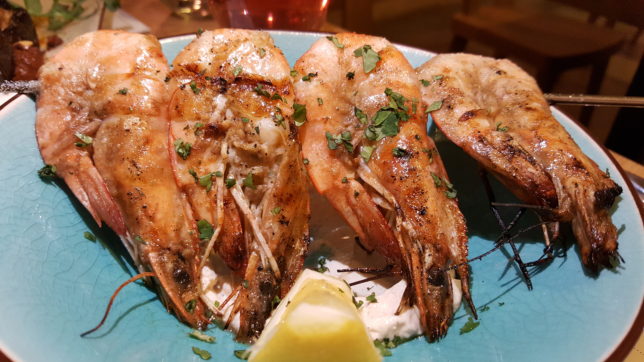 The menu at CERU harnesses the vast array of ingredients available throughout the Levant region and takes you on a journey of culinary delights without the need to step on a plane. The CERU menu features nearly 100 ingredients with over 20 spices and the all day menu at CERU is entirely gluten free notwithstanding the Greek pita bread.
For the main course my dining companion ordered the Lamb Shoulder which CERU slow roast for 5 hours (well ahead of time!) in a secret blend of 12 Shawarma spices. The lamb is served with a pomegranate, mint and pistachio sauce. As a fan of both lamb and pistachios, this CERU dish got a big thumbs up from my companion.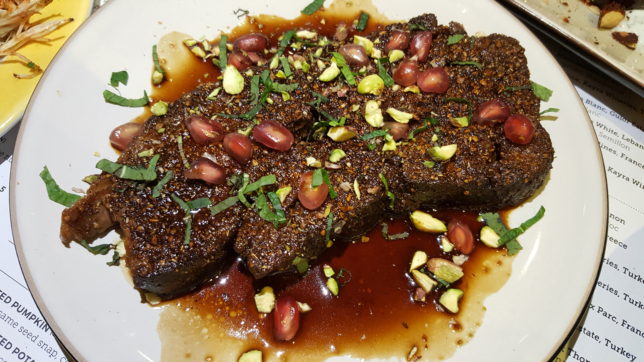 As an accompaniment to his main, my dining companion ordered the Roasted Pumpkin from the side orders on the CERU menu. This dish comes with a spiced seasame seed snap and coriander & tahini sauce.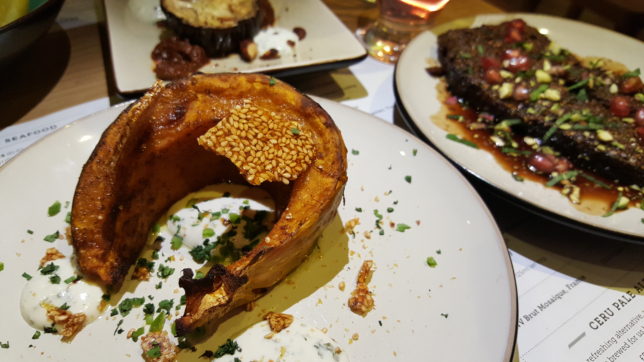 As we saw on our tour of the restaurant after our meal, life in the CERU kitchen is a kaleidoscope of colours. The chefs only use the freshest produce sourced from the London markets to create vibrant and colourful dishes for you to enjoy. The menu caters for all, from vegans and vegetarians to pescatarian and omnivores with dishes that are both healthy yet indulgent. CERU continue the Levantine love of using rosewater in their cuisine, so I couldn't help but order the Rose Scented Kabab Skewers – grilled cubes of lamb leg marinated in rosewater served with a rose petal and mint tzatziki.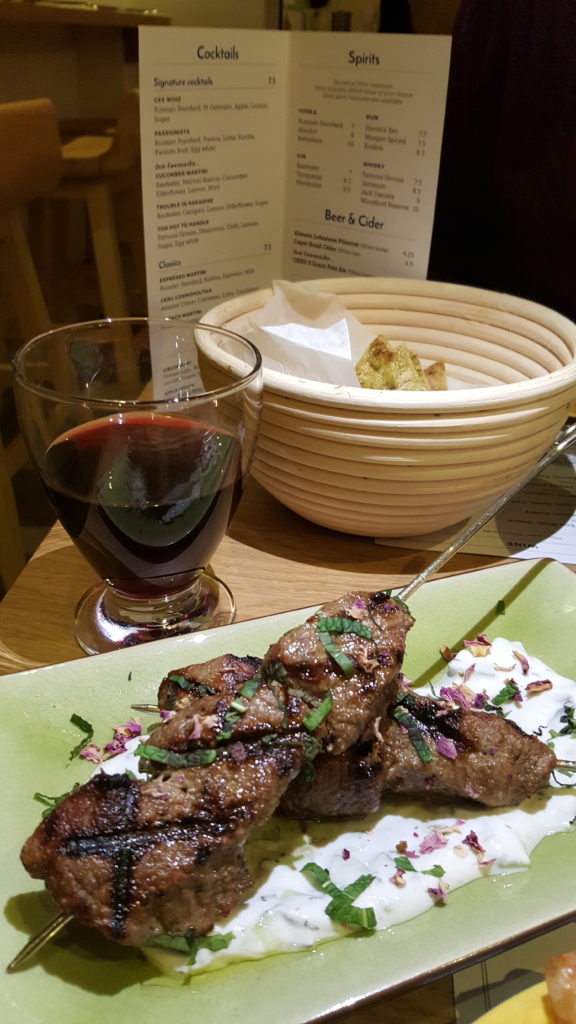 We also sampled another CERU meat dish – the Shish Taouk. The paprika and lemon marinated chicken breast is grilled kabab style and served with a herb yoghurt. The skewers are perfect with some freshly baked Greek Pita Bread served warm and crunchy in CERU fashion.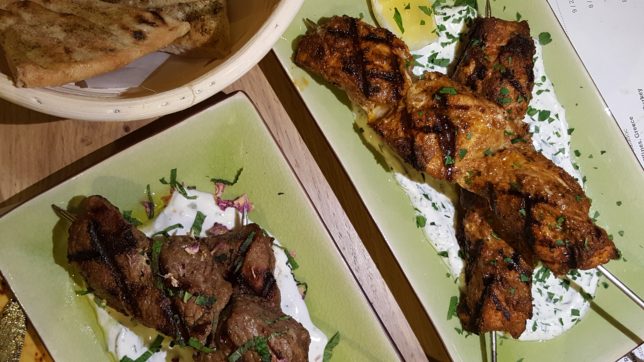 To accompany our meat dishes (which CERU ensure are all certified Halal and sourced only from British farms) we sampled some excellent Levantine wines. We tried a Turkish wine made from the local Kalecik Karasi grape which is similar in profile to Pinot Noir. We also sampled the Cuvee des EMIRS from Lebanon. This is a blend of Cabernet Sauvignon and Grenache which highlights the fact (as told by our CERU waiter) that where most Turkish wine is purely from Levantine grape varieties, Lebanese wines tend to favour a blend of European grapes in their vinification.
As a final flourish, and with only just enough room left, we shared a Levantine inspired sweet treat from the CERU dessert menu – Flavours of Baklava is a dish of cardamom ice cream served with a nut brittle and burnt honey caramel. What a lovely end to our Levantine dining journey at CERU!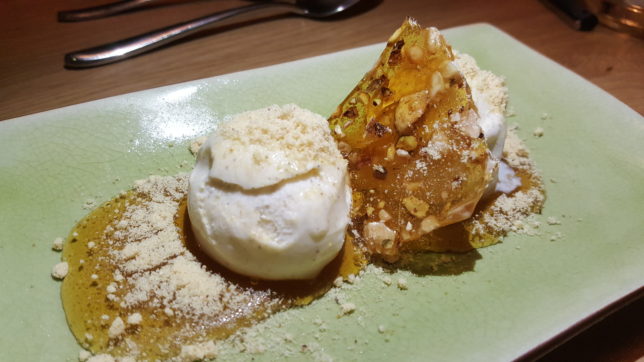 The menu at CERU uses authentic ingredients and cooking methods, but without the need to faithfully recreate well-known dishes. Barry Hilton describes the development of the dishes as "great fun" and he hopes those who dine at CERU enjoy the menu as much as he enjoyed creating it. We can certainly say that we thoroughly enjoyed our Levantine feast of flavours in the heart of South Kensington at CERU.
CERU is open for breakfast, lunch and dinner seven days a week. From 8am to 11pm on Monday to Friday, 9am to 11pm on Saturday and 9am to 10pm on Sunday. The breakfast menu is served until 11:30am on weekdays and 12:30pm on weekends and the All Day menu is served daily from 12 noon until 11pm.
CERU
7-9 Bute Street, London SW7 3EY
020 3195 3001
www.cerurestaurants.com
@CeruLondon