Charles Farris are steeped in a heritage that dates back to 1845. Today, their scented candles still use the same traditional methods from the Victorian era to make the best candles for modern day – slow-burning, long lasting and of the highest quality.
The story goes back to 1845, when Charles Farris created a brand that supplied pillar candles to some of Britain's most majestic churches, including Westminster Abbey and St Paul's Cathedral. By Appointment to Her Majesty the Queen, this historic London brand has become the gold standard in quality candle-making.
Using 170 years of experience, Charles Farris has now created a range of seven premium scented candles and reed diffusers, specifically for use at home. Working with master blenders to create unique and beautiful scents, the candles have been crafted using traditional techniques, the highest quality ingredients and are encased in artesian hand-finished glass.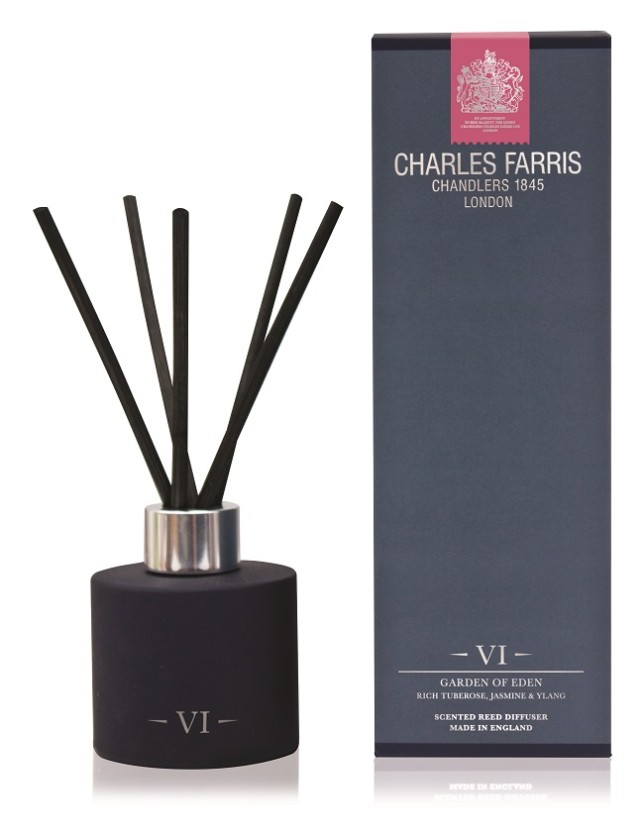 Excellence has become synonymous with the brand, which is why only the finest ingredients were chosen in the creation of the scented range. The essential oils used come from the finest sources and are infused in the signature mineral wax and hand-poured in a time-honoured fashion that pays tribute to the Charles Farris legacy.
The seven unique fragrance blends, inspired by London's rich history, include ingredients such as British honey, hedgerow blackberries and oak wood fused with more exotic notes such as tobacco, ylang and mint. The full range of fragrance blends are described below.
I. Grand Cascade
This scent evokes the sophistication of a gentlemen's club: A deep, smoky aroma of cedar aged leather and birch, offset by fresh moss and amber.
II. Sweet Elixir
A bouquet of heady florals that have been infused with sweet honey and blended with fruity notes of cherry and citrus, which give this scent a warm and enveloping feel.
III. Rubus
Be transported to the delight of picking ripe berries from country hedgerows in late summer with this blend of aromatic bay, blackberry, freisa and herbs.
IV. Redolent Fig
Is there anything quite as uplifting as fig? Here, wild green fig leaves mix with a hint of fruity cassis, soft florals and woody base notes to provide a fresh backdrop to any room.
V. British Expedition
Inspired by the brand's founding year of 1845, this is a scent of discovery. Warm cloves and light ginger mix with the freshness of sweet tobacco and mint tea.
VI: Garden of Eden
A blossoming garden scent of tuberose and lily of the valley, blended with fragrant jasmine and ylang, this heady and romantic scent is a true exercise in indulgence.
VII. Pinetum
A limited edition winter scent, sweet green pine needles are mixed with cooling eucalyptus and birch leaves with a rich base of amber and sandalwood. A sophisticated note of fresh Christmas trees which gives a glorious festive fragrance.
The 30cl candles are £30.00 and the reed diffusers are £32.00. The full range can be found online at www.charlesfarris.co.uk as well as in store at Fenwicks, Heals, Fortnum & Mason and the Charles Farris store, 100 York Road Battersea, SW11 3RD.